Australian distillery Starward is maturing a cask of its spirit aboard the Cunard cruise ship Queen Elizabeth as it travels the globe, before returning to be bottled and auctioned for charity.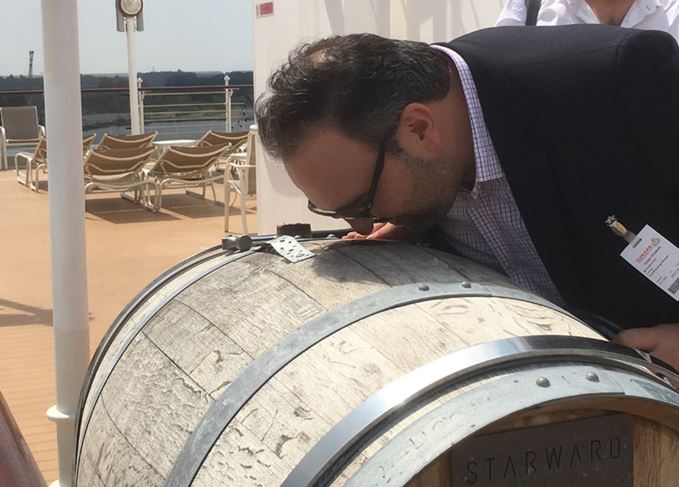 After two years maturing at the Starward distillery in Melbourne, the ex-Shiraz French oak barrique known as the Seafarer was loaded onto the ship in February to continue maturing for an additional year.
The cask, sourced from Penfolds winery in Adelaide, has already travelled to Japan, Southeast Asia, Cape Town and the UK, and will go on to stop in the US before returning home to Melbourne in six months' time.
Starward founder David Vitale said: 'I can guarantee the climate's had a huge impact on it – in Melbourne, because of the dry humidity, water evaporates preferentially to alcohol.
'As it's been on the aft deck, it's entirely plausible we'll lose more alcohol than water instead, so it'll be interesting to see what happens when it returns to the distillery.'
A companion barrel was filled on the same day as the Seafarer, which remains at the distillery in Melbourne to be tasted against the Seafarer on its return.
The whisky is so far described as having a 'wine-like, gripping texture on the palate' with 'nuttiness' and 'tawny port' notes.
The cask has been bolted to the aft deck and exposed to the elements, while being hosed down by the crew on a daily basis to 'keep the moisture in the oak'.
Once the Seafarer arrives back at Starward, the whisky will be bottled and auctioned to benefit Scarf, a charity helping the disadvantaged find work in the hospitality industry, and the Pink Boots Society, which encourages diversity in brewing and distilling.
'Hopefully this becomes a recurrent exercise, and we have a series of these we can explore year-in and year-out with different wood policies,' said Vitale.
Starward is not the first distillery to attempt to age whisky at sea. In 2012 American Bourbon Jefferson's placed five barrels aboard research vessel MV OCEARCH to mature for three years, in order to create Jefferson's Ocean: Aged at Sea Bourbon.