A rare 'Holy Grail' Macallan could break the world record for the most expensive whisky sold at auction when it' goes under the hammer this autumn.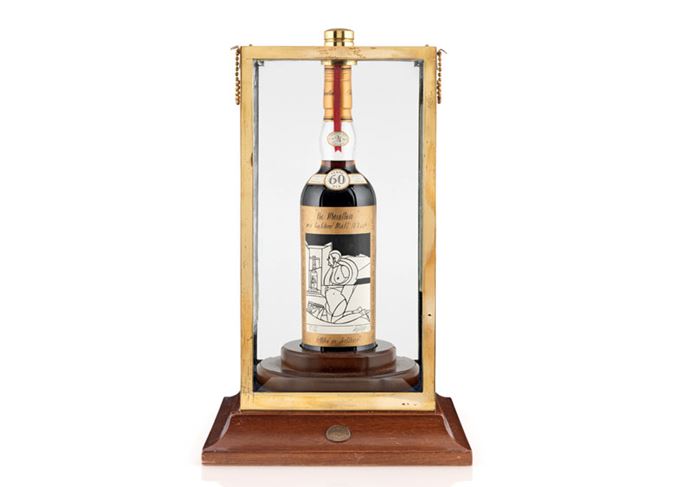 The Macallan Valerio Adami 1926 60-year-old is one of just 12 bottles created by the Speyside distillery in the 1980s.
One of the 12 bottles recently sold at auction in Hong Kong for HK$8,636,250 (US$1.1m/£814,000), setting a new world record for any lot of whisky sold at auction.
Now auction house Bonhams expects another bottle to reach up to £900,000 when it's sold at the Bonhams Whisky Sale in Edinburgh on 3 October.
The bottle, which is presented in a specially commissioned cabinet inspired by a traditional spirit safe, was originally bought by the seller from the Macallan distillery for an undisclosed sum in 1994.
Martin Green, whisky specialist at Bonhams Edinburgh, said: 'The Macallan 1926 60-year-old has been described as the Holy Grail of whisky.
'Its exceptional rarity and quality puts it in a league of its own, and the world's most serious whisky collectors will wait patiently for many years for a bottle to come onto the market.'
In 1986 Macallan commissioned pop artists Valerio Adami and Sir Peter Blake to design labels for two limited edition bottlings, of which 24 were created – 12 featuring the Adami design, and 12 by Blake.
Described as the 'Holy Grail' for Macallan collectors, it's not known how many of the original 12 Adami bottlings still exist.
Bonhams said one bottle is thought to have been destroyed in an earthquake in Japan in 2011, while it's also believed at least one has been opened and consumed.
Whisky expert Charles MacLean added: 'Macallan single malt is the darling of whisky collectors and The Macallan Adami 1926 – with its Peter Blake stablemate – sits at the very pinnacle of the distillery's distinguished output. All the appeal of Scotch whisky – the myth, the tradition and the romance – finds its ultimate expression in this bottle.'
A single bottle of the Peter Blake design is also set to be auctioned this autumn by Sotheby's in New York, where it's expected to reach up to US$500,000-$700,000.