The latest bottle of rare 60-year-old Macallan to come up at auction missed the world record by some distance on Saturday (13 October), selling in New York for US$843,200.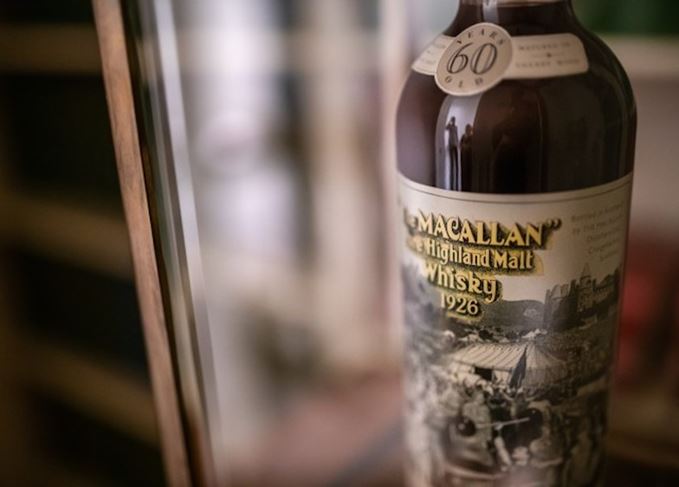 The 1926 Macallan, one of 12 with labels designed by British pop artist Sir Peter Blake, fell short of the world record set at Bonhams in Edinburgh earlier this month, when a bottle of the same whisky – but with a label designed by Italian artist Valerio Adami – was auctioned for £848,750 (US$1.1m).
The latest Blake bottle, number nine of 12 bottled by Macallan in 1986, had been expected to fetch US$700,000-1.2m by Sotheby's – the highest pre-sale estimate placed on a bottle of wine or whisky by the auction house.
In all, 12 bottles each of the Blake- and Adami-designed bottles of 1926 Macallan were released, all drawn from cask #263, with a number coming up for auction and sale this year.
A pair of Blake and Adami bottles was sold by Dubai Airport retailer Le Clos for US$1.2m in April, then another pair fetched the equivalent of more than US$1m each at a Bonhams auction in Hong Kong in May (all sums include buyer's premium).
But all could be trumped by another bottle of 60-year-old Macallan from the same cask: this time with a hand-painted bottle by Irish artist Michael Dillon, and expected to fetch 'in the region of £1m' (US$1.3m) when it is auctioned by Christie's in London next month.
The anonymous seller of the Macallan sold by Sotheby's in New York, a keen collector of the Speyside single malt, described to the auction house how he acquired it direct from the distillery following its release in 1986.
'The notion that I could acquire a Scotch bottled during the roaring '20s elicited a Gatsby-esque desire in me,' he said. 'It seemed both a distant and yet a distinct possibility that this bottle could belong to me.'
He added: 'This bottle has been a little bit magical for me. It's difficult to articulate exactly why. That it is rare and coveted is only a small part of it… It is my hope that whoever purchases this bottle will appreciate that it is not simply a rare and exquisite spirit. That he or she understands that it is more than just an investment. It is representative of the finer things in life. It represents the life's work of many people.'