Two rare bottles of Macallan 1926 single malt whisky have set a new world record after they were sold by Dubai Airport retailer Le Clos for US$1.2m.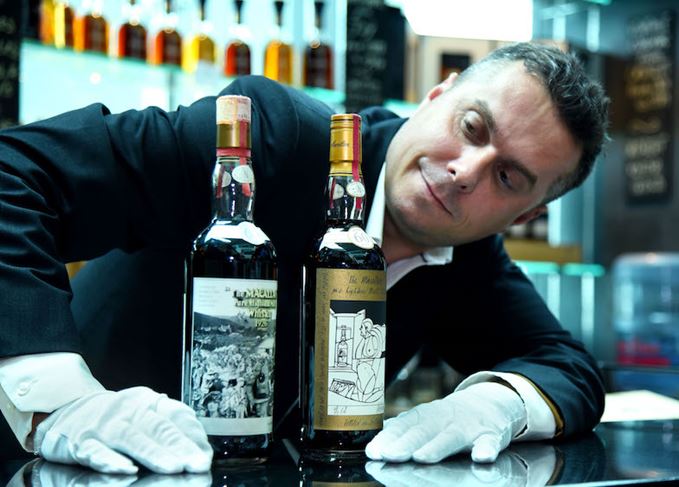 The bottles, with labels designed by artists Sir Peter Blake and Valerio Adami, were bought by an international businessman for his private collection for US$600,000 each, setting a new record for the most expensive pair of whisky bottles sold.
The spirit was distilled at Macallan in 1926 and matured for 60 years in ex-Sherry casks before being bottled and released in 1986.
Of the 40 bottles produced, Sir Peter Blake – the pop artist famed for designing the Sgt Pepper's Lonely Hearts Club Band cover for The Beatles – and Italian graphic artist Valerio Adami designed the labels for 12 bottles each.
These were originally offered as corporate gifts to Macallan's most valued customers, but have since become some of the most sought-after bottles by whisky collectors.
'These represent some of the most exclusive bottles ever produced, making this an iconic sale that will be remembered worldwide for years to come,' said Geoff Kirk, Macallan's director of prestige.
'It is incredibly rare for The Macallan 1926 to be made available for purchase, and the sale offers whisky connoisseurs the chance to secure historic bottles emblematic of 20th-century pop culture.'
Le Clos said that each of the two bottles had originally sold for £20,000, with the last known individual bottle sold at auction by Christie's in 2007 for US$75,000.
The world record price for a single bottle of whisky remains the $628,000 paid for The Macallan M Impériale at Sotheby's in Hong Kong in 2014; however, an Impériale holds six litres, or the equivalent of just over eight-and-a-half 70cl bottles.
But the sale by Le Clos may not hold onto its record-breaking status for long: it comes a few weeks before two more of the Blake and Adami bottles are due to be auctioned by Bonhams in Hong Kong.
The bottles each have pre-sale estimates of HK$3.6m-4.5m (US$460,000-573,000), but could well exceed those amounts.