Glasgow distillery has introduced its first peated whisky, which will join its new 1770 range of single malts.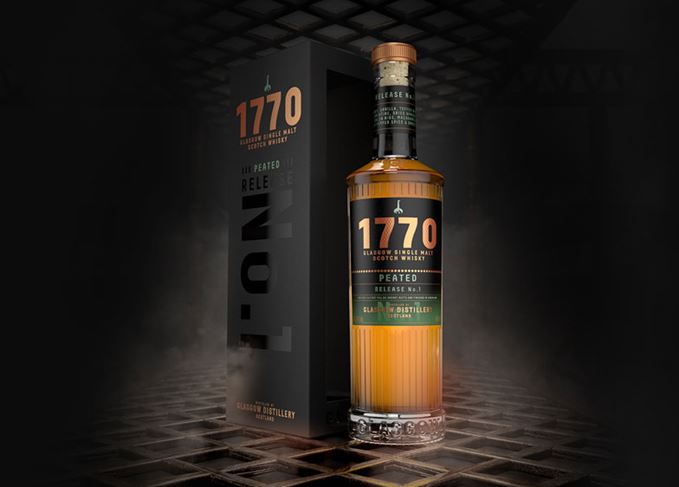 The 1770 Peated has been matured for around three years in first-fill ex-Sherry casks and finished in virgin oak.
Bottled at 46% abv the expression is described as having notes of 'flamed orange zest and rich caramel toffee leading to various dark earthy fruits'.
It is the first peated bottling from the Glasgow distillery, which began operation in the Hillingdon area of the city in 2015.
Its release in late September will follow the launch of the distillery's unpeated 1770 Single Malt in April this year.
The two expressions will be joined by a third, a triple-distilled, unpeated malt in 2020, collectively forming the Glasgow distillery 1770 range.
Liam Hughes, CEO and co-founder of Glasgow distillery, said: 'Our peated run was originally a much smaller percentage of our overall production but when the first spirit came off the stills, the distillers told me I had to taste it.
'Within the hour, Mike [Hayward, distillery co-founder] and I ordered three times the quantity of peated malt we had originally planned.
'The quality of the spirit we were tasting was so good, we just knew we needed more.'
Bottles of the 1770 Peated Release No.1 are now available to pre-order from the Glasgow distillery website for £49.
Hughes added that the new 1770 range 'shines a light on modern distilling'.
He said: 'Glasgow is really important to us, not just because we are the Glasgow distillery, but because Glasgow is now part of a new chapter in the world of single malt Scotch whisky, which is really exciting.'
Glasgow distillery was founded in 2012 and began producing single malt in 2015.
Its opening brought malt distilling back to the city for the first time since the 1975 closure of Kinclaith, which was situated within the Strathclyde distilling complex.
After just four years of operation, Glasgow has already doubled its production capacity with the installation of two new stills.