Independent bottler Hunter Laing is releasing its new Scarabus Islay single malt to celebrate the 2019 Fèis Ìle, with first tastings to be held at the recently-opened Ardnahoe distillery.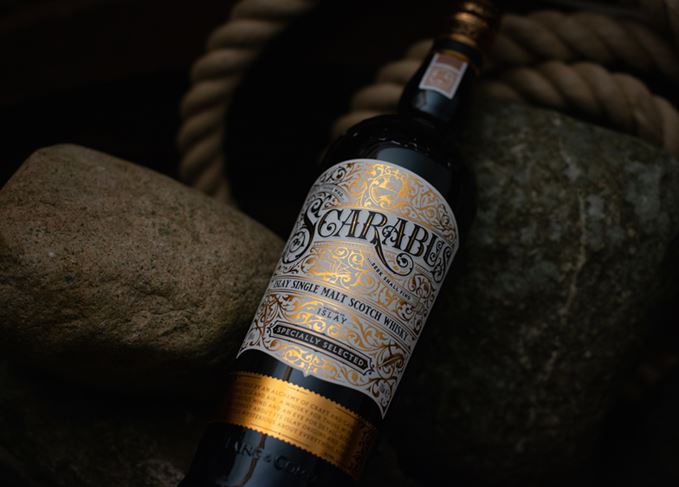 The non-age-statement whisky is the first expression in Hunter Laing's new, 'mysterious' Scarabus range.
The single malt has been sourced from an undisclosed Islay distillery and bottled at 46% abv.
It is described as having 'aromas of Islay peat smoke and sea salt, followed by warming leather notes, stewed rhubarb and a wonderful vanilla sweetness on the palate'.
Scarabus is named after an area of farmland in the north of Islay between Bridgend and Ballygrant, on which a distillery, named Scarabuss, operated for a year in 1817-18.
Ardnahoe distillery, which is owned by Hunter Laing, will host first tastings of the expression in select tours and tastings during Fèis Ìle (24 May-1 June 2019).
Commenting on the release, Hunter Laing managing director Stewart Laing, said: 'We aimed to produce an expression that showcases a traditional Islay whisky style.
'The unmistakable Islay smoke matches wonderfully with the rich, sweeter notes that linger on the finish.'
The bottle's label bears the mantra 'only those who seek shall find', along with 'intentionally ambiguous' symbols.
The label design was inspired by Islay-born author and scholar John Francis Campbell, who compiled a collection of Celtic folklore.
Scarabus will be launched globally from June for around £38 per 70cl bottle, and will also be available to purchase exclusively at Ardnahoe distillery during Fèis Ìle.
Ardnahoe officially opened its doors in April 2019, becoming the first distillery to be built on Islay since Kilchoman in 2005.