Fife-based distillery InchDairnie has distilled what is claimed to be the 'first' oat whisky to be made in Scotland for over a century.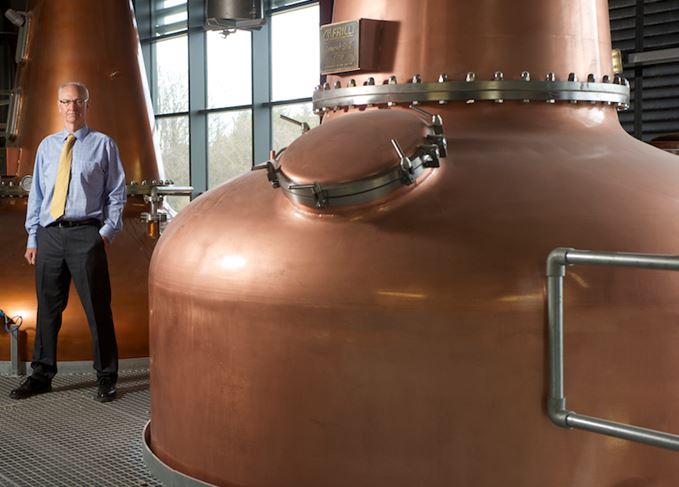 The distillery mashed its first batch of oats over the weekend, and has today (10 June) begun distillation of its first spirit.
The oat whisky follows on from the distiller's work with rye in 2017, and will become the first iteration in its PrinLaws Collection, which will feature flavour-led, small-batch distillates.
Oats have been used in Scotch and Irish whisky mashbills in the past, with evidence in the 1908-09 Royal Commission Report of their use.
In more recent times, oats have been distilled by a number of US-based distillers, as well as Blackwater in Ireland.
It's a project InchDairnie has been working on for two years.
Ian Palmer, managing director of InchDairnie owner John Fergus & Co., said: '[Oat whisky] is one of many experimental ideas we had in mind when we built the distillery [in 2016] and one of the reasons we chose to install specific equipment such as the hammer mill, the mash filter, and Lomond still.'
Palmer added that the first hurdle in distilling oats was sourcing the correct varieties, which are 'not the ones you use for porridge', and then finding someone to malt them.
For both elements, Palmer turned to 200-year-old maltster Thomas Fawcett in Castleford, West Yorkshire, which floor-malted Mascani oats grown in Shropshire and Yorkshire.
'Malting the oats makes it easier to process and it also helps to add some viscosity,' Palmer said.
The oats were then blended with distilling malt, as oats are low in the enzymes needed to convert starch into sugar.
Palmer's intention was always to have oats as the predominant cereal, and they account for 51% of the mashbill.
Initial trials took place at brewing expert Meura in Belgium, then at research and technology specialist Campden BRI in Redhill, Surrey, where the mash was fermented with a yeast selected by Mauri specifically for the purpose.
InchDairnie then ran trial distillations at its own pilot plant.

British grain: InchDairnie used oats grown in Shropshire and Yorkshire for its whisky

A total of 100 tons of oats were mashed which, when distilled in the standard pot and then the firm's own-designed Lomond Hills still, will produce around 20,000 litres of new make.
'It's of sufficient size to be able to understand the spirit,' said Palmer. 'If you are going to do something like this, you have to commit.'
The spirit will be filled into first-fill Bourbon casks, with half going into Portguese Moscatel casks.
Palmer said: 'I imagine it will be more like a grain whisky, but creamier (the mash is very sweet and creamy), so I thought the flowery Moscatel cask might be a reasonable match.'
InchDairnie's oat whisky will not be released until it is deemed to be ready.
As there is no separate definition for oat whisky under the Scotch whisky regulations, it will be classed as a single grain Scotch.
Each year the distillery will set aside two weeks to produce a series of one-off, single campaign distillations.
These will form the PrinLaws Collection, the fourth member of the InchDairnie range, along with the seasonally-distilled single malt, rye whisky RyeLaw, and peated KinGlassie.
PrinLaws was the name of a local mill operated by John Fergus in Leslie, Fife.
'We are pushing the boundaries of flavour,' said Palmer. 'In whisky, the biggest risk is not to take a risk.'