Drinks brand Noveltea has unveiled The Tale of Oolong, an 'alcoholic tea blend' of Scotch whisky and Chinese oolong tea.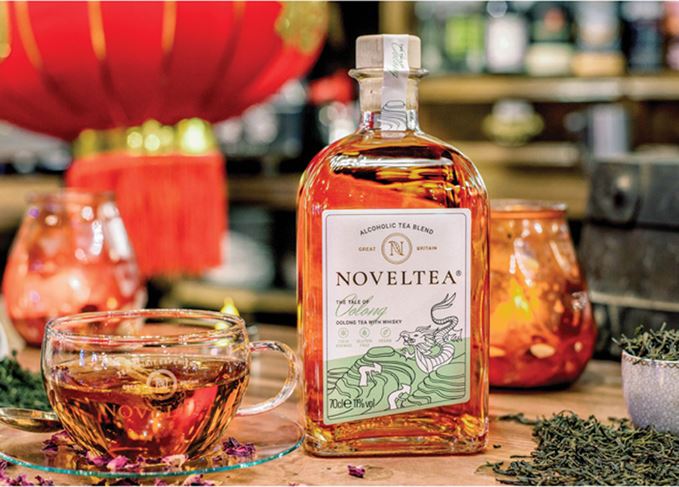 The drink is described as a fusion of formosa oolong and green tea leaves, jasmine flowers, red rose petals, papaya and mango flakes 'enriched' with an unnamed Scotch whisky blend.
The ingredients are cold-brewed with loose tea leaves for between eight and 10 hours to 'generate a smooth taste' and avoid extracting 'bitter notes', before being bottled without artificial colouring at 11% abv.
Described as having a 'natural sweetness and floral traces' from the jasmine and rose petals, and 'soft and fruity notes' from the whisky, the Tale of Oolong is designed to be enjoyed hot, cold or in a cocktail.
Noveltea co-founder Vincent Efferoth explained that the inspiration behind Tale of the Oolong came from Chinese tea-drinking culture.
'China is one of the largest importers of Scotch, and there is a social tradition where they dilute the whisky down with a traditional tea,' Efferoth explained.
The alcoholic tea blend was designed to offer an 'alternative experience' for drinkers.
Efferoth stated: 'In a majority of cases you drink whisky and rum neat, whereas there are other spirits, like gin, that are usually drunk with a tonic; yet this is rarely drunk on its own either.
'For people that wouldn't usually choose to drink those spirits neat, we wanted to offer a different experience with the alcoholic tea blend category.'
Tale of the Oolong is available in 70cl bottles at £24.95 from online retailers and specialist stores.
The drink is the third expression from Efferoth and fellow Noveltea co-founder, Lukas Passia.
The Newcastle-based company creates products that reflect different tea-drinking cultures around the world.
Noveltea has previously paired gin and tea in its Tale of the Earl Grey expression, and rum and Moroccan mint tea leaves in its Tale of Tangier drink.