In 2021, a new malt whisky distillery called Emeishan will open in a dramatic location close to the sacred peak of Mount Emei, in China's Sichuan province. Pernod Ricard will spend up to US$150m in an effort to create China's 'most iconic malt whisky'. Richard Woodard finds out more.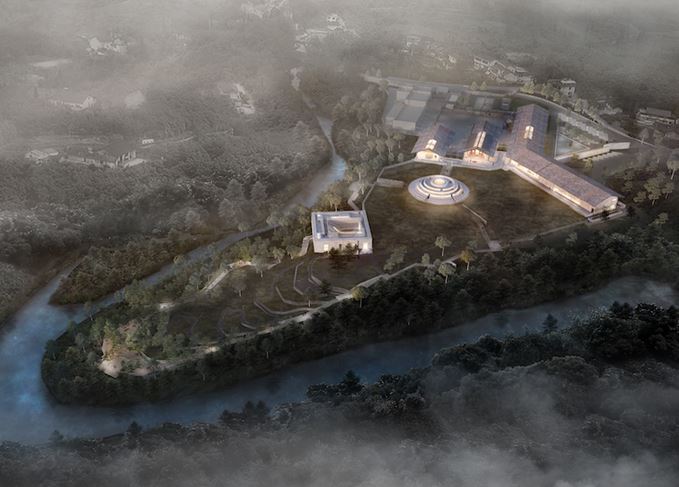 The dramatic, 3,000-metre-high peak of Mount Emei, or Emei Shan, towers over the western rim of the Sichuan basin in southwestern China, but its cultural significance is arguably greater still. This is the loftiest of China's four sacred Buddhist mountains, and it was here that the country's first Buddhist temple was built in the first century AD.
Today, there are hundreds of temples in the area, and no fewer than 76 Buddhist monasteries on the mountain itself, clinging sometimes precariously to the remarkable terrain. The winding footpath tracing the route all the way up to Mount Emei's peak is some 50 kilometres long.
It's a spectacular location that has been a UNESCO World Heritage site since 1996, and one that lures millions of tourists to the area every year, but in the near future Emeishan could became famous for another reason: whisky.
French drinks group Pernod Ricard – owner of The Glenlivet, Ballantine's, Chivas Regal and Jameson – will spend up to RMB1bn (US$150m) over the next decade building a distillery here and creating what it calls 'the most iconic malt whisky in China'.
The move – not the first malt whisky operation in China, but the first on this scale from an international group – continues the spread of whisky production across Asia, from the beginnings of the Japanese whisky industry almost a century ago, to Taiwan, India and beyond.
'We thought that a lot of the Asian countries have succeeded in having their own translation of what whisky means to their own drinkers,' explains Jean-Etienne Gourgues, managing director of Pernod Ricard China.

Lofty peak: Mount Emei is the highest of China's four sacred Buddhist mountains

'So we thought that bringing the knowledge of whisky, and the depths of knowledge in the West, and leveraging as well some of the great assets that China has, and blending that together to deliver a unique product for Chinese consumers… could make a lot of sense.'
The project is in its infancy – the ground-breaking only happened in August – and a lot of the details remain under wraps for now. We do know a little about the scale of Emeishan, including that US$150m total investment, plus the design of the 13-hectare site, which sits in a dramatic location within the loop of a river, set against the breathtaking backdrop of Mount Emei.
Construction will, it is hoped, be complete by 2021, with the first Emeishan whisky released in 2023 at the earliest (the rules governing Chinese whisky, unlike Scotch, allow for it to be bottled after only two years' maturation).
The choice of Emeishan was the result of a painstaking search, says Gourgues. 'We visited dozens and dozens of locations, including in this region hundreds of plots, to find the appropriate location.'
Why Emeishan? Four main factors: a history of alcohol production (many leading producers of Chinese spirit baijiu are located in Sichuan); a pristine natural water source – 'There is a very high level of minerals in the water, which is a great asset in terms of fermentation,' says Gourgues; the landscape and its UNESCO protected status; and the local people, who, he says, are already taking great pride in the project.
The tourism factor is another plus. An 'immersive visitor centre' forms part of the Emeishan plans, with the bullish goal of 'becoming a new world-class destination that will attract two million-plus tourists over the first decade of its opening', Pernod Ricard says.

Local accent: Emeishan, designed by China-based Neri&Hu, will use building materials from the area

It's also clear that the company is determined to give Emeishan an overtly Chinese identity, rather than imposing its own whisky vision from Scotland or Paris. The master distiller will be Chinese and, says Gourgues, whisky production 'will be managed not by Scottish people or Irish people, but by Chinese people'.
The architects – Neri&Hu, whose previous projects include the New Shanghai Theatre – are based in China, and construction, while referencing the whisky-making process through the use of copper and wood, will also employ local stone and roof tiles reclaimed from the area.
How will this Chinese identity manifest itself in production terms – the barley used, say, or the yeast, or the oak? 'Too early to say at this stage,' says Gourgues. 'We have some ideas, but I think that's a conversation we can carry on when we will have the opening of the distillery.'
For now, he is unwilling even to discuss the new distillery's production capacity, or the number of stills. 'There are a number of parameters that will need to be fine-tuned by our master distiller to be able to answer those questions,' he says. 'It's a [new] venture, so there is no reference of any kind, and it's too early to confirm any production capacity.'
If the company seems coy about Emeishan, it's partly because there are a lot of unknowns at this stage. Gourgues explains: 'It will be taking the techniques from the whisky distillers of Europe, but delivering from those techniques something which is fit for purpose for Chinese consumers' palates, and also accommodating the geography and the humidity and the water and the air temperature and the capacity of ageing of this region – so it's not something that we can say from day one: this is what the product will look like in terms of taste profile.

Mystery ride: Many of the details surrounding Emeishan remain under wraps for now

'There is a big part which is unknown, so time will tell how [the whisky] ages, what kinds of flavours and aromas are going to develop, and what is the best maturation in terms of wood.'
One aspect that is a 'reality', says Gourgues, is that Emeishan's whisky will mature more quickly than Scotch. 'The climate is extremely different, because it's 80% humidity and extremely hot in the summertime, and not as cold as Scotland in the wintertime – so for sure the oak and the spirit are going to work very differently in terms of ageing.
'But again we need to go through this process until the tasting, so that's the beauty of it: you can put a lot of things on paper, but at the end of the day it's one guy or a team tasting that and making their own choice.'
In the long term, it's entirely possible that Emeishan's whisky will be sold all over the world, but for the moment the clear priority is local consumption: a Chinese malt whisky aimed squarely at the Chinese market.
The timing and scale of the Emeishan project say much about where whisky stands in China in 2019: rising consumption, but crucially also an inexorable growth in curiosity about what lies behind the liquid.
Gourgues highlights the record number of Chinese tourists coming to Scotland in 2018 – a record which he is 'pretty sure' will be broken this year – as evidence of this. 'A spirit in China is not just a drink, it's a cultural product, and that's the way everybody's speaking about that,' he says. 'It's true as well for whisky in general, so there is a true interest in discovering what is behind the product, the brand, and seeing how it is made.'

Tourist attraction: The distillery will hope to lure some of the millions of visitors to the area

Emeishan will be judged not only by the quality and character of its product, but by its impact on China's love of whisky, which remains in its infancy. 'The penetration of whisky is growing, but it's still very small in China,' says Gourgues. 'So what we want is to attract either new consumers or, down the road, there might be more whisky drinkers in China – and to offer them a proposition, a product offer which is unrivalled and interesting to them.'
Chinese consumer attitudes to whisky have shifted enormously over the past decade, from the 'luxury bubble' that preceded the Communist Party's anti-corruption measures to the far more diverse and informed market of today. It's a fast-evolving scenario where, says Gourgues, 'five years is a generation' – so what will success for Emeishan look like in a decade's time?
'To me it's very clear: it's that Chinese consumers are extremely proud of our Emeishan whisky, and it's this sense of pride for Chinese consumers which will be the sign of success. So it's not to do something for people visiting China, or whisky lovers in the world having a China edition on top of all the other ones.
'It's really to make something that Chinese consumers will say: "We are very proud of the quality of our whisky."'