Speyside distillery Macallan has released Edition No 5, the latest single malt to join its annual limited Edition series.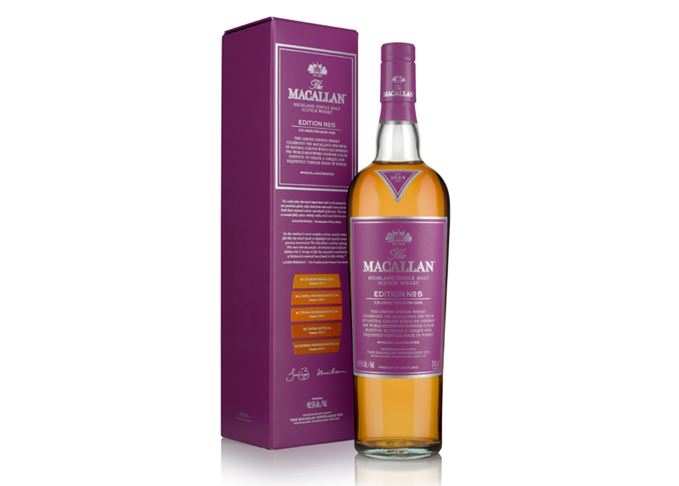 A no-age-statement single malt, the whisky has been matured in American oak casks before being bottled at 48.5% abv.
The new bottling is designed to showcase the colour of Macallan's whisky, following Editions No 1 and No 2, focused on cask influence; Edition No 3, which explored the impact of aroma; and Edition No 4, which was focused on structure.
Sarah Burgess, whisky maker for Macallan, said: 'Whilst colour development starts with mixing basic colours with precision to achieve different shades, when it comes to whisky making, it is the knowledge and understanding of a specific palette of colours from the cask which is the starting-point.'
Edition No 5 is said to have '100% natural' colour and is bottled without the use of spirit caramel.
The whisky is said to be full of 'oak, nutmeg and ginger' notes on the nose, with flavours of 'poached peaches and ripe pear' on the palate.
To emphasise the connection with colour, the bottle's label has been decorated with 'a uniquely bold shade of purple' developed by designers at the Pantone Colour Institute in New Jersey.
The whisky is available from specialist retailers, Heathrow Airport and the Macallan distillery, priced at £92 per 70cl bottle.
Edition No 5 is one of the latest additions to Macallan's various limited edition series, following the recent release of the distillery's 40-year-old Fine and Rare 1979 single malt.