Royal Brackla is to relaunch its core range of whiskies next year with new 12-, 18- and 21-year-old single malts, each finished in different ex-Sherry casks.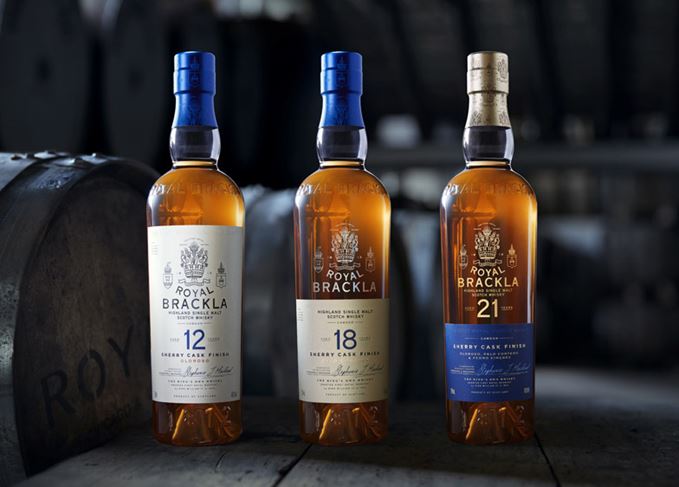 Each expression in the Highland distillery's new range will be bottled at a higher strength of 46% abv (as opposed to the original 40%), and without caramel colouring.
The three new expressions will be matured in American oak casks and finished in a selection of first-fill ex-Sherry casks.
Royal Brackla 12 Years Old, finished in ex-oloroso Sherry casks, is said to contain 'the full bodied spice of oloroso and the bright summer breeze of Royal Brackla' and will be priced at US$79.99.
The range's 18-year-old is finished in ex-Palo Cortado casks and is said to be 'enticing and complex' with 'big, succulent soft fruits' on the palate, priced at US$154.99.
Royal Brackla 21 Year Old, finished in a combination of ex-Pedro Ximénez, oloroso and Palo Cortado casks, is said to contain 'syrupy toffee notes with richly fragrant summer berries' and will be priced at US$279.99.
The revamped range, which replaces Royal Brackla's original 12-, 16- and 21-year-old expressions, will be rolled out gradually from Spring 2020, with a one-month exclusive launch at China Duty Free Group stores in Beijing, Shanghai and Guangzhou.
Gaurav Joshi, regional director for Asia Pacific global travel at the distillery's parent company Bacardi, said: 'China is such an exciting market for our single malt whiskies – the Chinese whisky connoisseur is discerning and makes decisions driven by a taste for refinement.'