Investors are being sought to back a start-up venture marketing oak cubes to 'restore the love' between a glass of whisky and the barrel in which it matured.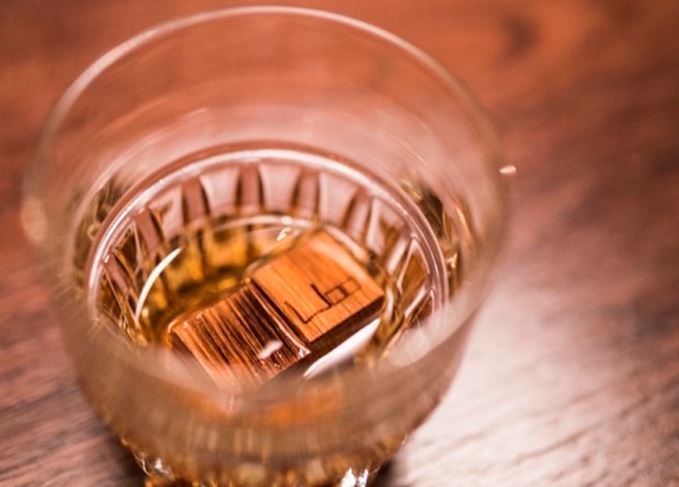 WooWhiskey, described as 'the first personal whisky accessory in the world', consists of two processed oak cubes which, it is claimed, will bring 'authentic oak flavour' to a glass of whisky in just five minutes – 'as if you have poured your whisky straight from a high-quality barrel'.
The Bulgaria-based venture is led by Trifon Mihaylov, a beekeeper who said he came up with the 'crazy idea to make ice cubes from wood' one evening, then started making them for friends.
Mihaylov, whose Twitter account says he is 'trying to give a whole new meaning of the term "brainstorm" by playing with people's minds', is also a beekeeper who uses 'bee products' to process the wooden cubes, which are made from European oak.
WooWhiskey, which has started a crowdfunding campaign and aims to begin production in May, uses high temperature processing to extract moisture from the wood used, but does not toast it.
'Thus we preserve the authentic oak flavour for you to sense while enjoying your glass of whisky,' the company said. 'By virtue of this specific process, you are able to use WooWhiskey repeatedly and for a long time.'
Although the cubes are designed to be used with whisky, WooWhiskey said some 'ladies' enjoyed adding them to a glass of white wine or a Martini.
A pack of two cubes will cost $15 at retail when launched, said the company, which is offering a number of rewards on its Indiegogo page, including discounts on whisky cubes and a hand-made wooden bow tie.
WooWhiskey, which claims the support of Jameson and Pernod Ricard, as well as Playboy, had raised $1,343 of its $19,500 investment target at the time of writing, with a month of its crowdfunding campaign left.
A Pernod Ricard spokesperson said the company had provided WooWhiskey with three bottles of Jameson to test the cubes, but had no further involvement in the project.
The WooWhiskey promotional video: