Pernod Ricard, the French drinks company behind The Glenlivet, is to build a US$150 million malt whisky distillery in China, believed to be the country's first.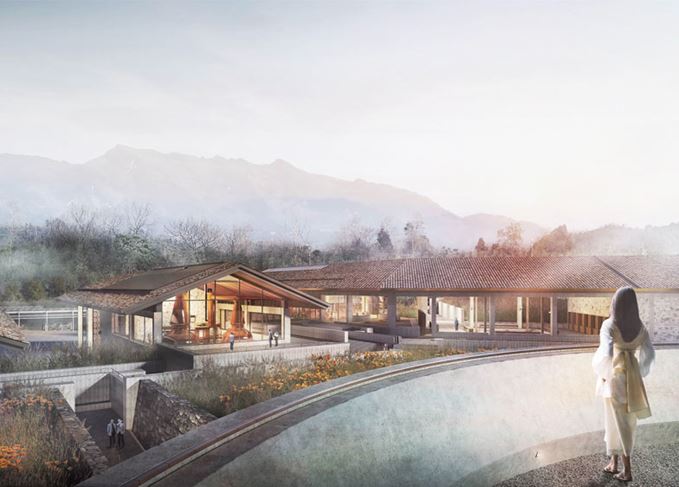 The drinks group has already broken ground on the site at Emeishan in Sichuan province, where a 'state-of-the-art' distillation facility and 'immersive visitor centre' will operate.
The 13-hectare site will champion an 'innovative approach to malt whisky making that celebrates the natural beauty of the climate in the region, renowned for its pristine water source and natural terroir'.
Due to open in 2021, the distillery is expected to become a 'world-class destination' attracting over two million visitors during its first 10 years of operation.
The development is the latest investment from Pernod RIcard in expanding its world whisky portfolio, with the acquisition of Kentucky's Rabbit Hole distillery in July this year, and Texas' Firestone & Robertson Distilling Co., owner of the TX whiskey brand, earlier this month.
The group also announced today that it will acquire US company Castle Brands for US$233 million, a sale which includes the Jefferson's Bourbon brand.

'World-class' destination: Emeishan distillery will be spread across a 13-acre estate in Sichuan province

Pernod Ricard claimed its Emeishan malt whisky distillery will become the first in the world to appoint a Chinese master distiller, 'fusing authentic whisky-making craftsmanship and local knowledge'.
Philippe Guettat, chairman and CEO of Pernod Ricard Asia, said: 'The ground-breaking of the distillery signifies the beginning of a journey of innovation, expertise and dedication to craft a new, iconic malt whisky that embraces whisky history and heritage with a character unique to Chinese culture.
'It is both the symbol of our strong history with China after three decades of operation and the sign of our deep confidence into the future of international style spirits in this fascinating market.
'We're proud to be part of China's fabric and contributing to the sustainable growth of its economy and society, by transferring whisky-making expertise to the people, credibility to the region and the spirit of conviviality to visitors and consumers alike.'
The distillery will be designed and built by China-based architect Neri&Hu, which is known for its work on the New Shanghai Theatre among other projects.
The materials used will take their influence from the surrounding environment, with stone walls built from boulders extracted from the ground during levelling.
The building will also be accented with elements of copper and wood to reflect the whisky-making process.
Pernod Ricard is the world's second-largest international spirits group, operating 14 Scotch whisky distilleries through its subsidiary Chivas Brothers.