Laguvulin is continuing its 200th anniversary celebrations with the launch of a limited edition 25-year-old single malt Scotch whisky, the first aged exclusively in Sherry casks.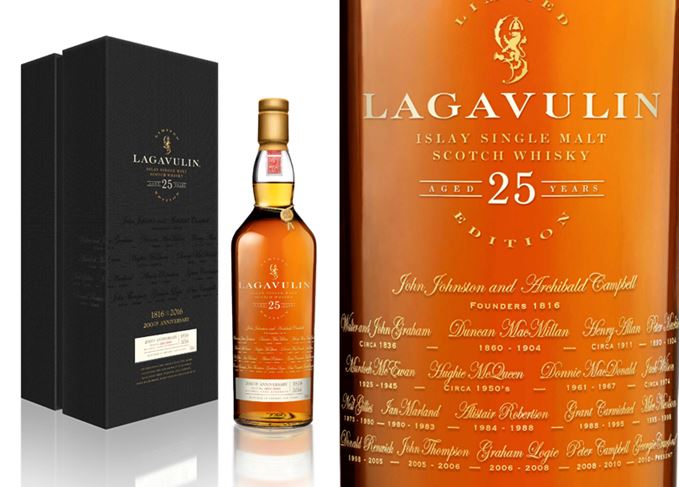 The Islay distillery, which legally began distilling in 1816, has released just 8,000 bottles of the celebratory malt globally, for £799 per bottle.
Matured in 'Sherry oak casks' and bottled at a natural cask strength, the expression has been created to honour the 21 distillery managers who have overseen Lagavulin over the past 200 years.
The name of each distillery manager and the dates of their stewardship have been etched onto each bottle, with the names of founders John Johnston and Archibald Campbell located prominently above their 19 successors.
Current distillery manager, Georgie Crawford, who adopted the role at Lagavulin distillery in 2010, said: 'For two centuries, Lagavulin has been crafted through the hands of hard working Islay residents; from peat cutters to warehousemen; the characters that make Lagavulin what it is today share a passion for producing an award winning Islay dram.'
The new expression is the distillery's first 25-year-old release since an expression appeared in Diageo's Special Releases series in 2002.
It follows the 200th anniversary commemorative release of Lagavulin 8 Year Old in March this year, which is due for a second release later this year as part of other commemorative bicentenary events by the brand.
However, unlike the Lagavulin 8 Year Old, Lagavulin 25 Year Old will be a one-off release.
Dr Nick Morgan, Diageo's head of whisky outreach, added: 'The 25 Year Old is a sublime expression of Lagavulin.
'This year our aim is to bring as many people to Islay and Islay to as many people from around the globe as possible, to celebrate years of craft and passion.'