Deanston distillery
Highland Single Malt Scotch Whisky
Its mash tun is open-topped for example, while the way it is run – low gravity worts, long fermentation, slow distillation – helps to produce a new make style which is in the waxy quadrant. This represents a switch back to the original style. In the Invergordon era, Deanston had conformed to a modern style of production, making a light dry 'nutty-spicy' make.
Today organic barley is also run through the stills and, in common with all of Burn Stewart's single malts, it is bottled without chill-filtering or caramel tinting.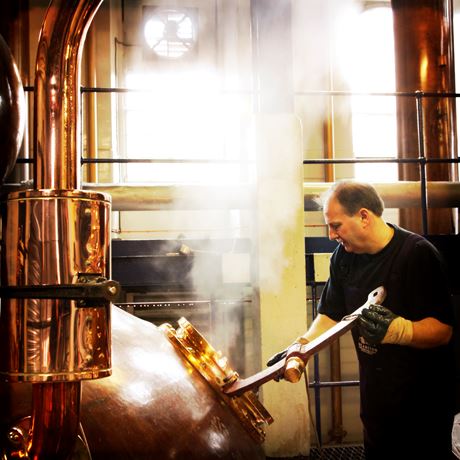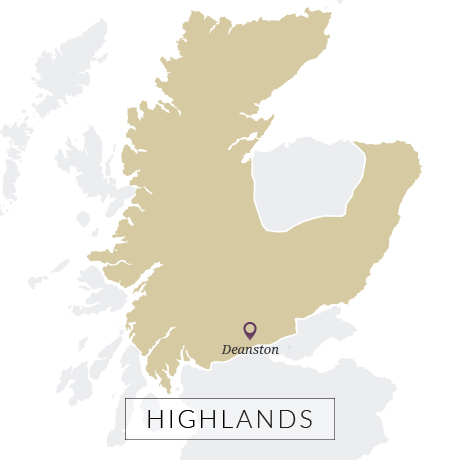 Region

Highland

Production type

Single malt

Distillery Status

Working

Brands produced here
Deanston History
There are many distilleries in Scotland which started life as mills, but none of them had quite the scale of Deanston. This huge plant was constructed on the banks of the fast-flowing River Teith in 1785 by Richard Arkwright who used it as one of the sites for the development of the Spinning Jenny. It also had what was claimed to be the largest water wheel in Europe.
Weaving continued here until 1964 when the buildings were bought by Brodie Hepburn [see Tullibardine, Macduff]. Production started in 1969, but its original owners only had it for three years before the company was bought by private label specialist Invergordon. It ran for a decade before the '80s whisky slump forced its owner to shut it down. Eight years later, it was bought for £2.1m by Burn Stewart.
It can claim to be one of the greenest distilleries in Scotland. All of its power is generated by a turbine house which processes 20 million litres of water an hour. The excess electricity is then sold to the National Grid.
Although single malt bottlings started relatively early – in 1974 – it is only recently that Deanston has been elevated to a front-line single malt brand.
Timeline
1785

Deanston Mill is constructed near the River Teith by Richard Arkwright

1964

The site is bought by Brodie Hepburn and transformed into a distillery

1969

Production begins at Deanston

1971

The distillery's first single malt is named Bannockburn

1972

Invergordon buys the distillery

1974

The first Deanston single malt is released

1982

Poor trade forces Deanston to close

1990

Burn Stewart buys the distillery for £2.1m, and Deanston reopens a year later

1999

CL Financial acquires an 18% stake in Burn Stewart, but buys the company outright three years later

2009

Deanston 12 Year Old is given a revamp

2010

Deanston Virgin Oak is released

2012

The distillery's visitors' centre opens its doors
Owners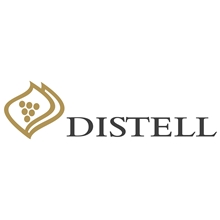 Parent company
Current owner
Previous owners
Contact
Address

Deanston Distillery




Doune




Perthshire




FK16 6AG




United Kingdom

Phone

+44 1786 843010

Visitor Opening Hours

Monday

10am to 5pm

Tuesday

10am to 5pm

Wednesday

10am to 5pm

Thursday

10am to 5pm

Friday

10am to 5pm

Saturday

10am to 5pm

Sunday

10am to 5pm