Invergordon Distillers Profile
Formed to build a grain distillery on the Cromarty Firth a few miles North of Inverness, Invergordon Distillers Ltd grew to own a further six malt whisky distilleries and specialise in supplying whiskies to the whisky trade and bulk blends for the export market.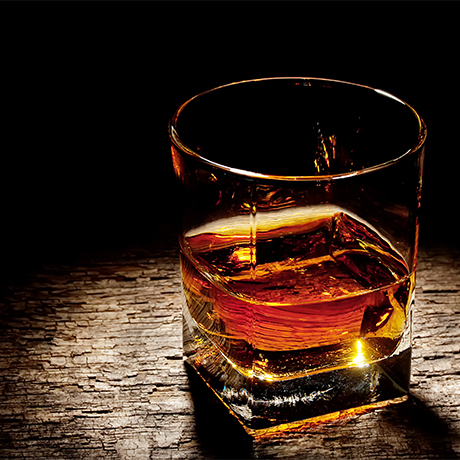 Invergordon Distillers History
Invergordon Distillers Ltd. was founded in 1960 to purchase the Invergordon grain distillery, the construction of which had only started the previous year.
In 1965 the company was listed on the London Stock exchange and 76% of the shares were held by London Merchant Securities Ltd. At this time the company also built a small malt whisky distillery, Ben Wyvis, inside the Invergordon site and the following year built its first off-site malt whisky distillery, Tamnavulin-Glenlivet, in Speyside.
In 1968 the company sold its share of the Bridlington maltings to the senior partner, Munton & Fison, and used the proceeds to purchase the Bruchladdich distillery on Islay.
This was followed in 1971 with the purchase of Brodie, Hepburn Ltd. of Glasgow, a company that claimed to be the 'oldest established whisky broker'. Included in the purchase was the Tullibardine distillery near Stirling and a 30% share of the recently opened Deanston distillery near Doune. The balance of the shareholding in Deanston was purchased over the next 12 months.
In 1977 the company closed Ben Wyvis distillery to concentrate on malt whisky production in its other four distilleries. The following year aircraft manufacturer Hawker Siddeley, designer of the Hurricane fighter, bought majority shareholder Carlton industries and its 76% stake in Invergordon Distillers. This didn't slow down the group's expansion, and in 1979 it purchased blender Grey Rodgers & Co from Sherry shipper Pedro Domecq. Included in the sale was the popular whisky blend named after the only Scottish cavalry regiment, Scots Grey.
The mid 1980s saw Invergordon Distillers buy Ronald Morrison Ltd, famous for its Glayva Whisky liqueur and later bottler and blender Charles Mackinlay & Co, including the Isle of Jura and Glenallachie distilleries from Scottish & Newcastle Breweries.
A management buyout of Hawker-Siddeley's shares occurred in 1988, with 15% distributed to employees with more than two years' service. In 1989 the Glenallachie distillery was sold to Campbell Distillers Ltd., part of French group Pernod Ricard.
Two years later Invergordon Distillers' independence began to unravel, as Whyte & Mackay embarked on a hostile takeover of the company, a process that took over 24 months.
Today, Invergordon remains a part of Whyte & Mackay, which is in turn owned by Philippines outfit, Emperador Distillers.
Associated companies
Edinburgh Scotch Whisky Company
Contact
Address

Invergordon Distillers




Dalmore House


310 St Vincent Street


Glasgow




G2 5RG




United Kingdom