Glenfiddich distillery
Speyside Single Malt Scotch Whisky
All of the stills in 'Stillhouse 2' remain directly fired (by gas). The size and shape of the stills have not changed since 1886 (see below) which seems to contradict Glenfiddich's new make character – light, estery, pear and apple-accented. Small stills and direct fire are meant to combine to make a heavy style. Here, however, having an early cut point preserves that delicacy. The number of stills is another clue. More spirit could have been made with a smaller number of stills by widening the cut, but that would have meant that character would have been lost. The only solution was to add more stills.
That delicacy is seen most clearly in the 12-year-old. After that, a steady increase in the amount of ex-Sherry casks used adds increasing layers of fruit and weight but the light notes seen in the new make are never fully lost.
The firm has also pioneered (or maybe revived) a type of solera ageing. This involves a set recipe of mature stock from specific cask types being mingled together in a solera vat which is then never more than half emptied.
The technique was pioneered for the 15-year-old expression and now three more vats have been constructed for the Select, Reserve and Vintage Cask range. The vatting cask for the 40-year-old, containing whiskies from the 1920s, is also never fully emptied. Because none of the vats are fully emptied some of the original whiskies are still contained in the mix, something which adds mouthfeel and harmony to the final whisky.
Indeed, all Glenfiddich undergoes a marrying process – if not in solera vats then in marrying tuns where the component parts are allowed time to meld together. It is time consuming – and expensive – but William Grant & Sons believes it adds quality to the final product.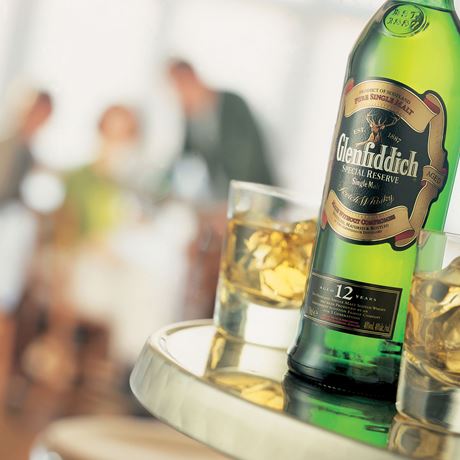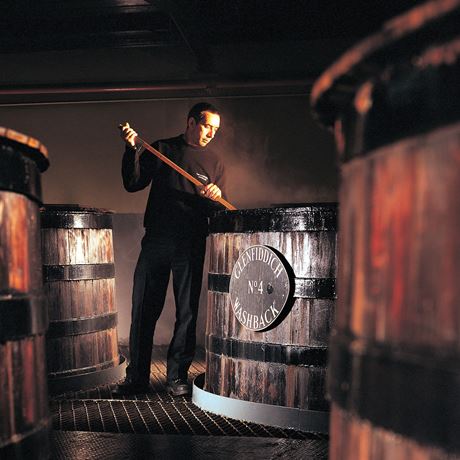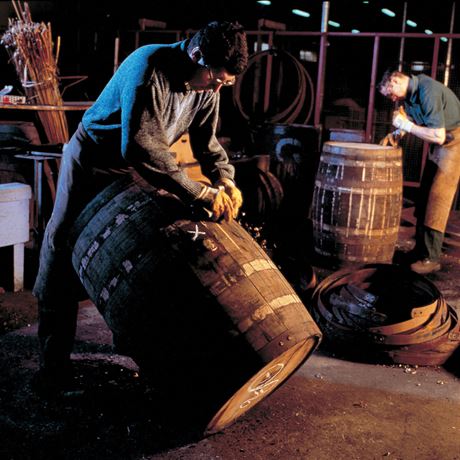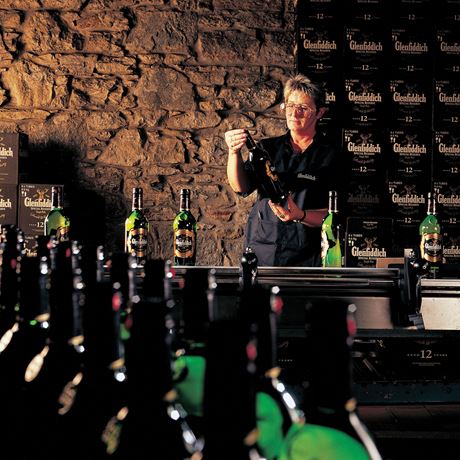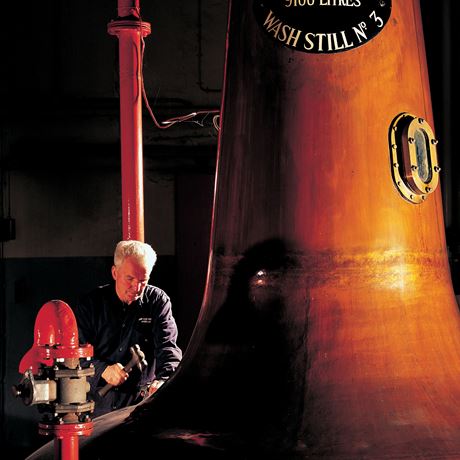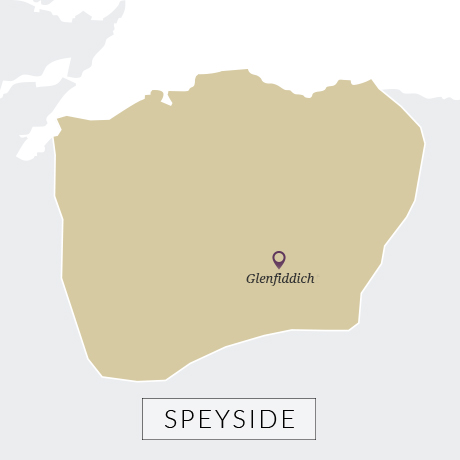 Region

Speyside

Production type

Single malt

Distillery Status

Working

Brands produced here

Burnside
Wardhead
Glenfiddich History
The story of the building of Glenfiddich has the air of a Victorian fairy tale. It was in 1886 that William Grant of Dufftown decided to leave his position as manager of Mortlach and start up on his own. He had saved assiduously and, fortuitously, was starting his project just as Elizabeth Cumming was revamping Cardhu and replacing her old small stills. Along with his wife and nine children, William built his distillery near to the Fiddich river by hand. The first new make trickled out on Christmas Day, 1887. At a time when more distilleries had foundered than succeeded, and those which were being built tended to be bankrolled by brokers, bonders and blenders, his enterprise and stubborn belief was remarkable.
He must have been a talented distiller, for his whole output was soon snapped up by Aberdeen blender and broker William Williams. Within 25 years, the family firm had 63 agencies internationally, proving them with their family blend, 'Grant's Standfast'.
The firm is still wholly owned by the Grant family (now in its fifth generation), and has expanded to include three more malt distilleries [Balvenie, Kininvie and Ailsa Bay], a grain plant [Girvan] and other brands such as Monkey Shoulder and Hendrick's gin.
In 1963, after a dispute over grain supply (which prompted the firm to build the Girvan plant) the decision was made to bottle and promote Glenfiddich as a single malt, the first concerted effort to create a global malt brand. In the late 1960s it was one of the first to be sold in new duty free outlets and in 1969 the distillery's doors were opened to the public – another first.
Today, Glenfiddich remains the world's best-selling single malt with sales in excess of a million cases a year.
Timeline
1886

William Grant leaves Mortlach and builds Glenfiddich Distillery

1887

The stills begin production on Christmas Day

1903

The distillery is incorporated as part of William Grant & Sons, where it remains today

1957

Glenfiddich introduces its iconic triangular bottle

1963

The brand becomes the first to be marketed as a single malt whisky worldwide

1969

Glenfiddich becomes the first Scottish distillery to open a visitors' centre

1974

A major investment sees 16 new stills installed

2005

Glenfiddich upgrades its visitors' centre

2010

Glenfiddich Snow Phoenix is released

2013

The Cask Collection is launched in duty free
Owners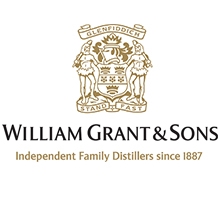 Current owner
Previous owners
Glenfiddich Distillery Co

1896 - 1903

William Grant

1886 - 1896
Contact
Address

Glenfiddich Distillery




Castle Road




Dufftown




Moray




AB55 4DH




United Kingdom

Phone

+44 1340 820373

Visitor Opening Hours

Monday

9.30am to 4.30pm

Tuesday

9.30am to 4.30pm

Wednesday

9.30am to 4.30pm

Thursday

9.30am to 4.30pm

Friday

9.30am to 4.30pm

Saturday

9.30am to 4.30pm

Sunday

Closed