Highland Park distillery
Island Single Malt Scotch Whisky
Peat is made up from semi-decomposed vegetation laid down over thousands of years. That vegetation differs across Scotland depending on climatic condition all these millennia ago. When the peat is dried and then burned, the phenols (smoky aromas) released will have different aromas generated by this vegetation. Mainland peat is smokier because of there being more lignin from trees; Islay's peat appears to have more marine vegetation and contains more creosol (picked up as tar); while Orcadian peat is composed entirely of sphagnum moss and heather. The result, once again, is a different aromatic spectrum, lightly smoky, but significantly more fragrant… heathery even.
The peat is burned in the distillery's own kiln and the resulting heavily smoky malt makes up 20% of the barley used for each mash. The remainder, unpeated, comes from the mainland.
The other signature of Highland Park comes later in the process with maturation. The regime has been 100% Sherry casks since 2004, with a mix of European and American oak (as well as refill) being used. These add a layer of richness to the lightly smoky, fragrant and fruity character.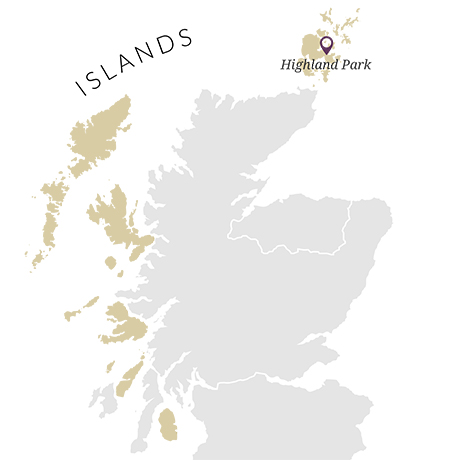 Region

Islands

Production type

Single malt
Unaged spirits

Distillery Status

Working

Brands produced here

Calchou
Highland Park History
The origins of distilleries are often, as they should be, obscured by the clouds of half-truth and myth. Such is the case with Highland Park. Was it founded by famed priest turned smuggler Magnus Eunson, or by farmer David Robertson in 1798? The distillery's ornate wrought ironwork gate certainly attests to the 1798 story.
Was it always called Highland Park or originally was it known as Rosebank, then Kirkwall and only becoming Highland Park later?
Whatever the slight mystery over its origins, it is accepted that it wasn't until the late 19th century that Kirkwall's then only distillery found its feet properly in the 1870s under the ownership of first William Stuart [who owned Miltonduff] and from 1885 with his business partner James Grant (previously the manager of The Glenlivet) who took full control in 1895. It was Grant who expanded the distillery twice and built up a strong relationship with Robertson & Baxter (R&B).
Highland Distillers (who had shares in R&B) took full control in 1937 and Highland Park is now part of the Edrington Group.
It first appeared as single malt in the late 1970s, as an 8-year-old, but the packaging was revamped in the 1980s (and repeatedly ever since) when the 12- and 18-year-old expressions were introduced. It soon built up a strong, even cult, following with the range expanding continually. As well as a core range with age statements, various series have been released themed around Orcadian history and Norse gods.
Timeline
1798

Highland Park Distillery is founded by David Robertson

1816

Excise officer John Robertson assumes control of production

1826

The distillery becomes one of the first to obtain a license to distil; Robert Borwick takes over

1840

Borwick's son, George, is handed the reins

1869

George's brother, James, takes over but attempts to sell the distillery

1876

Exports to Norway and India begin under Stuart & Mackay

1895

Glenlivet's James Grant purchases Highland Park, expanding it to four stills three years later

1937

Highland Distillers acquires Highland Park

1986

Highland Park visitors' centre opens

1999

Edrington and William Grant & Sons purchase Highland Distillers

2013

The Warriors range is introduced to duty free
Owners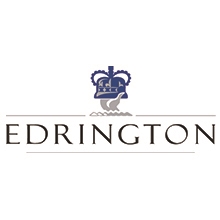 Current owner
Previous owners
Highland Distillers

1937 - 1999

James Grant

1895 - 1937

Stuart & Grant

1878 - 1895

Stuart & Mackay

1869 - 1878

The Borwick Family

1826 - 1869

Richard MacKay

1825 - 1826

David Robertson

1798 - 1825
Contact
Address

Highland Park Distillery




Holm Road




Kirkwall




Orkney




KW15 1SU




United Kingdom

Website

Phone

+44 1856 873107

Email

Visitor Opening Hours

Monday

10am (Apr-Sept), 1pm (Oct-Mar) to 5pm

Tuesday

10am (Apr-Sept), 1pm (Oct-Mar) to 5pm

Wednesday

10am (Apr-Sept), 1pm (Oct-Mar) to 5pm

Thursday

10am (Apr-Sept), 1pm (Oct-Mar) to 5pm

Friday

10am (Apr-Sept), 1pm (Oct-Mar) to 5pm

Saturday

10am to 5pm (May-Aug)

Sunday

10am to 5pm (May-Aug)
Missing Information?
We strive to provide the most up-to-date and accurate information possible, but if you think we have missed something or you have an image you'd like to share, then please let us know.
Get in touch