Slaintheva Profile
Blended Scotch Whisky
During the 1960s blender, bottler and wines and spirits personalisation specialist Alexander Dunn & Company (Whisky Blenders) Ltd began to offer its own brand of blended Scotch for individuals and companies to personalise.
Slaintheva (a horrible corruption of the Gaelic slainthé mha meaning 'great health') was a 12-year-old blend of Highland malt and grain whiskies, presented with the purchaser's name writ loud and large on the label.
An export strength version was created at 43% abv, while a special edition presented in a striking blue label was bottled to commemorate Queen Elizabeth II's Silver Jubilee was created in 1977, again made available for personalisation.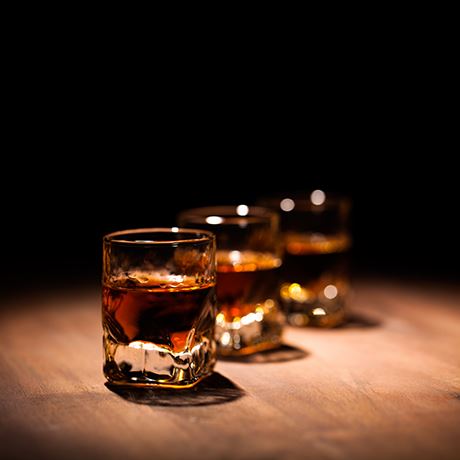 Production type

Blended Scotch
Slaintheva History
Slaintheva was introduced during the 1960s by Edinburgh's Alexander Dunn & Company (Whisky Blenders) Ltd, which was itself formed in Surrey in 1965.
The company was a subsidiary of Tomatin Distillers plc at some point during the 1970s, but was taken over by Hesselberger Steeden Associates plc of Berkshire in the early 1980s.
Throughout the 1980s and into the '90s, Slaintheva was marketed through mail-order catalogue channels and as a promotional tool. Customers who placed an order had their name inscribed on the bottle label in large copperplate script. A mini-miniature of 1/20th fluid ounces (1.42cc) was created for advertising purposes and was listed in the Guinness Book of Records as the smallest bottle of Scotch in the world in 1983.
The Slaintheva trademark elapsed in 2008 and the company dissolved in 2011.
Timeline
1965

Alexander Dunn & Company (Whisky Blenders) Ltd is incorporated

Late 1960s

Slaintheva is introduced as a personalised, novelty whisky gift

Early 1980s

Alexander Dunn & Co is acquired by Hesselberger Steeden Associates

2011

Alexander Dunn (Whisky Blenders) Ltd is dissolved
Owner Previous owner