Hedonism Profile
Lowland Blended Grain Scotch Whisky
Hedonism's creator John Glaser dreamed of creating a Scotch that showed off the spectrum of flavour grain whisky is capable of. As the spirit is naturally mellower than malt whisky, Glaser chose a variety of styles and levels of maturity to create layers of flavour and complexity, which journey through vanilla cream, toasted coconut and soft toffee.
The whisky used differs from batch to batch – just one or two vattings are created every year – but tends to derive from Cameronbridge, Carsebridge, Cambus, Port Dundas and Dumbarton, the latter four of which are now silent distilleries. From these lost sites a mixture of first-fill American oak barrels and rejuvenated Hogsheads are used to develop that depth of flavour, with some ages falling under the 'rare and old' banner.
Each batch is married together in barrels for up to 24 months before being bottled at 43% abv and without chill-filtration for a thicker, sumptuous mouthfeel.
Hedonism sits within Compass Box's Signature Range.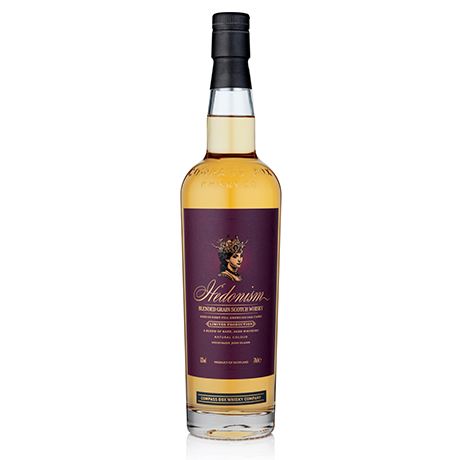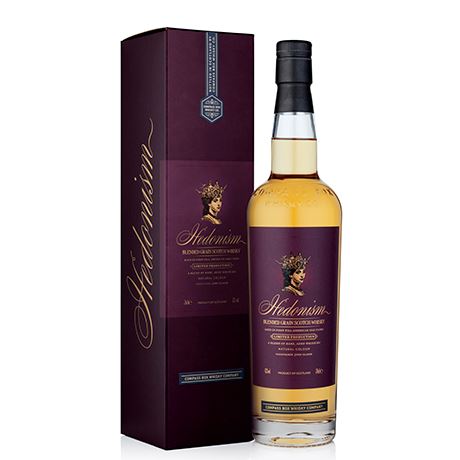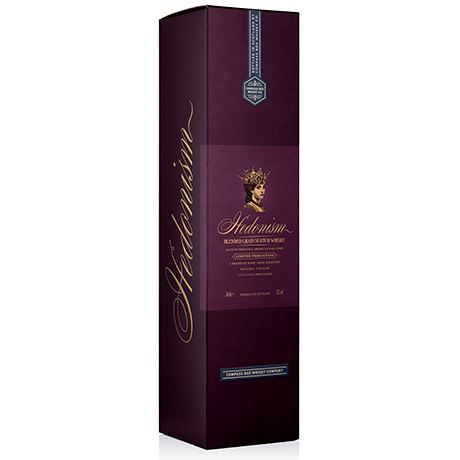 Region

Lowland

Production type

Blended grain
Hedonism History
Believing that good grain whisky was – and still largely is – an undiscovered secret kept by the Scotch industry, former Johnnie Walker marketer John Glaser made the leap into independent bottling with Compass Box in 2000. His first release? A blended grain whisky of course, made using a variety of whiskies of differing ages matured in high quality American oak casks.
While 100 years ago grain whisky was popular among the Scots, the rise of blended whisky and – more recently – single malt, meant Glaser's creation was unique among a swelling sea of new Scotch whisky brands. And despite being the first release from a new indie bottler, Hedonism was a hit from the off and is now exported to several countries worldwide.
Eight years following its launch Compass Box introduced Hedonism Maximus that contained far older and rarer whiskies to showcase the depth of complexity and indulgence grain whisky is capable of.
Nowadays grain whisky is slowly but surely carving a place within Scotch connoisseurs' collections, thanks largely to a couple of high profile launches from multinational players. But as the category gradually expands in size, Hedonism is still considered the brand that kick-started the grain renaissance.
In 2015, to celebrate the brand that started it all for Compass Box Glaser created another limited edition expression of Hedonism, Quindecimus, containing whisky from five grain distilleries.
Timeline
2000

John Glaser creates Compass Box and launches Hedonism as his first product

2008

Hedonism Maximus, containing more rare and old grain whiskies, is launched

2015

To celebrate its 15th anniversary, Compass Box releases Hedonism Quindecimus
Owner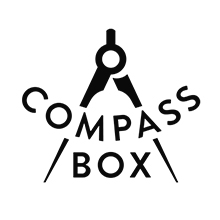 See also
Brand

Rebellious indie blended Scotch whisky.

Distillery

At one time one of the most northerly distilleries on the Scottish mainland.

Distillery & brand

A highly individual Speyside whisky.