Now in its 13th year, Spirit of Toronto is the hottest whisky ticket in town. And this year an unforgettable tasting provided ample evidence of the quality, longevity and heritage of Canada's whisky industry. Johanne McInnis reports.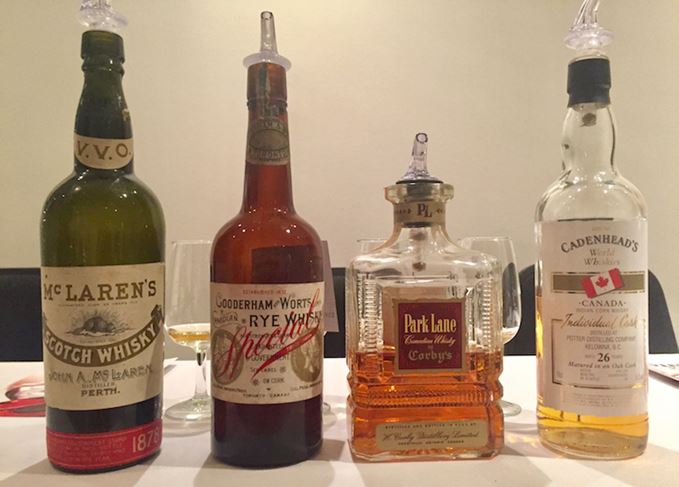 For more than 40 years, travellers to Toronto have been greeted on arrival by the city's most famous landmark, the CN Tower. Attracting two million visitors a year, its famous, two-and-a-half-inch-thick glass floor stares straight down 1,122ft to the streets below. It's said that it can withstand the weight of 356 moose – but many people still won't chance it.
Toronto is to Canada what New York is to the United States. This heavily urbanised region is home to 9.2m people, roughly one-third of the entire country's population. Not only is it a multicultural global village, international centre of finance and business, but also Canada's arts and entertainment capital. Not to mention being home to the annual Spirit of Toronto Whisky Gala.
Spirit of Toronto is the mastermind of executive producers Johanna Ngoh and Charles Anderson, a wife-and-husband team who created the event with the whisky enthusiast in mind.
Now in its 13th season, it is the most popular and highly sought-after whisky event ticket in Toronto. So what makes this particular whisky show stand out? It truly is a hedonistic experience.
Traditionally held in May, the one-night gala takes place at the historic Roy Thomson Hall – its circular design with a 360-degree view makes it a stunning backdrop for the evening due to an ever-changing view of Toronto's downtown core. As you walk through the doors, you are greeted by the soulful backdrop of Mark Eisenmann and friends, one of Canada's best jazz trios.

Clear winner: This year marked the 13th annual Spirit of Toronto Whisky Gala

Tucked away from the main showcase, masterclasses take place in an intimate and interactive setting with some of the most interesting names from the industry. The layout and perfect acoustics permit conversation with the ambassadors, while also providing plenty of space to stretch out on a large leather sofa or near the piano.
From the availability of premium spirits such as a Daniel Boju Grande Champagne Cognac to the sneak peak of the oldest Canadian whisky, JP Wiser's 35-year-old, set to be released in fall 2017, the Gala truly creates something more than a trade show experience.
This year was no different as the organisers wanted to ensure that they captured the importance of Canada's 150th birthday by demonstrating the pride and joy of some of the best whiskies ever made.
Highlights poured at the Canada150 table included Forty Creek John's Private Cask, Canadian Club 20-year-old, Alberta Premium 30-year-old, 1st edition JP Wiser's Red Letter, 1960 Gibson's limited Olympics release, and a Crown Royal from 1957.
An impressive list, but the best reveal was yet to come. A masterclass offered a once-in-a-lifetime chance to taste and discover the heritage of Canadian Whisky. The class sold out in less than 20 minutes, and 24 very lucky individuals were treated to the tasting of a lifetime – four whiskies from silent and/or demolished Canadian distilleries.
First up: McLaren's VVO Canadian Scotch whisky (sic), distilled in 1878 in Canada by Scottish emigré John McLaren, and the 'oldest Canadian whisky ever opened and poured', according to author and Canadian whisky expert Davin de Kergommeaux.

Landmark venue: The Roy Thomson Hall, with its 360-degree of downtown Toronto, hosted the event

At a time when most whiskies were barely aged (the law didn't come into effect until 1887), this bottling was 25 years old and the distillery used woodsmoke to dry the malted barley.
When tasted, it was clearly underproof but had a sweet, dusty hay barn, sour wood smoke and day-old bonfire coals smell. On the palate it was herbal, grain-forward and malty. Smoky, but not peated, as many of those there remarked.
Next was a Gooderham and Worts 1908 special rye. No doubt that this was a Canadian whisky: caramel on the nose, viscous, really round with no harsh edges, while on the palate it was peppery, very floral with a touch of perfume.
Whisky number three was Park Lane Canadian Whisky, a gem from 1948 distilled in Corbyville, Ontario. Very little is known about this bottling, and even Dr Don Livermore, master blender at Hiram Walker, didn't think their archives had the recipe, speculating that it may have been a small-scale production.
The last whisky poured was a 1989 Potter Distillers from Kelowna, British Columbia, which closed in 2005. Made from 100% Indian corn but, of course, not a Bourbon – nor did it taste like one as it was aged in ex-Bourbon casks, rather than virgin oak.
How was the tasting received? The people that came to our Canada150 table said it was truly eye-opening, as it made them realize how diverse, tasty and precious some of the whiskies made in Canada are.
Post-show, as is tradition, the Caledonian Pub was standing room only as the pints and drams continued to flow. Ngoh and Anderson already have their ears to the ground, brainstorming for next year's event in their ongoing mission to tantalise and satiate the whisky enthusiast's soul.