London's biggest whisky show returned to Old Billingsgate for its 11th year, with more exhibitors, drams and visitors than ever before. Felipe Schrieberg was there to uncover the exciting new bottles, as well as sneak a taste of some old favourites.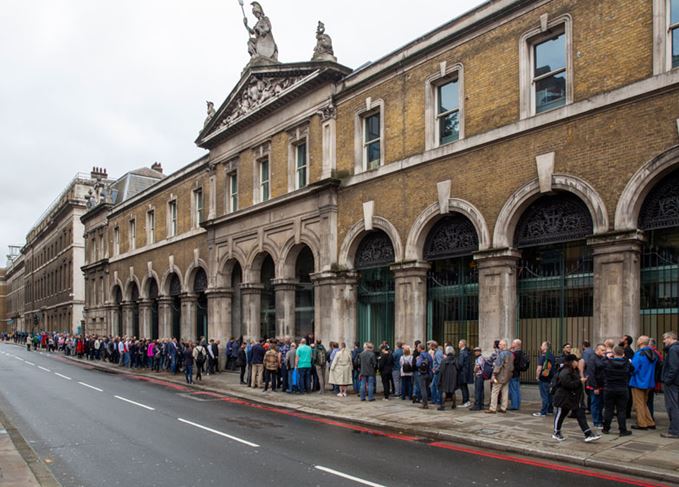 So many whiskies. So little time to get through them.
Located next to London Bridge on the banks of the Thames, the Old Billingsgate building once again hosted what has become a key fixture on the festival circuit, the Whisky Exchange Whisky Show (28-29 September). Festival attendees had to pick between 800 whiskies in a busy hall that pulsated with a blend of fans and industry figures alike.
There are plenty of reasons why the Whisky Show stands out as an event, but one of the most important may be its effective use of space. This year's edition aimed to continue 2018's high standards, once again making full use of the building to display and serve a wide variety of whiskies across two floors, in addition to a small but healthy rum annex and cocktail atrium in the subterranean vaults.
Crowds moved easily in the roomy, stately former Victorian fish market. Brands not only showed off impressive bottles but also some classy stand displays, such as Balvenie's bar built from books (created to promote its new Stories range), and Glenmorangie's aroma lab which wafted a variety of scents towards anyone standing in the area.
Exhibitors included plenty of Scotch, American and Japanese brands, as well as distilleries from all parts of the globe, such as New Zealand's Cardrona, Seattle's Westland and Israel's Milk and Honey. There were also a pair of local London distilleries, the East London Liquor Company and Bimber, the latter proudly pouring its new first official (and superb) single malt. Consumers also had the opportunity not only to speak to brand staff but also many of the people behind the liquid itself, with whisky makers happy to hold court throughout the weekend.

Blending in: Richard Paterson co-hosted a whisky and Sherry masterclass

East London Liquor Company distiller Caitlin Bailey values this social side of the festival: 'It's a rare opportunity to put your head together with other distillers while also talking to consumers. Just the range of both behind-the-scenes and also consumer-facing interactions you can have is unparalleled.'
Indeed, top industry figures were everywhere at the Whisky Show, happy to take it easy, pour drams and chat to consumers and catch up with each other. It's a bit of a rolling snowball, as brands realise that to stand out at the show it's not enough to staff a stall with freelancers, further increasing the prestige of the festival.
For New York-based whisky writer and thrilled punter Kurt Maitland, this gathering of the community and industry makes the Whisky Show an irresistible prospect: 'For me, one it's one of the shows I try not to miss. All the creators are here. Nikka's master blender is here, or Whyte & Mackay's Richard Paterson, who you can literally just walk into on the floor, which you don't get so much in the American scene.'
It is as a result no surprise that classes were of a truly high calibre. Masterclass guests swooned over the drams poured by whisky legends, whether a 40-year-old Bunnahabhain from blender Kirstie McCallum, or the choice whiskies, including a Hakushu 25, from the Three Japanese Masters class hosted by Shinji Fukuyo (Suntory), Tadashi Sakuma (Nikka), and Ichiro Akuto (Chichibu).

High calibre: The whisky line-up for the Three Japanese Masters class

There were plenty of truly experimental whiskies to enjoy as well. This year's theme of 'Journey of the Cask' can perhaps be faulted for being open to any kind of wishy-washy interpretation, but plenty of distilleries were happy to showcase wares employing less traditional maturation methods. In Scotchwhisky.com's 'Evolution of the Cask' exhibition wing, this included a gorgeous experimental Pinot Noir cask from Cardrona, a surprisingly soft and aloe vera-tinged creation from Irish bonders JJ Corry using mezcal and Tequila casks, and a few non-oak cask Irish whiskeys from Midleton's Method and Madness series.
Along with these unusual choices was the Whisky Show's Dream Drams selection. Releases from closed distilleries – including two Karuizawa Geisha bottlings and a 1982 Port Ellen, older 40-year-old-plus whiskies and various historical bottles made a wide premium spectrum available to those who would not necessarily ever have a chance to taste them otherwise.
There is no question that this was overall a remarkable and extremely well curated whisky programme. However, two issues stood out, perhaps providing smaller-scale examples of the struggle the industry is still facing with making whisky accessible to new audiences. A modest effort towards alternatives to drinking whisky neat or with a splash of water led to an anaemic cocktail offering consisting of Johnnie Walker Highballs and various simple drinks featuring Jack Daniel's rye whiskey.

Cocktail atrium: Highballs were the order of the day in Old Billingsgate's vaults

The demographics of the festival crowd were also fairly predictable, overwhelmingly attended by older men, with a minority of younger faces and women. Although it is fair to say that the Whisky Show itself does not have a responsibility towards creating a more diverse consumer base, the fact that it represents a snapshot of what is happening with the industry today perhaps highlights these wider challenges.
This year, the extra day that used to be set aside for press and industry was also removed, contributing to larger crowds, especially on the Saturday, that strained (but did not break) the flow of the show as stalls were sometimes packed with eager fans.
This also shifted the overall dynamic to a certain degree. With more industry professionals in the crowd, more informal interactions between fans and industry were taking place throughout. At the Mortlach stand resembling a bar, the ever-energetic Diageo ambassador Colin Dunn was constantly waving people over and putting them together to chat. To him, it is the obvious thing to do: 'You need a vibe, you need a feeling, you need people to be able to not just buy but also to talk. I can sum up whisky in four words: Whisky is a conversation.'
The Whisky Show manages to create a special environment where these conversations can take place. This year further cemented its status as a marker for what the global whisky industry is accomplishing, while providing hints about whisky's future. It is an intimate gathering of the industry with joyous fans and consumers impressively executed on a large scale, bound together with some of the best water of life you can find anywhere in the world.