New features including an indie bottlers 'mini festival', an enhanced focus on cocktails plus 'the best year yet' for exclusive festival whiskies made Fèis Ìle 2019 one of the most popular so far. Felipe Schrieberg reports.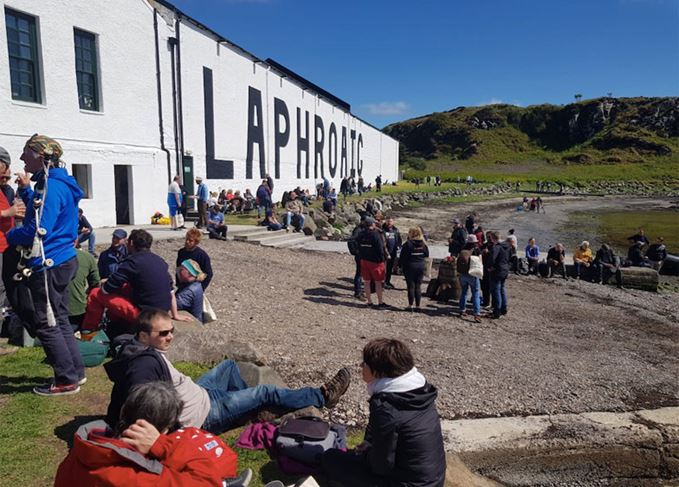 Fèis Ìle veteran Shan Bhatti was third in line in the infamous Bowmore queue at this year's annual Islay festival. For the last few years, whisky lovers like him have camped overnight outside the distillery, hours before it opens, eager to buy of a bottle of its exclusive, limited festival release. Though Bhatti doesn't mind the wait that others would perhaps find gruelling in Islay's cold winds. 'It's not a chore being in the queue, it represents what the Islay Fèis spirit is about,' he said. 'We're sitting in line, but we're also meeting new people, enjoying the company of old friends, sharing great whisky with each other, and at the end we get the bonus of getting hold of a great bottle.'
Indeed, enjoying great whisky in a beautiful corner of the world, surrounded by old friends and new, forms the core of Islay's popular Festival of Music and Malt, celebrating the whisky produced by its 10 (including Jura) distilleries over a nine-day period. Featuring masterclasses, tasting events, live music, and plenty of phenomenal single malt whisky, 2019's edition of the festival (24 May-1 June) packed more events than ever into its schedule.
The community of regulars happily enjoyed their annual reunions on their favourite place on earth, while the beauty of the island, the generosity of the distillery staff and camaraderie of their fellow whisky enthusiasts blew newbies away. Each distillery offered warehouse tastings that showcased whiskies that wouldn't be found anywhere else, as well as more expensive VIP tastings and dinners hosted by industry celebrities, which served more rare and pricier offerings. It was also agreed by many festival veterans that this year's overall crop of Fèis-exclusive whisky releases was the best in many years.

Whisky maestro: Adam Hannett's annual Bruichladdich masterclass always proves a big draw (Photo: Feis Ile/ Ben Shakespeare)

Within the panoply of tasting events available, two particular masterclasses stood out. To celebrate the release of its 12-year-old Octomore Event Horizon Fèis bottle, Bruichladdich head distiller Adam Hannett served six unique Octomores in a selection that was as punishing as it was delightfully rewarding, including older versions of the Octomore 08.3 (known as the peatiest whisky ever made) and the 04.2 Comus, as well as a brutal three-year-old aged in virgin oak that divided opinion in the room with its oaky profile. The event may have the right to claim the title of 'peatiest masterclass ever', and veteran peatheads were heard muttering 'that was a LOT of Octomore…' as they emerged from Bruichladdich's Warehouse 12 into the sun and shuffled back over to the distillery courtyard.
The other was the session with Kilchoman owner Anthony Wills and Scotchwhisky.com contributing editor Dave Broom. Over small measures of new make spirit, the class drove home the effect of yeast on flavour. Four new makes were served, made with the exact same barley, fermentation, and distillation specifications, but featuring different strains of yeast: Mauri, Kerry M, Kerry MX, and a 50/50 combination of the Mauri and Kerry MX. The differences in flavour were blatantly clear across the spirits, with attendees evenly spread in voting for their favourite expression before enjoying a range of single cask selections.
For Wills, yeast represents an important new area of innovation for the industry and for Kilchoman itself. 'What we showed [in our masterclass] demonstrates hugely that different characters can come from using different yeasts,' he said. 'It's a subject that hasn't really been touched on by the industry and I would like to explore this a little bit more. We are currently using Mauri yeast but we're now looking at Kerry M and Kerry MX and other yeast varieties to see what other flavour characteristics come through, and what works well for us.'

Caribbean vibe: Ardbeg put on a tropical carnival in honour of its first rum-finished whisky, Ardbeg Drum (Photo: Feis Ile/ Ben Shakespeare)

This year also saw a number of special new additions to the programme. The inaugural Indie Whisky Fèis Ìle, a 'festival-within-a-festival' of independent bottlers showcasing their wares – organised by Dramfool and featuring Wemyss Malts, Elixir Distillers and That Boutique-y Whisky Company among others – offered an excellent new way for guests to enjoy Islay whiskies while discovering boutique bottlers that deserve more attention for their work.
Most prominently, Islay's newest distillery, Ardnahoe, celebrated its first Fèis with an ambitious programme of tastings while showcasing the most impressive selection of whiskies in a distillery shop on the island (all bottled by Ardnahoe's owner, Hunter Laing). Ardnahoe also featured a small but healthy selection of rums, introducing the opportunity to enjoy a different kind of aged spirit on Islay. Also notable was its advance screening of whisky documentary The Water of Life, which will next be shown at the Edinburgh Film Festival in June, representing whisky's latest foray onto viewing screens.
Ardnahoe visitor centre manager Paul Graham was pleased with how the day went and pledged to keep a high standard for future years. 'There's some lessons learned that we'll apply for next year, but you have to feel your way into Fèis, and to put something on as big as this is huge for us,' he said. 'So for next year, look out. We'll be even bigger and better.'
Another major feature shared across all the distilleries was the introduction or expansion of cocktail bar programmes, featuring creations showcasing Islay's whiskies. Lagavulin continued its push to popularise the Smokey Cokey (Lagavulin 16 and cola) with Diageo brand ambassador Colin Dunn leading eager crowds in its accompanying song and dance to the tune of the Hokey Cokey. The cocktail bar also added a scoop of vanilla ice cream into the mix, jokingly referred to as the 'smokey cokey floaty'. Ardbeg meanwhile served a popular whisky-based fruit punch as part of its carnival-themed open day, which featured music by a steel drum band.

Patiently waiting: Crowds queued for some time for Caol Ila's festival bottlings (Photo: Feis Ile/ Ben Shakespeare)

Yet this year's festival was not without blemishes. Last year's stunning weather didn't make a return, though certainly a bullet was dodged as rain only affected three of the open days instead of the entire festival as originally forecast. Kilchoman, with its rig of multiple gazebos, was the only distillery that put serious thought into its rain plan, while some visitors to Lagavulin and Bunnahabhain left frustrated after a short visit spent getting soaked in the main courtyard. Ardnahoe's outdoor live music programme was also hampered by the rain, as represented by the single, soaked yet committed audience member listening to folk band Dallahan's last set.
There were also more hours-long queues to get Fèis bottles than in previous years. Sale points staffed by only two people with faulty card-processing systems created delays and angry customers at Bowmore, Caol Ila and Ardnahoe. Bunnahabhain created another overnight camping situation by announcing in advance a limited-edition release of 120 bottles that could only be purchased during the open day. A large line also made its way around Bruichladdich on the Monday of the festival as a new Valinch release was rapidly swept up by eager fans.
However, a more positive trend emerged with this year's Fèis crowd. It was palpably younger, with more women attending classes as well. It's a positive sign that various campaigns appealing to younger drinkers might be paying off. In any case, there's no denying that Fèis Ìle remains one of the world's best whisky festivals, creating a unique immersion into the world of whisky that can't be replicated anywhere else.