With Star Wars-themed whisky tastings, cross-country trail runs, exclusive distillery tours and whisky 'foraging', this year's Spirit of Speyside Whisky Festival was the biggest yet, writes Sean Murphy.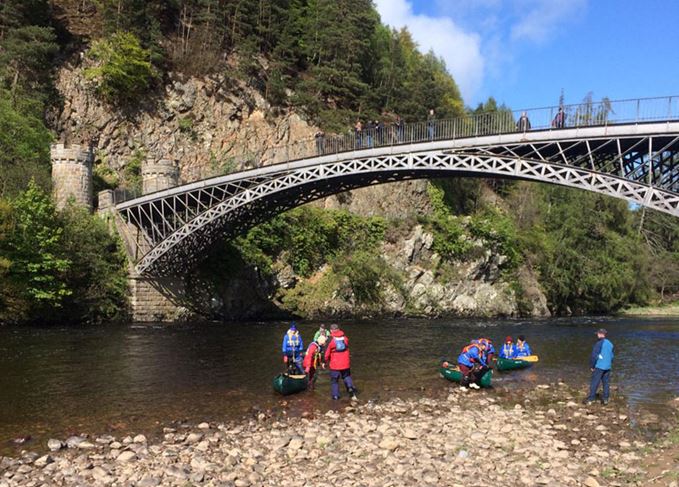 'We only opened this morning and we can't believe how many people have been in already,' exclaims a clearly excited Karen McWilliam, manager at the new GlenAllachie distillery visitor centre. This is not only the first day of the 2019 Spirit of Speyside Whisky Festival, but also the first opportunity the distillery has had to publically show off what it can do. It's already shaping up to be one of the festival's hottest new venues.
A dozen or so visitors peruse the freshly stocked shelves as they wait for Billy Walker, GlenAllachie's new owner, to appear. They're all eagerly anticipating a blending masterclass with the man himself, but first, a tour of the distillery and a chance for guests to quickly learn that Walker isn't the only star attraction. McWilliam shines with her quick wit, open manner and extensive knowledge, not just of GlenAllachie's workings but also the wider industry as well.
As Walker begins his masterclass, one of several new events at this year's festival, the group are enraptured by his explanation of the varied casks GlenAllachie uses, including trial of virgin chinquapin oak casks from Missouri. A first for Walker, the casks impart liquorice, fennel and heather honey notes to the whisky. It's moments like this that you really get the gist of what makes the festival so special – it not only allows a peek behind the curtains but highlights the people who make the industry what it is.
The Spirit of Speyside festival is a five-day celebration that brings people, both new to whisky and serious enthusiasts alike, from countries all over the world (35 and counting this year) for exclusive experiences that live long in the memory. With over 700 events and thousands of people flocking to the region, the 20th Spirit of Speyside was the biggest edition yet.

Blending mastery: GlenAllachie's Billy Walker led visitors through the fundamentals of whisky blending

Though distillery tours, masterclasses and tastings are ever popular, newer more innovative events are always being introduced, not just by the bigger brands and distilleries but also by the Speyside community at large.One shining example that offered something a little different was the Heart of Speyside Trail Run. Guests were taken on a guided running tour around the picturesque village of Aberlour, before finishing with a whisky tasting led by the Spirit of the Spey's Dave Craig in a teepee on the riverbanks by the Telford Bridge. It's something that the festival excels at: being accessible to, and catering for, a wide range of enthusiasts who just so happen to share a common interest in whisky.
As usual the Craigellachie Hotel was the epicentre of the weekend's late-night activities, though sadly there was no Dogfest music festival this year. A huge draw for bigger crowds in previous years, its absence was keenly felt as there was no focal point for the evening activities on the Saturday.
However, Craigellachie's hotel bar, the Copper Dog, took up a little of the slack with industry stalwarts Sam Simmons, head of whisky at Atom Brands, and Cat Spencer, formerly of WIlliam Grant & Sons – as well as a few enthusiastic and high spirited ambassadors – providing the entertainment for everyone from locals and guests of the festival through to reps of the industry themselves and even whisky superstars like Charles Maclean (who is usually greeted with a Cheers-esque 'Charlie!' whenever he enters the bar), Dave Broom and Hans Offringa.
Much like previous years, the challenge of getting around Speyside seemed to be the biggest gripe, with the spread of events growing ever wider as more and more distilleries add experiences to the programme. With the absence of previous staples like Dogfest, the festival felt a little more nebulous than it has perhaps done in previous years.
Though its organisers have tried to alleviate the stress of getting around by adding extra buses from places like the Craigellachie and Dufftown to the Opening Dinner and Ceilidh, as well as offering taxi vouchers, it's something they might be forced to take a serious look at in the coming years.

Earn your dram: Trail runners covered 12km through Aberlour and the Speyside Way

Another big talking point this year was the weather, which seemed to be as divergent and varied as the festival's programme of events. On his Rare Finds walking tour whisky writer Blair Bowman was quick to remark that the assembled group shouldn't fret about the current rain shower that was interrupting their enjoyment of the butteries and whisky marmalade being handed out, as in Scotland if you don't like the weather 'you just have to wait 20 minutes and it'll change'.
Sure enough, as his group headed down to the banks of the Spey to enjoy a 'foraged' dram, the sun was soon shining just as the whisky was being doled out to the eager Glencairn wielders in attendance – serendipity in action.
Ironically it wasn't the wind, rain or even hailstones that threatened to disrupt Tomintoul's Fireside Sessions but snow, as a small blizzard made for an interesting accompaniment to the riverside tasting. Attendees huddled close to stave-fuelled fires as production manager Graeme Bowie and brand ambassador Iain Forteath turned what could have been a disastrous situation into one that soon had guests laughing and joking as drams, blankets and Tomintoul-branded beanies were passed out alongside Cuban cigars and marshmallows to toast. It's this resourcefulness and willingness to embrace the region's unpredictability that transforms what may have been simply a fun event, into something far more memorable.
Quickly gaining a reputation as one of the places to be for those travelling to Speyside was Glen Moray distillery, with master distiller Graham Coull delivering some of the most exciting and great value events on offer. If Glen Moray Did World Cups featured not only 16 exclusive drams – both peated and non-peated – but also two pints, a half time pie and the sight of Coull in a referee's kit. The event was such as success it took home this year's Best New Event Award.
However it was Glen Moray's Star Wars celebration on May the Fourth (get it?) that may have been the most talked about, with a light sabre-wielding Hans Offringa and Stormtrooper-uniformed Iain Allan (Glen Moray brand ambassador) delivering the drams, as special guest star Frazer Diamond, son of legendary stunt co-ordinator Peter Diamond, regaled fans with tales of his father's exploits and his own star turn as a Jawa.

Feel the force: Glen Moray's Star Wars-themed tasting proved a unique festival highlight

Tamdhu's From Spain to Speyside lunch, co-hosted by brand ambassador Gordon Dundas and Narciso Fernández from Tevasa cooperage in Spain, saw a delightful meal paired with Tamdhu's core range, an exclusive oloroso Sherry and even some new make spirit. A quick tour of the distillery ensued, along with the chance to get hands-on and help the in-house cooper build a cask before filling new make into freshly purchased Sherry casks. Distillery manager Sandy McIntyre admitted that perhaps – rather embarrassingly – the casks weren't from Tevasa, prompting an animated Fernández to stand up and jokingly declare that he was leaving for Macallan instead.
That's the beauty of the festival; not only does it invite you back like an old friend year after year, it offers experiences that are unique and will leave many of those people who had travelled so far feeling like they were a part of something truly magical.
Faced with the challenging task of taking on the biggest festival yet in her first year as event coordinator, Lauren Mustard stated that this is what makes her new role so rewarding. 'I have seen so many friendly, happy faces and they can't wait to tell you about the people they've met, the event they've just taken part in or their trip as a whole, it's been incredible to see the reactions on show.'
It's this element of celebration that Lord Thurso aptly summed up in his speech at the Opening Ceilidh, held this year at Glenlivet, when he referenced the contribution both whisky and tourism make to the Scottish economy and how vital their symbiosis is, something readily apparent in 'this wonderful festival'.