Bruichladdich distillery consistently takes the party to the next level at Fèis Ìle – and this year's distillery open day was no different. With whisky oysters, cocktails and seven drams to taste through, the second day of this year's festival was filled with merriment. Plus, it wouldn't be Bruichladdich without a toast to transparency thrown in for good measure. Dave Broom reports.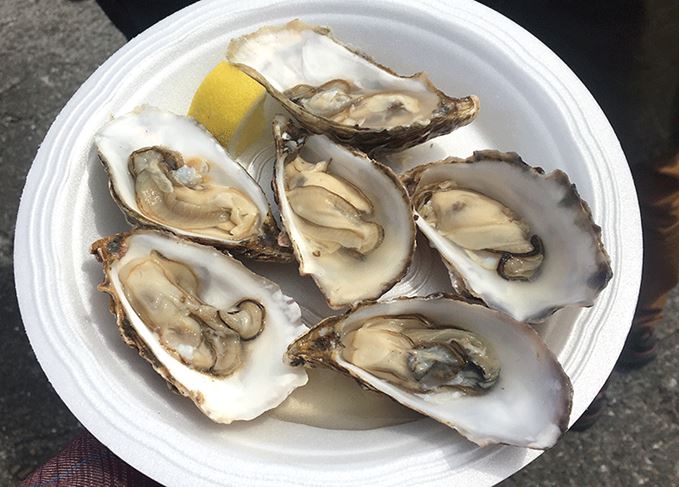 'One thing you won't get with us is consistency.' There was a slight splutter from the seat on my left where Simon Coughlin, head of Rémy Cointreau's whisky unit, was seated – and perhaps you can understand why. Adam Hannett's bold statement hadn't taken into account the fact that Bruichladdich Day is consistent in terms of weather. The sun always shines on the first Sunday of the Fèis, no matter what the forecast.
It is a day where the music seems louder, the crowds larger, the queues longer, and the craic – as they say, just across the water – mightier.
If Lagavulin lays down the challenge (for believe me folks this festival is also a mini competition between distilleries) then Bruichladdich takes the party atmosphere up another notch – and that is important, because the only way this festival succeeds is through inclusivity. Whisky night be about learning but, surely, it is also about having fun. Responsibly (of which more in a second).
The location helps. The big Victorian courtyard is a space that only exists to be filled, but before the gates are opened, 250 of us are seated in one of the warehouses to listen to Hannett and taste some drams.
It is a chance to take stock and the tasting revealed some of the developments, works in progress and potential new avenues for the distillery. It looked into the past, but offered up thoughts about a possible future as well.
The theme this year was transparency, something which the Laddie team has been at the forefront of. 'Therefore, I'm not going to tell you anything about Black Art,' Hannett starts, 'and that's very Bruichladdich,' he adds, to laughter. Inconsistency? No, because it underlines an important point. The transparency argument isn't that it should be mandatory for every bottle to show its component parts, but that distillers should have the option to be able to reveal that to consumers if they choose and if they are asked.

In focus: Bruichladdich's central theme this year was the Scotch debate on transparency

It's just one of the threads which Hannett pulls together during an assured and confident presentation that blends dry humour, opinion and education, controlling a room of 250 people with ease through seven drams. 'A normal industry tasting has six, but why not seven? That's Bruichladdich as well.'
It opened with the Black Art work in progress – in itself a bold move – a resinous mix of dark fruits, ice cream wafers and blackcurrant syrup; a multi-vintage blend, which used whiskies from five decades that lead with estery notes of flambéed pineapple but had silky depth; an astonishing 1986 in ex-Sherry given five years in PX (with a little 1984 ex-Bourbon for an extra layer), which expanded slowly over the time into a hugely complex and profound whisky; and this year's Fèis bottling of 2004 Port Charlotte (of which more in our round-up).
A five-year-old Islay barley acted like a sorbet freshening the palate with its mix of birch sap, grass and green malt; its vibrancy was needed to prepare the tongue for an Octomore from 2011, whose bonfire-like smoke (or was that just burger anticipation?) was superbly integrated into the thick fruits. And, finally, a blend of Bruichladdich, Port Charlotte, and Octomore from different years whose richness and layered elegance is a hugely exciting possibility. After all, if you make three styles then why not blend them to give you even more options – the Japanese have been doing it for decades and look where they are.
It was a quick snapshot not just of whiskies but of a distillery which has shed the old 'maverick' status (which was little more than PR) and become a firm that questions orthodoxies and challenges convention when it is appropriate to improving quality. 'We are always asking ourselves can we do it, and then, why not?' Hannett says.
The only downside was the small number of minesweepers who descended at the end of the tasting, scooping up half-drunk glasses and emptying them into their own – in one case, a pint mug. Not only unhygienic and, frankly, disgusting behaviour, but a potential nightmare for the hard-working staff who then have to deal with the consequences of people over-serving themselves. It needs to be stopped.

Generous measure: Guests tasted seven drams, including the work in progress Black Art

Back outside, blinded by the sun, there's dram-drizzled oysters being shucked, burgers being flipped, ales to be sipped and foraged cocktails to be drunk (a 'transparent' milk Punch the highlight), music to be listened and danced to, and a whisky tent featuring a back catalogue of greatest hits by dram and bottle, including the Fèis bottle plus two new Valinches: a bere barley and an organic (again, both will be in the tasting round-up).
If you stand still for long enough on Bruichladdich Day, the whisky world seems to come to you, familiar faces from years previous and also from around the world – including a raucous contingent of whisky pirates from the Caribbean. The crowd seems to be getting not just larger but more diverse – and younger. Conversation pinballs between geekery one minute and friendly abuse, as acquaintances are renewed, new friendships forged and plans are made. The community comes together here – and that is consistent as well.
Consistency is one of the industry watchwords, but it can be something that can restrict forward movement because it denies those 'why not?' moments that Hannett was talking about. We have to be 'inconsistent' in order to progress and that, one of those great Islay paradoxes, has to be a constant (and therefore consistent) motivation.
We leave and head into Port Charlotte, people on the streets outside the Lochindaal. The sky turns lilac and rose as the sun sets and the party continues.
Not for me. It's time for rest. Tomorrow I head east, to Caol Ila.
Watch our video report from the Bruichladdich distillery open day on day two of this year's Islay Festival…