Day four of this year's Islay Festival brings Laphroaig, and a sense of calm as visitors relax into the Fèis rhythm. There's also a good-natured game of tasting bingo – and thoughts of the future. Dave Broom went along.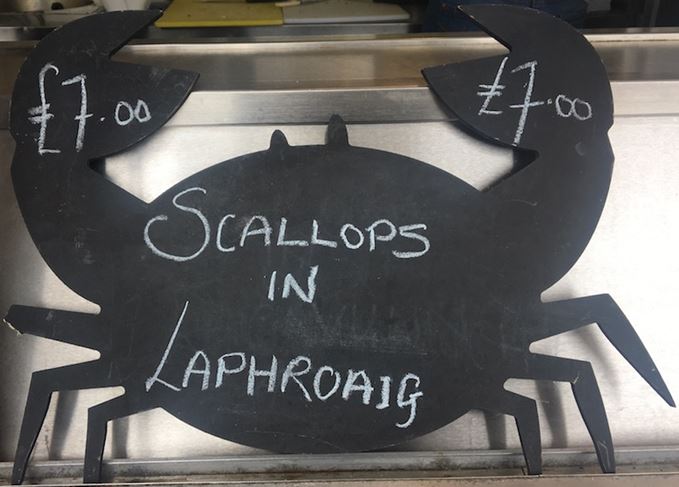 People are still drifting in, thanks to the chaos caused by the BA computer system failure. 'At least we are here,' is a repeated refrain. 'Though the luggage is somewhere else.' One group of Chinese visitors got a taxi from London to Kennacraig in order to catch the ferry. The least I could do was hand out some of the highly prized Scotchwhisky.com T-shirts.
One enterprising (and obviously hygienic) chap had to make an emergency trip to Kilchoman after discovering that his bags had gone missing, not for a restorative dram but because, bizarrely, it's the only place on Islay where you can purchase gentlemen's underpants (in sky-blue, red and black, I am reliably informed).
At least they arrived to better weather. After yesterday's relentless downpour, today starts calm, the storms gone and, while it remains cloudy, there is a brightness to the sea and a clarity to the air.
Today, it's Laphroaig's turn in the spotlight, a day where the Fèis attendees seem to exhale and relax into things. There's a sense of calm at the distillery as people wander about, slowly divesting themselves of waterproofs as the temperature sneaks upwards.
There's country music being played and a long queue for the dramming shed, and no sense of rush. One glance at the shop shows why there is this calmer atmosphere. Not even Laphroaig is going to shift the 32,000 bottles of Cairdeas which have been launched.
Laid-back is also the way you could describe manager John Campbell who, along with Gordon Dundas, is running a breakfast tasting at 10.30am which launches a new format, Tasting Bingo.
Everyone has a sheet with a selection of randomised words and phrases on them. If one of the presenters says it, you cross it off. Get a full house and there's a prize. The trouble is that they know what the words are and will do everything in their ability to avoid using them. (Memo to self: this focuses people's attention on what is being said.)
There's a mix of the travel retail range with some exclusives, including this year's Cairdeas: a cask strength Quarter Cask, a session dram and keenly-priced. Not every Fèis bottling is exclusively for the collectors.

Full house: Tasting bingo descended into double-bluff and hilarity at Laphroaig

The chat turns to the future. As single malt grows and the peat wave shows no sign of ending, there is the potential need for expansion, but it's not as easy as bunging in some more washbacks and stills.
'The floor maltings give us a specific flavour, while No 1 spirit still [which is larger and run quickly, meaning that heavier elements are carried over] also gives us a different character,' Campbell explains. 'If the ratio of either of those shifts, then we lose character.
'The current distillery is capable of producing sufficient for projections to 2027, but we won't be able to make enough to satisfy demand in 2035, so an expansion will have to happen.' Time stretches. While whisky fans sit and think of the past, whisky makers think of the future.
We're now deep into an experimental single Amontillado cask which has had the Sherry sweated out of it before being filled. It's all Fisherman's Friends, but also a pine plantation.
'Christmas' is on my bingo card, but I'm buggered if I can get either of them to say the word. Maybe it's auto-suggestion? No… because there's no fish or liquorice in here. Instead it's juniper, iodine and horseradish.
Questions are beginning to fly in – some attempts to get the bingo words said, others perfectly serious, but by now there's this game of double-bluff going on, with no-one knowing if this is a ruse or not. Hilarity ensues. This idea could take off.
I'd been picking out variations on this pine element throughout the tasting, to the extent that I was wondering whether it is now taking over from the rich oils and smoky, seaweedy sensuality of the older Laphroaig. Fear not, Dave: it's there in spades in a truly remarkable 1992, cask 5127 from level three of Campbell's favourite warehouse, No 7.
'This is in the top five of the best Laphroaigs I've ever tasted,' he says. 'If it isn't in your top three of the best whiskies you'll try this week, then you can get out.'
It is a classical, complex mix of dunnage and bung cloth, mushroom, the smoke interweaving itself alongside hints of tropical fruit. Endless. Para Handy lost off the coast of Barbados. It balances the sweet with the savoury, wrack and – bingo word! – liquorice.
I wander back to the courtyard. There's scallops cooked in Laphroaig selling for £7 per half-dozen. Classes are under way, pairing Laphroaig with chocolate, or seafood, or cheese. The queue for the drams seems even longer. No-one seems in the mood to rush.
'Hey, slow down,' Campbell had said. 'You're on Islay.' It's sound advice.