Silvano Samaroli's bottling of a Sherry cask-matured Laphroaig from 1967 remains a milestone in the history of independent bottling and one of the Italian's early masterpieces. Angus MacRaild delves into a legend that has only grown with the passing years.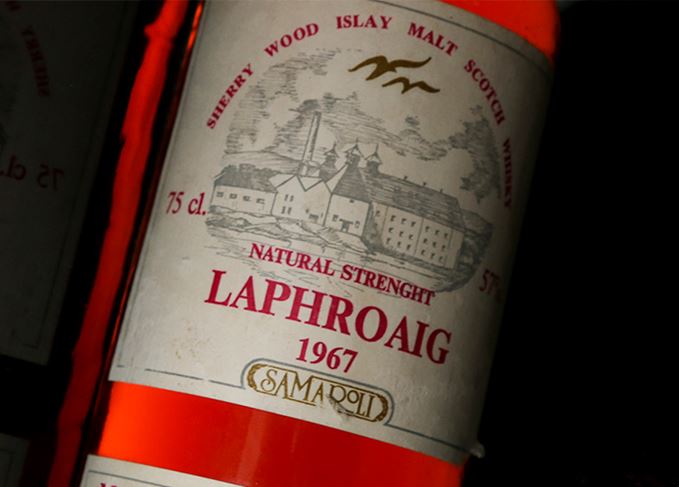 In June 1967 a parcel of Sherry casks was filled with Laphroaig new make spirit. The workers at the Islay distillery would have thought little of it at the time – and the notion that the whisky matured in those same casks would go on to be regarded as some of the best created, eventually commanding a price of £61,000 for a single bottle at auction, would have been some distance from their thoughts on that day.
The casks ended up in the ownership of independent bottler William Cadenhead. One in particular was bottled, at 15 years old, by the Duthie's subsidiary, and ended up being labelled and imported by one Silvano S Samaroli from Italy.
The bottling would go on to embed itself profoundly in the collective psyche of whisky enthusiasts – both those lucky enough to taste it, and those who wished they had.
Emmanuel Dron, director of the Auld Alliance bar in Singapore and friend of the late Silvano Samaroli, says: 'I remember very well my feelings when I first tasted it; I was so impressed. It was the perfect trinity between the fruit, the Sherry and the medicinal notes of the old style of Laphroaig – a style which doesn't exist any more in any Scotch whisky nowadays.'
Serge Valentin of Whiskyfun (where the whisky is one of only a handful to score 98/100) voices similar feelings. 'It's probably because it's a whisky of its own, with extra dimensions, totally incomparable, and just instantaneous in its effect,' he says. 'I'd go as far as saying that you've got no choice: you have to love it; it's self-imposing.'

Clarity of thought: Silvano Samaroli spent years developing his knowledge of Scotch whisky

Samaroli had been a whisky importer since 1968, but it was not until 1979 that he made tentative steps towards independent bottling with his own series of Cadenhead 'dumpy' bottles.
These were followed in 1981 by the first run of the 'Flowers' series, a small batch of single malts all released at 46% abv that showcased uncommon distillery names such as Coleburn and Teaninich.
They traced an arc of progress that exhibited Samaroli's learning, assertion of control and an increasing clarity of thought about his subject. However, it wasn't until the following year that he would begin to select and offer whiskies which would truly cement his reputation.
In 1983, some beautiful and hugely influential whiskies were released: The Glenlivet 1955; Tormore 1966; Glen Grant 27 Year Old; Caol Ila 1968. All of these bottlings remain world-class and are outstanding examples of their respective distilleries.
It is Laphroaig 1967, however, which has had the biggest impact of them all, and which has done the most to elevate the name of Samaroli over the intervening years. Along with another Samaroli bottling, Bowmore Bouquet 1966, released in 1984, it has come to represent a pinnacle of quality in Scotch whisky.
As Dron puts it: 'That bottle became iconic because, along with Bowmore Bouquet, it represents the yin and yang of Samaroli's amazing heritage.
'On one side was the purity of an amazing distillate (Bowmore Bouquet), and on the other side a perfect Sherry cask maturation where the wood didn't overpower the unique medicinal and fruity style of Laphroaig at that time.'

Artistic flair: As well as bottling the whiskies, Samaroli designed their labels (Photo: Whisky Auctioneer)

Laphroaig 1967 is also important because it represents a milestone in terms of independent bottling. Like the other great Italian pioneer who preceded him, bar owner and importer Eduardo Giaccone, Samaroli was a champion of cask strength whisky, although it is often overlooked that, again like Giaccone, he would also select some bottlings at lower strength.
There was a depth of thought and consideration about the whiskies that you could argue was often missing from Scottish bottlers during that era. Giaccone and Samaroli both possessed a clarity of opinion and a sense of ideology in their approaches to whisky.
Where Samaroli went further still was in the aesthetics. It's often forgotten that he was an artist who created his own labels. While that of Bowmore Bouquet is perhaps more visually iconic, Laphroaig 1967 was the first of Samaroli's masterpieces (despite the obvious typo), and arguably retains a cultish edge over Bowmore Bouquet for that reason alone. The label is more subtle, yet still undeniably beautiful, and juxtaposes wonderfully with the immense power of the whisky.
The lofty status of this bottling is readily evidenced today by the huge sums it fetches on the secondary market. However, it would be a mistake to let crazy prices obfuscate the origins of this whisky's legend.
Ultimately, everything about this bottling comes back to the character and immensity of the whisky itself. As Laphroaig collector and expert Marcel van Gils puts it: 'For most collectors it sits at number one in their top 10 of great "Laffies" – above the Elsbach, Bonfanti and Carlton imports; the 1974 official bottling; the 1970 Samaroli 16 and the 1960s Signatory and Intertrade bottlings.'

Yin and yang: Laphroaig 1967 and Bowmore Bouquet offer a pleasing contrast (Photo: Whisky Auctioneer)

To taste, the whisky is staggeringly complex, possessing the kind of aroma that draws you down many beautifully interconnected and intricate olfactory subsidiaries. Perhaps more than any other whisky, it demonstrates a perfection of balance between the Sherry cask and the distillate – both of which are impeccable.
Together, they can give the initial impression of an unstoppable force meeting an immovable object. However, the resulting collision is one of bewildering creativity rather than destructiveness. There is a depth, concentration and directness of flavour that, once tasted, is simply impossible to forget.
That it stands out so distinctly all these years later is compounded by the fact that it keeps some pretty immense company. The bottlings that exist of 1960s Laphroaig are, along with Bowmores from the same decade, often held up as some of the greatest whiskies ever made. The fusion of elegant peat, coastal complexity and an excess of tropical fruits is something regularly touted as 'to die for'.
In the case of 1967 Samaroli Laphroaig, it represents the epitome of this '60s Laphroaig style. It was also distilled in a pivotal year for the distillery: 1967. This was the year that saw Laphroaig's still house reconstructed with the addition of the 'big still'.
Owner Bessie Williamson sold a second tranche of shares to Long John and brought in a new manager from that company to oversee 'consistency' of production. This was the start of a slow process which would see Laphroaig 'modernise' over the following decade.
When the Samaroli bottling was distilled, the barley was primarily Golden Promise, malted on-site and dried with deep-cut peat. It was fermented using brewers' yeast, which arrived in casks from breweries in Glasgow, and was distilled through Laphroaig's smaller wash and spirit stills.

Remarkable heritage: Laphroaig 1967 helped to secure Silvano Samaroli's legacy

It was this combination of forces which forged a style of Laphroaig that was radically different from that of today. Just as this era was ending, it created what is unquestionably its most stellar example in Samaroli's bottling.
The legend of this whisky has probably been built most profoundly in the past two decades. As van Gils observes: 'It always had a great reputation among collectors, but not as much as it has today. The '67 floats nicely on the whisky craziness of the last five years and the increasing awareness of Samaroli's greatness. Samaroli always had a fine reputation among collectors, but wasn't well-known to the general consumer.'
It is also a fact that, for many years, this whisky could be acquired or tasted by those with a bit of time and determination. It was expensive, but not to the extent that a keen whisky lover could not splash out €30-40 on a sample to experience it.
As Valentin puts it on the broader subject of those now legendary Laphroaigs and Bowmores from the 1960s: 'They were simply the best whiskies around when many of us started to delve into whisky. And, as very few people were aware of that, they were still easily accessible. A car and presto: to Milan!'
Indeed, the fact that such a relatively large number of people were able to taste this whisky has only served to drive its scarcity, desirability and status into the stratosphere. In an era when good whiskies are so swiftly identified and hoarded, you have to wonder if this kind of journey will be undergone by many new whiskies in the future…