It would take more than a few midges to deter festival-goers from soaking up the sun and Scotch at Bunnahabhain. With a focus on maturation and cask finishing, Martine Nouet reports from the festival's penultimate day.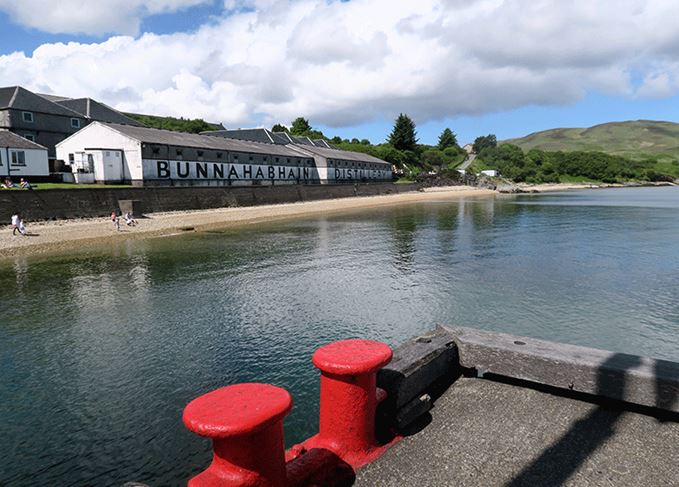 Looking back on Thursday's miserable day, I made sure my miracle midge repellent was in my bag on Friday. Not that such a thing exists (the repellent, I mean) but we carry it as a talisman, hoping it will deter those damn creatures from feasting on you. Well, no two days start alike. Clear skies and sunshine raised hopes for a midge-free day and a relaxed tanning session on the grass, facing one of the most spectacular views across the whole of Islay.
In Keills, a shuttle offered visitors a ride from the main road to Bunnahabhain, allowing drivers to avoid the stress of the long and winding single road to the distillery. I did not take the offer as after living on Islay for nine years, I have tamed the single track roads. Furthermore, the views over Jura are breath-taking. The future Ardnahoe distillery will easily boast the most scenic location on Islay.
Taxis make their way up to the main road after unloading their lot of whisky aficionados, while I make mine down, followed by a handful of daring drivers. Here is Bunnahabhain getting ready for the day. A useful information point has been set up to direct people to their masterclasses, locals are putting the finishing touches on their stands in the courtyard, the Bowmore butcher is lighting up the barbecue... the day is about to start.
On top of the regular tours that ran throughout the day, three main activities, all hosted in warehouses, offered visitors a deep insight into the fascinating intricacy of maturation. Indeed, maturation is the theme this year, judging from the two festival bottlings: a 13-year-old Moine Port pipe finish (the peated version), and a 20-year-old American oak classic Bunnahabhain.

Warehouse 4: Iain Shaw led an insightful tasting focused on maturation and cask finishing

The first tasting takes place in Warehouse 9 with tour guide David Brodie, quick-witted and highly entertaining. Before starting the session, Brodie asks if there are any designated drivers. They are given small sample bottles to pour their drams into. That question was asked in all classes – a merit point for Bunnahabhain, which takes responsible drinking seriously.
Brodie takes us through three samples drawn from the casks: a 9-year-old first matured in a Sherry cask then finished in a Bourbon cask for two years, quite an unusual procedure. A fruity and creamy dram with the Sherry in the back. We were then given a 12-year-old dram matured in a manzanilla Sherry butt (600 litres). A superb whisky: rich, jammy and nutty with a long finish of liquorice and spices, and a salty touch.
We continued with a Sherry oloroso sample of a 13-year-old Moine (the peated version). In fact, it was a finish, having been matured for four years in a Sherry cask and previously in a Bourbon cask. The Sherry was dominating, leaving the peat in the back but letting the earthy character of Bunnahabhain shine through. People were allowed to fill a 200ml bottle of the sample they liked best. That class was an excellent introduction to the diversity of Bunna' maturing stock.
The next class took us to Warehouse 4 for a 'John McGillivray warehouse walk'. Unfortunately, McGillivray's alias 'Long John' is unwell at the moment and was replaced by Iain Shaw, an Ileach lad working for sister distillery Deanston on the mainland who had worked in Bunna' warehouses for years before. No doubt he knows his way through the cask paths.
Talking through Bunnahabhain's history, Shaw pointed out that the distillery was surrounded by 43 houses all belonging to the company, but only one was lived in by the distillery manager. This adds to a certain feeling of neglect that catches your eye when arriving on the site. Shaw announced that a budget of £7.5m will be allocated for the development of the distillery over the next two years. That's good news at last. Bunnahabhain deserves to be taken care better care of.
Here, again, we were given different examples of finishes: French red wine, Sherry and Bourbon. These tastings in warehouses suit the style of Bunnahabhain, leaving a flavour of earthy, damp warehouse kicked up by a heather honey sweetness.

Dance the day away: Revellers embraced the music, sunshine and Celtic dancing at Bunna'

Time to get some sunshine. The courtyard is bustling with activity. The musicians are playing a frenzied Dashing White Sergeant tune that no good Scottish lad and lassie can resist. They soon drag into the dance inexperienced, but willing, tourists. To the side, local artists display their productions. I especially like Jane Taylor's beautiful prints of each distillery. A precious souvenir to take back home.
I manage to take my 'me moment' before joining the next class. Sitting on the grass, enjoying the sunshine, I get carried away by the sublime landscape, with the mighty Paps of jura in the background. A perfect watercolour image which takes me back to two weeks ago when I was desperately – and clumsily – trying to catch the magic of the place in my sketch book with my first watercolour painting workshop. The place was empty then...
The last class is hosted by master blender Kirstie McCallum and distillery manager Andrew Brown, and takes place in a warehouse converted into a filling store. Once again we are invited to taste different finishes for Bunnahabhain and Moine, among them an outstanding PX. McCallum was on great form, chatting and joking with the audience. Unfortunately, the acoustics were not so good in this huge, empty warehouse, the sound reverberating so much I missed most of the jokes. Too bad.
But the place also resounds with fond memories of the first Fèis Ìle when on Friday night, the managers did their show. That managers' night hosted by late and sadly missed John MacLellan brought together all the distillery managers in a night of banter and music. A superb evening. This great sense of camaraderie seems absent from the latest editions of Fèis Ìle, the distilleries now competing every day in a full – too full? – programme of events. Maybe it is time to renew the concept and bring in more originality…
The afternoon comes to an end. Judging from people scratching their heads, the midges have invited themselves to the party. Time to head home.
Watch our video report from the Bunnahabhain distillery open day on day seven of this year's Islay Festival…