Bruichladdich distillery took a on a grey persona this week for its Islay Festival celebrations, as thoughts turned to the relaunch of its Port Charlotte single malt, writes Becky Paskin.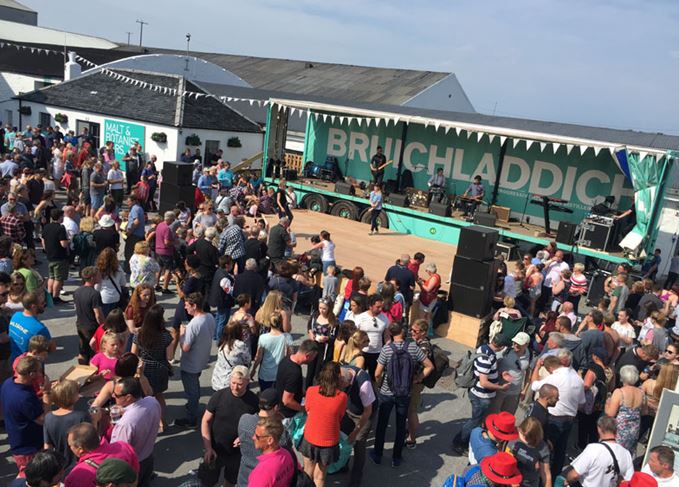 The decorators had spent weeks at Bruichladdich prior to its open day for Fèis Ìle 2018. The distillery on the shores of Loch Indaal doesn't usually go for a head-to-toe makeover especially for the festival, but this year proved an exception as celebrations were dedicated to the relaunch of Port Charlotte single malt.
Gone was Bruichladdich's iconic aqua blue (save for the colouring of the stage), as the distillery courtyard became a homage to Port Charlotte's new grey colour palette, its walls draped with larger-than-life portraits of its team for the launch campaign, #WeAreIslay.
'You may have noticed that things are slightly different this year at Bruichladdich; everything's gone a little bit grey,' master distiller Adam Hannett explained. 'The reason for that of course, the theme for today, is about Port Charlotte. We are relaunching, giving new life to Port Charlotte.'
Even the festival whiskies were devoted to the relaunch. This year's Heretic bottling was a 2001 Port Charlotte made from the last five casks from the first year that the heavily-peated spirit was produced at Bruichladdich. Dubbed 'the last of the first', the expression represents a transition into a new era for the brand.
Bottled at 55.9% abv, the whisky is a vatting of five ex-Bourbon, rum and French red wine casks, in a limited run of 1,300 bottles priced at £125 each.
The Distillery Valinch bottling, always a single cask whisky drawn for the festival, was a 2005 Port Charlotte matured solely in an oloroso Sherry butt and bottled at a cask strength of 59.3% abv. Limited to only 956 50cl bottles, it was on sale for £75 and is described by Hannett as 'an exceptional cask that deserves to stand alone'.

Born and bred: The #WeAreIslay campaign will feature the faces behind Port Charlotte single malt

With visitors lining up down the road to get into the site, you'd have needed to start queuing early to get hold of a bottle, or to buy a ticket to Hannett's morning masterclass, which has rapidly become a firm highlight of the Islay Festival.
The 250 guests filling Warehouse 12 at the rear of the distillery not only had bottles reserved for them to buy post-class, but were also given a unique opportunity to experience the new direction for Port Charlotte through a tasting of the Heretic bottling, the new 10-year-old in the relaunched core range, plus a Port Charlotte Black Art vatting of seven different casks, 'just for a bit of fun for the day'.
It's not often that distillers are treated like rock stars, but Hannett was welcomed to the stage as if Bowie had risen and entered the room. A brief catch-up on the distillery's achievements this past year – rye distilling has begun, adjacent land has been bought on which to grow barley, Hannett has a new assistant in Gordon MacDougall – before a toast to Bruichladdich's late head of communications Carl Reavey, who died earlier this year.
Six whiskies were tasted altogether, including a one-off vatting of 2003 Port Charlotte, 2002 Octomore and 1990 Bruichladdich 'just to see what would happen'. Sticky with heavy Sherry notes and softly smoky, sadly it will never be released. If you want to make yourself jealous, you can watch the whole tasting on Bruichladdich's website here.
Back down in the distillery courtyard, the band was warming up – as was the weather – bartenders in the Botanist gin tent were prepping their foraged cocktails, and distillery tours were starting. Bruichladdich's open day is always a popular event, attracting both tourists and local families out to enjoy the May sunshine.
We were there for the festivities, and got hold of Hannett after his masterclass for an exclusive tasting of the new Port Charlotte range: