Friends and colleagues have paid tribute to Carl Reavey, Bruichladdich's head of communications, who died suddenly yesterday.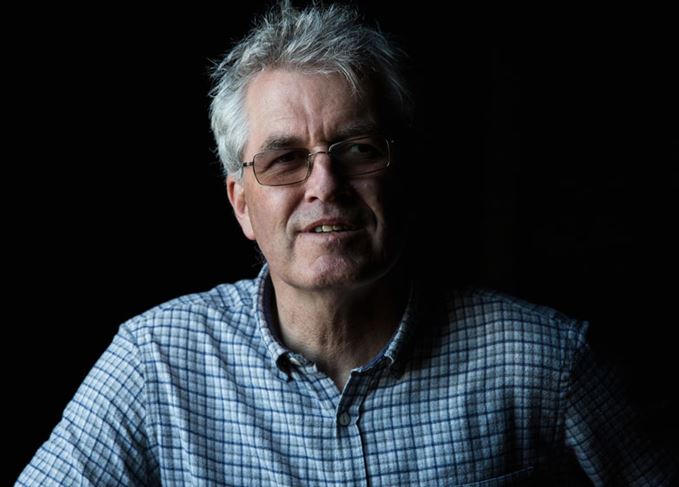 The man who was the voice of the Islay distillery's PR, website and social media, the former editor of local newspaper The Ileach and past owner of the Port Charlotte Hotel, has left a long-lasting legacy on the island he called home for more than 20 years.
'It is with deep sadness that we must tell you of the sudden death of our great friend and colleague Carl Reavey,' said Simon Coughlin, CEO of Bruichladdich owner Rémy Cointreau's whisky division.
'Carl was one of the best, one of the good guys who always had time for others. Never selfish or too busy, always making his time available both in and out of work hours. Carl was totally committed to everything he did, with passion and conviction; he leaves an impossible hole to fill.
'We all feel a profound sense of loss today at Bruichladdich. We will miss him terribly, but we are all the richer for being touched by his spirit. Our hearts and thoughts are with [his family] Jan and Alistair; we hold you close.'
Reavey joined Bruichladdich in 2012, but his relationship with the distillery began when he first moved to Islay.
Born in 1956, Reavey attended Long Eaton Grammar School in Derbyshire before studying Anthropology at Durham University. He then pursued a career in music production, touring the world as a roadie with Feargal Sharkey and The Undertones before moving to Los Angeles and working with performance sound systems.
Reavey's love of wildlife and social studies led to a spell offering bird-spotting tours on the River Clyde. In 1995, Reavey and wife Jan moved to Islay, where they bought the then neglected Port Charlotte Hotel.
The pair spent the next eight years renovating the property, restoring it as the hub of the village and transforming it into a welcoming place for locals and tourists alike. Throughout their tenure, Reavey was a constant presence behind the well-stocked bar and in the restaurant, and a regular customer following its sale in 2003.
Mark Reynier, former owner of Bruichladdich, recalled: 'With his laid-back Midlands humour and rock 'n' roll insouciance, he ran a cool, relaxed, quirky, refreshingly simple place, always slightly on the edge as he followed instinct rather than catering school or balance sheets.
'Having eaten in some of the world's finest and grandest restaurants, some of the most enjoyable meals I have ever had were there, in those early, slightly crazy days of the PC.'
Reavey moved on to take up the editorship of Islay's local independent bi-monthly newspaper, The Ileach, which under his direction campaigned for the island's interests and saw the introduction of broadband internet on Islay – albeit still to this day rather limited.
Reavey was heavily involved in the Islay community, saving the failing Maureen's Bar in Portnahaven with the sole purpose of keeping the local pub alive, and running the Islay Wildlife Centre and Museum of Islay Life, which continues to be an important home for historical Islay artefacts and records. Most weekends he could be spotted cycling around the island on one of his many bikes – one of his great passions.
He joined Bruichladdich in 2012 as content creation manager, a role that developed into head of communications following the distillery's sale to French group Rémy Cointreau in 2014.
Reavey was instrumental in cementing Bruichladdich's reputation as a 'progressive Hebridean distiller', driving its campaign for transparency in Scotch whisky and never afraid to fight a corner or two when it came to defending the distillery's views on terroir.

Outdoor pursuits: Reavey embraced Islay life, including its temperamental weather

Tributes:
'Carl didn't have an "off" button. He was fully vested in everything he did, from the many local charities and associations to his constant cycling around Islay and beyond. I can't begin to count the number of discussions we had together, at work, over a dram once the phones stopped ringing, in the pub or around a dinner table. Total commitment I have never seen the like of before.
'A bon viveur, happy to try any food offered to him, often foraged from the isle he and Jan have called home for over 25 years. Enthusiasm is a word that will forever be associated with Carl; you simply couldn't keep him down, always enthusiastic, always smiling and always polite. Never a bad word to say about anyone.'
Simon Coughlin, CEO, whisky division, Rémy Cointreau
'Our paths first crossed in 1997; as with all those serendipitous meetings, it was due to a cock-up. The original hotel I had booked for a party of whisky enthusiasts had completely misplaced our reservation; there was nowhere to stay. The PC had the only beds available – and we never looked back.
'He was the first person on Islay I told about my idea of buying Bruichladdich. To my surprise, he was fairly dismissive of the idea. He couldn't see it working in private hands. Funnily enough, despite our hesitant initial discussion 20 years ago, we did make it work.
'Altruist, naturalist, cyclist. Carl's first passion was birdwatching, twitching – he enjoyed the cheeky incongruity of the restaurant clientele, half of whom were there to twitch, the other half to shoot – and his second was to cycle. Everywhere. In fact I don't think I ever saw him behind the wheel of a car.
'Come hell or high water (usually the two at the same time), he would cycle on his eclectic range of Italian racing bikes around Lochindaal, from The Ileach office to his home in Port Charlotte, battling the wind and the rain.'
Mark Reynier, CEO, Waterford distillery
'Carl and I began working together at Islay's newspaper, The Ileach, when he was one-third of a triumvirate of editors, sharing writing and editing duties.
'At that time, he travelled from his home in Port Charlotte in an elderly and not always mechanically sound Volkswagen Caddy pick-up, a vehicle that often demanded a certain degree of ingenuity to get it started when time came to drive home. A cycling enthusiast himself, [his brother] had presented Carl with a grey Marin hybrid bike as a birthday present, which Carl reluctantly felt honour-bound to use at least one day a week during the summer months.
'Gradually, however, the bicycle became the more prevalent mode of transport, eventually resulting in the sale of the pick-up and wholesale adoption of the bicycle as his primary means of transport. He'd attend functions and appointments relating to The Ileach by cycling any distance in pretty much any of the adverse weather conditions for which Islay is renowned.
'Originally happy to be thought of as a "man with a bicycle" rather than a cyclist, he resisted the temptation to wear Lycra for many a year, before succumbing not only to its practicality, but to owning more than one bicycle. The first indication that he had become a "cyclist" like the rest of the Velo Club was the purchase of a steel "Mercian" frameset to which he referred as his "tart's bike", due to the preponderance of chrome about its tubes. This led to his occasionally being dubbed "Lord Carlos of Mercian".
'Lord Carlos was a wonderful man, a good friend to all those in the Sunday morning peloton, and he will be sorely missed by us all.
'As he himself would have written: "Rest in peas."'
Brian Palmer, graphic designer, The Ileach and founder of the Velo Club