Ardbeg Day isn't just the culmination of the eight-day Islay Festival, it's also a celebration of Feis' ever-growing global community. Becky Paskin got into the spirit of peace and love at the distillery.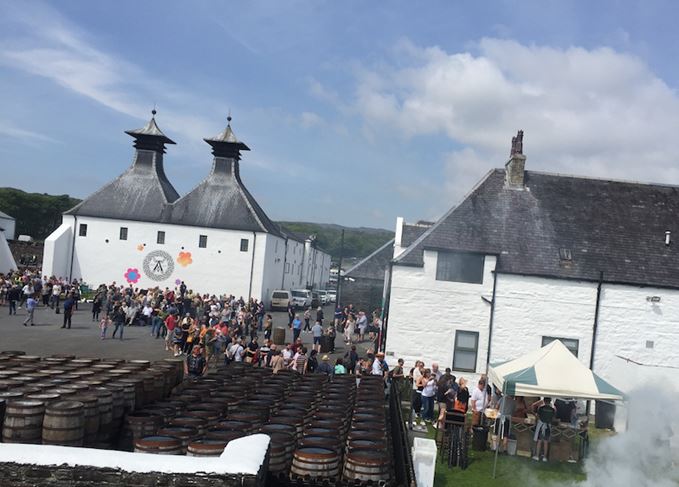 By the final day of Fèis Ìle, many were feeling the effects of festival fatigue. Seven days of whisky tasting had begun to take their toll on palates, livers and stamina, but to miss Ardbeg's closing festival celebrations is to miss out, especially when the distillery promised a 1960s, Woodstock-style vibe.
'As Islay goes whisky mad, at Ardbeg we are aiming for a chilled-out festival,' the site promised. 'We will be going back to a time when bell bottoms and incense, flower power and summer loving were all happening down in the groovy village of Ardbeg.'
The theme for Ardbeg Day 2018 ties in with the name of the festival bottling, Ardbeg Grooves, which has been made using whisky matured in red wine casks that have been intensely charred to create deep grooves. The increased surface area produces rich, intense flavours derived from the oak, including smoked spices. Bottled at 46% abv, the release is available for £98 from stockists worldwide, as well as at the distillery.
Ardbeg Grooves wasn't the only new whisky launched for Ardbeg Day. Fans who came down for the celebrations were surprised with a second bottling, the distillery's first single cask release for eight years.
The single oloroso Sherry butt, a 2005 vintage bottled at 13 years old and at a cask strength of 56.4% abv, had visitors queuing around the side of the visitor centre and up into the courtyard. With only 543 bottles available on a first-come, first-served basis, the expression quickly sold out. Thankfully, two bottles had been opened for pouring in distillery manager Mickey Heads' 'Love In' masterclass.
The morning's heavy mist had cleared, leaving Ardbeg drenched in blazing sunshine – just as well really, as each masterclass was hosted outside on the grass.

Peace and love: An unrecognisable Mickey Heads led a memorable open day masterclass

Heads' session took place in the garden of his former home at the Excise House (he recently moved down to Port Ellen), on cushions and rugs scattered across the flower-dotted lawn. Dressed in orange flares and with considerable hair extensions, Heads began by pouring drams of the very limited edition Ardbeg 1815 Bicentenary release – a 400-bottle vatting of ex-Bourbon and Sherry casks from the 1970s, released to mark the distillery's 200th anniversary in 2015.
'This is the last of my tasting stock,' he said, the rest of us struck dumb by the richly Sherried, nutty, fruity, rancio notes in the glass. 'I thought it would be a nice way to start the day.' No kidding. Anyone who's followed our videos this week will know that Ardbeg's Seaview Cottage is my happy place, but Heads has given me yet another reason to fondly remember the location.
As in previous years, masterclasses are doled out via lucky dip, meaning that all classes are equally attended, with each offering different pours. The whisky was free-flowing – a five-litre bottle of Ardbeg Grooves made the rounds, while the Ardbar offered cut-price pours of Ardbeg special editions for as little as £2.
Lawn games were set up, with the chance to win bottles of Grooves and Perpetuum, while the iconic Arbroath Smokies attracted a queue as long as that for the single cask – a standard feature of Ardbeg Day.
Ardbeg came through on its promise of a chilled-out close to the Islay Festival. There was no big sell, no tall tales, no real focus on education – simply a gathering of whisky lovers bonding over some of Ardbeg's back catalogue to the soundtrack of the 1960s.
New friendships that had been forged throughout the week were solidified as phone numbers and Facebook details were swapped. Ardbeg Day isn't simply the eighth distillery open day – it's a moment for recognising and celebrating Fèis Ìle's ever-growing community.
We caught up with Mickey Heads to taste the new Ardbeg Grooves and find out more about the special 2005 single cask bottling: