Dwarves, apes, giant ants, William of Orange's campervan distillery and power cuts. It could only be Becky Paskin's last day at Tales of the Cocktail 2015.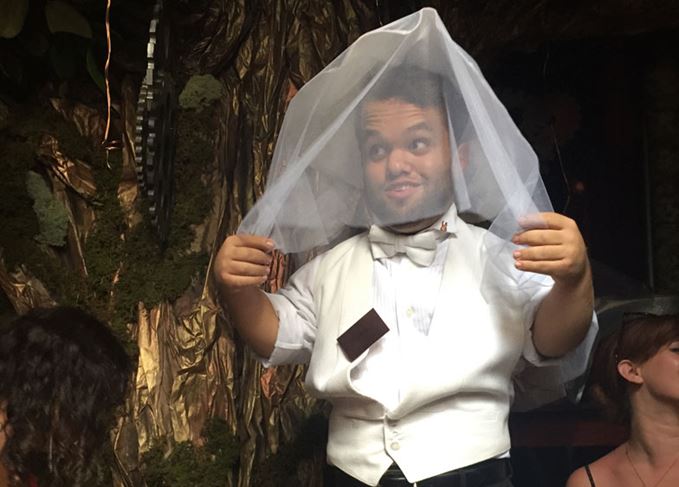 Thank God, it's the last day of Tales. I don't know how much more my liver can take. Feeling worse for wear I drag myself back down to the Hotel Monteleone for Diageo's Blinder Truth About Ageing Whisky seminar – this is work after all, no matter how much my sore head protests.
Actually Diageo 'master of whisky' Ewan Morgan and his panel of cronies (Nick Morgan – no relation, Gerry Graham, Gregor Cattanach and our chief engineer, Dave Broom) deliver a fascinating seminar designed to upend the audience's perception of 'age' and steer them toward judging the maturity of a whisky instead. In the words of the forever-quotable Mr. Broom: 'Age is a number you put on a bottle, but what you're really looking for is maturity and character in a whisky.'
Of course the seminar presented yet another opportunity for Dr. Nick to climb on his soapbox about no-age-statement whisky, where he rebuked those who discredit anyone who drinks NAS. Bravo, I tweeted in response. Let people drink what they want to and how they like it without attracting judgement. Without delving too deeply into that vicious circle of a debate, let it be said that too much discrimination exists around how to drink whisky these days.
Of course Dr. Nick is a learned historian and one of his seminars wouldn't be complete without a fact or two. For instance, did you know that William of Orange's first grain distillery was in a gypsy campervan? No, neither did I.

William of Orange's first grain distillery, according to Diageo's head of whisky outreach, Dr. Nick Morgan.
From one farce to another I headed over to Exchange Place where Absolut Elyx had taken over the Bevolo Gas and Electric Lights store to give the Artesian's Alex Kratena and Simone Caporale free reign to create their own bespoke pop-up. While downstairs was all copper pineapple serves and Elyx charm, upstairs was a different story. Here the Artesian duo had produced a playground of their minds complete with apes serving cocktails (Kratena and Caporale dressed up), dwarves, seaweed floors, oysters, a magical forest with golden hanging pears, giant ants serving drinks and lemongrass air. Apparently the guys wanted real monkeys to serve cocktails but all the apes in the state are busy filming a Hollywood movie. Really.
Once the surreal experience was over there was just enough time for a swift change of clothes before heading down to the Sheraton New Orleans for the final big bash of Tales – the annual Spirited Awards, which identifies and celebrates the best of the bar industry. Naturally, our very own chief engineer, Dave Broom, was up for two awards – best book for Whisky: The Manual, and best spirits writer. Of course he picked up both, and with such humility too.

Our humble chief engineer shows off his win in style.
It was fantastic to see the industry recognised and rewarded, particularly the Dead Rabbit in New York which was yet again named Best Bar in the World, but after a painful six hours the entire room was antsy to move onto the after party – the Bartenders' Breakfast, hosted by Pernod Ricard. Held this year at the New Orleans Center for Creative Arts, the bash saw several rooms filled with pop-ups from bars around the world, all of whom were serving their signature drinks.
Unfortunately a few minutes after arriving a power cut in the neighbourhood quickly killed off the party vibe, and we took the cue to make our exit back to the French Quarter. A couple of whisky and sodas at the Absinthe House later and it was time for everybody's favourite last stop of the evening – the Alibi on Iberville Street, which really never closes. You don't stand inside the bar at Alibi – the joint is rammed so tightly, mostly with Brits over for the festival, that the place to be is on the street with friends and a Hurricane in hand. This is New Orleans after all, and what better way to end a week in the city.