Hedonism, geekiness, exhaustion… The world's greatest bar event is many things to many people, and Scotch whisky is playing an ever more important role. Dave Broom was our man in New Orleans.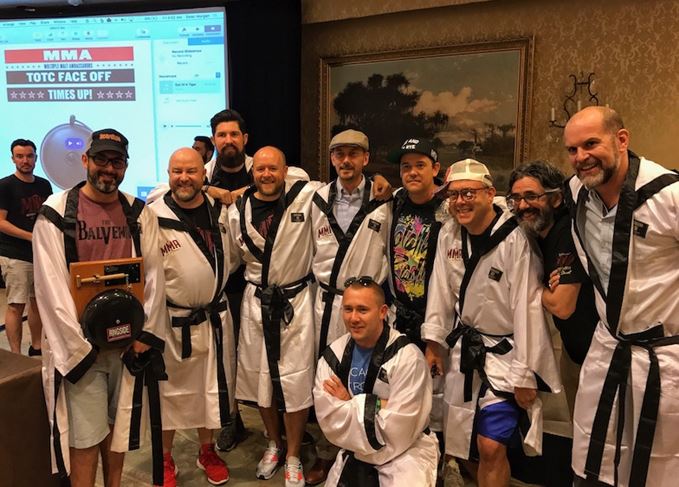 Tales can be many things. For some, a hedonistic plunge into endless parties, dive bar drinking sessions and sundry other entertainments in the most decadent city in the US. For others, it's geek heaven where you can sit with other acolytes in seminars listening to, for example, the role of insects in the world of drink.
Most attendees, it would appear, pitch their Tales experience somewhere between these two extremes – a base of education, with a dash or three of nerdiness, topped up with the sparkle of partying, and garnished with a dazed, delirious exhaustion. What more would you expect from the world's largest event for the global bar trade?
For years Scotch struggled to find a way into this whirling madness. Now, with Tales of the Cocktail celebrating its 15th birthday, the fit is really rather snug.
'It's because Scotch is more… serious,' said one delegate to me. 'Not in a boring way, you understand, but it just lends itself to discussion. Other spirits can do all the bells and whistles; with Scotch you can sit down and have a proper, grown-up, involved conversation.'
If that makes it sound like Scotch is still the dad dancing at the millennials' party, then so be it. In actuality, it was throwing some pretty passable shapes. Today, Scotch is as central to Tales as rum, agave or gin.
The days of it having a walk-on part seem to be over, something underlined by the fact that the first class of the event in the largest room (the 250-seater Queen Anne Ballroom at the Monteleone Hotel) was entitled: 'Scotch, Where's My Age Statement?'

And relax…: Georgie Bell, Sam Simmons and David Stewart wind down with a Scotch cocktail

Moderated by Dewar's global brand ambassador Georgie Bell and boasting a panel of David Stewart and Sam Simmons from William Grant & Sons, Bill Thomas of Washington's amazing Jack Rose bar (2,000-plus bottles and counting) and Black Rock's Tristan Stephenson, this was the third year in a row that a class looking at maturity and age statements has been held at Tales. Each year the venue has been larger, showing either continuing interest in the debate – or how intractable it has become.
Bell framed this as a look at age statements' use in the past, present and future with a fascinating historical perspective given by Stewart, recounting how Glenfiddich started life as an eight-year-old until, in 1979, the age statement on the world's top-selling single malt brand was removed for 20 years before, 'under pressure from the industry', it became the 12-year-old we know today.
The panel picked their way through a briary thicket of contradictions. Do we like age statements or not? Can you live in both worlds? Are there advantages and disadvantages to each?
'The idea of older equals better is still prevalent,' said Bell, introducing the first whisky, 'but old can be bad as well.' The glass contained an over-aged and low-strength 50-year-old, which Stewart said could be blended away, but not used. 'No!' said Thomas. 'Bottle it. I could sell it.' And there's the rub.
At the opposite end of the spectrum was the youthful Kilchoman Machir Bay (praised by the whole panel for its quality); then a comparison between a whisky with an age statement – Glenfiddich 25-year-old – and one without – Balvenie Tun 1509 – showing how two different approaches to using mature whiskies can be applied. There was even a highball made from a 52-year-old grain, That Boutique-y Whisky Company's Carsebridge.
For every positive about younger whiskies – 'There're more opportunities for fun because they are versatile' (Stephenson) – and NAS, there was a counter of 'age is a comfort blanket and most consumers see it as a indicator of quality' (Bell).
If there were no age statements, she continued, how do you explain the differences between whiskies to someone such as her mother when she shopped for whisky in the supermarket?
'It's a game of trust,' said Simmons, which raised the central question: can you have trust without transparency? Especially as, for Thomas, today 'we want to know why the whisky maker made a whisky in this way'.

Geek heaven: The Better Drinking Through Chemistry class looked at experimentation

The Dilemma of Georgie's Mum remained unresolved, but at least the main issues were raised, with Stephenson's potential solutions of organising whiskies by flavour to 'reset the parameters' being the most cogent. You can't help but think that the topic will again raise its head at Tales 2018.
Creative thinking was at the fore at 'Making Scents Out of Flavour', in which Glenmorangie's David Blackmore and perfumer Michael Carby from Givaudin (among others) outlined the crossover between perfumery and distillation, via a deconstruction of Glenmorangie's aromas.
Proceedings included the creation of a perfumed Glenmorangie on stage, with the scents of lavender and rose transferred into the spirit through an ingenious contraption which cannibalised working parts of a fish tank.
The geeks were out in force the day after at the fascinating (and also sold-out) 'Better Drinking Through Chemistry', where Dr Don Livermore, master blender at Corby, Diageo's Dr Matthew Crow and Jordan Bushell from Hennessy Cognac gave three fascinating papers on the hidden aspects of raw materials, distillation and maturation.
These showed similar underlying beliefs, but with different approaches of, in Crow's words, 'using chemistry within traditional practice'. Never has lignin been so fascinating.
'What happens when a experiment fails?' asked one delegate. 'There's no such thing, because you always learn something,' said Dr Crow. 'It's turned into vodka!' riposted Dr Livermore.
Whisky's more earthy face was on full-frontal display at the third MMA (Multiple Malt Ambassadors), the now annual roasting of whisky ambassadors by their peers. No gloves were worn, no insult base enough as the abuse flew around the room.
There was fine whisky to be tasted (and Irn-Bru) – not that any of them mentioned it. The audience howled with laughter and cheered. The more outrageous the MMA becomes, the greater its popularity.
Scotch then headed into outer space when Ryan Chetiyawardana and I finished our five years of 'whisky heretic' talks with a Star Trek-themed examination of the strange worlds of extreme flavour and potential new frontiers for Scotch.

Going to extremes: Broom and Chetiyawardana ended five years of 'heretic' talks at Tales

The increased choice led to some unfortunate, but probably unavoidable, clashes: the developing American single malt market was up against a detailed look at Canadian grains; the future of Irish whiskey pitched at the same time as a panel discussion on the legacy of Alfred Barnard (which was more interesting than it may seem, and not just because I was on the panel).
A revelatory look at innovations at Canada's Gimli distillery unfortunately clashed with a talk comparing teas from different altitudes in Sri Lanka with Scotches whose distilleries were at different altitudes (Tales is nothing if not esoteric).
More importantly, Scotch was clearly now part of the whole celebration. Outside the classes, The Singleton had a tasting and cocktail session; you could slurp down highballs and ice cream floats at the Johnnie Walker Soda Shoppe, and maybe be taken there, or to the Monkey Shoulder parties, in the barrel sidecar of the Dewar's Scotch Egg motorcycle.
There was no lack of Scotch at the Diageo, William Grant or Bacardi parties, or in the French Quarter bars where 'Scotchnsoda' was the drink of choice in Fritzel's when listening to the tightest, hottest jazz band in town; whisky also seemed to play a significant role at the impromptu karaoke sessions which sprang up at Erin Rose or The Alibi bars.
Tales is the Tough Mudder of drinks events, whose battle scars are worn with pride. There's never enough time to see everything or meet everyone, but that doesn't stop people trying. If that isn't evidence of success, then I don't know what is. Scared to try it? Don't be. 'You're in Nawlins, baby,' said a waitress to a newbie. 'Go for it.'