Bartender and drinks geek fest Tales of the Cocktail decamped from its New Orleans home to Edinburgh last week, in the first iteration of a two-year residency in the Scottish capital. Perhaps unsurprisingly – but hearteningly – Scotch played a significant role. Dave Broom reports.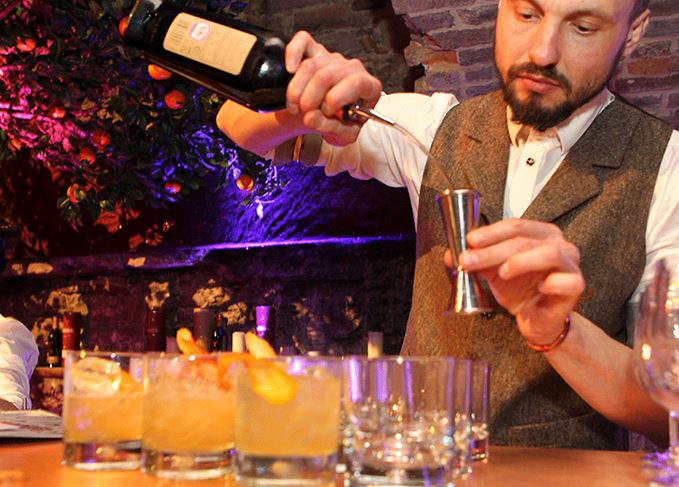 Tales on Tour managed to compress all of the parent event's education, entertainment… and exhaustion into a four-day exploration of all things mixable. Seminars and tasting rooms were located at the very bling Assembly Rooms, while nightly events saw the city's iconic bars – and pubs – packed with thirsty delegates.
The development of Edinburgh's cocktail culture was explored in 'Small Fish in a Big Pond' while 'Scottish Flavor [sic] Makers' showcased a number of local products in cocktails, including Aberlour, Black Bottle, SMWS (Scotch Malt Whisky Society), and Wemyss. Dandelyan's Ryan Chetiyawardana, Noma's Arielle Johnson (and yours truly) revisited their 'Talking Rot' class, a heavily geeked-up examination of rancio with ultra-rare whiskies supplied by The House of Walker.
The most significant seminar saw Chetiyawardana join up with fellow 'Drambusters', bartenders Tom Walker and Mike Aikman, and Dewar's global malts ambassador Georgie Bell, to debate why Scotch wasn't more widely used as a cocktail ingredient. 'The whisky market is worth $60bn a year, and Scotch makes up £28bn of that,' said Bell. 'It's the biggest category by value in the world of spirits, and yet there are only five Scotch cocktails in the world's top 650. Why?'
The answer, they felt, was thanks to a conservative approach to advertising, a lack of engagement with bartenders, the mistaken belief that Scotch shouldn't (or couldn't) be mixed, or that it's always smoky. 'By just using Scotch for smoke you are segregating it into one flavour and not recognising its amazing diversity,' said Bell.
There was, they argued, the fact that many of the 'classic' Scotch cocktails hardly deserved that accolade – the Blood & Sand got a royal kicking, the Penicillin was dismissed as 'just a cold Toddy' by Chetiyawardana, while Aikman was typically laconically forthright in his dismissal of the Rob Roy.

Who you gonna call?: The Drambusters championed Scotch in cocktails during their straight-talking seminar​ (photo: Jennifer Mitchell Photography)

'There's not enough entry-level Scotch drinks,' said Walker. 'There is a lot of lazy bartending and people are not looking into Scotch in a deep way.' To show how a simple drink could be both refreshing and complex, he showcased his Montgomery (Aberfeldy, Ferrand dry curacao and chocolate bitters), while Aikman's Dramble (Craigellachie, lemon juice, Braemble liqueur, Boker's bitters) took a white spirit drink and 'Scotchified' it, without losing the original's fruity freshness.
'It's not just whisky,' said Aikman, 'but Scotland itself. We still market ourselves in an old-fashioned way, but it is changing.'
While Scotch has had a small (albeit growing) presence at the New Orleans event, Edinburgh saw the spirit take a more prominent role at the off-site events. William Grant started the whole thing off with a hoolie at the Caves, while Monkey Shoulder threw a 'lazy' party and trundled around the city with a drinks trolley, and Auchentoshan boldly hosted a Scotch breakfast.
The 'Dynamic Duos' evenings saw barkeeps from the around the world doing guest shifts at a number of the city's iconic venues. Chivas Brothers sponsored Bath's Dark Horse at the Last Word; Dead Rabbit's Jack McGarry was pouring Dewar's-based drinks behind the stick at Bon Vivant.
Meanwhile, Ardbeg and Glenmorangie sponsored two evenings at Bramble – one with Dead Rabbit's Jillian Vose, the other with Black Rock's Tristan Stephenson, who brought the bar's table and what he claimed to be the world's 'first automatic whisky dispensing fountain' – complete with a guest appearance by Dr Bill Lumsden. The Mr Lyan team was pouring Dewar's-based libations at Timberyard, while Compass Box revealed the winner of its first cocktail competition at Devil's Advocate (less than a mile from Great King Street, appropriately enough).

Dynamic Duos: Guest bartender shifts drew packed crowds at some of Edinburgh's best bars, including The Devil's Advocate (photo: Jennifer Mitchell Photography)

There was a slight ambivalence to the Dynamic Duo concept from local bartenders. 'I don't want to seem ungrateful, but this should have been a chance for us to showcase what makes our bars special,' said one. Though the venues were packed and the shifts agreed to be great fun, it's something to address for the 2018 event.
This was perhaps brought more sharply into focus by the fact that most of the attendees came from outwith Scotland – and the UK – with many from the US. The low local turnout was often put down to the high cost of the ticket (US$329), with 'British bartenders don't earn as much in tips as their counterparts in the US' a regular explanation.
But the strong turnout from Ireland and continental Europe suggests a lack of motivation from the bartending scene in the host country, in turn pointing at an endemic cultural problem, rather than it being the fault of Tales. Hopefully things will have changed at next year's event, because it was a remarkable few days, which fully demonstrated why Edinburgh was the right choice of location.
'It's about education,' said Aikman at the Drambusters seminar. 'Education at every level, whether it's training, or just sitting and chatting with your peers.' Judging by the chat in the packed bars, that conversation – with Scotch at its heart – has definitely started.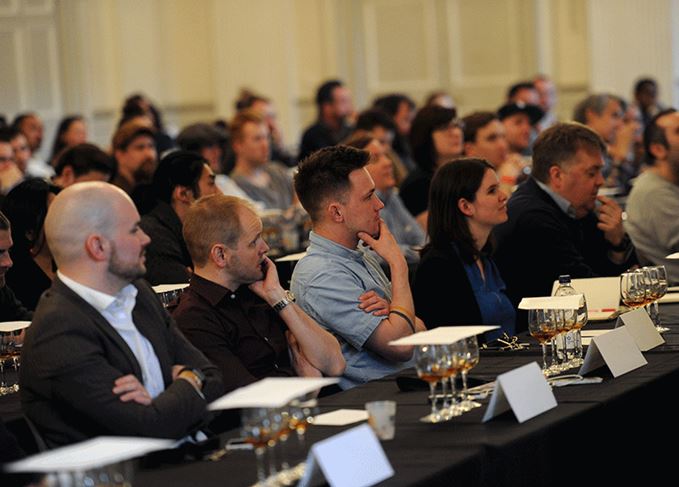 Talking rancio: The seminar on rot and flavour in whisky kept a captivated audience (photo: Jennifer Mitchell Photography)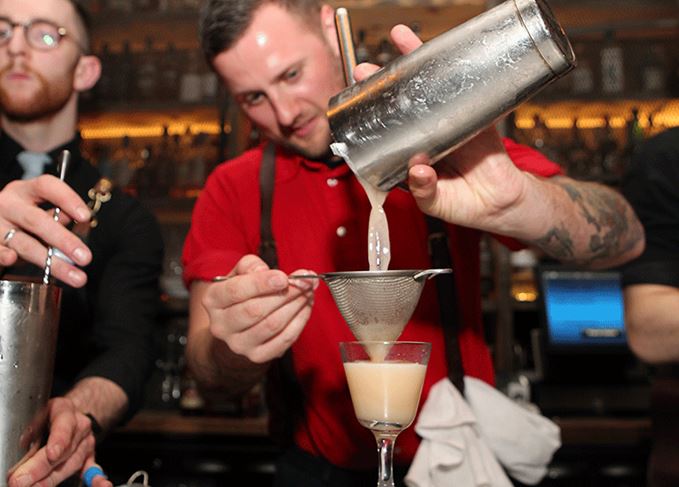 Guest shift: Jack McGarry from New York's Dead Rabbit got stuck in behind the bar at Bon Vivant (photo: Jennifer Mitchell Photography)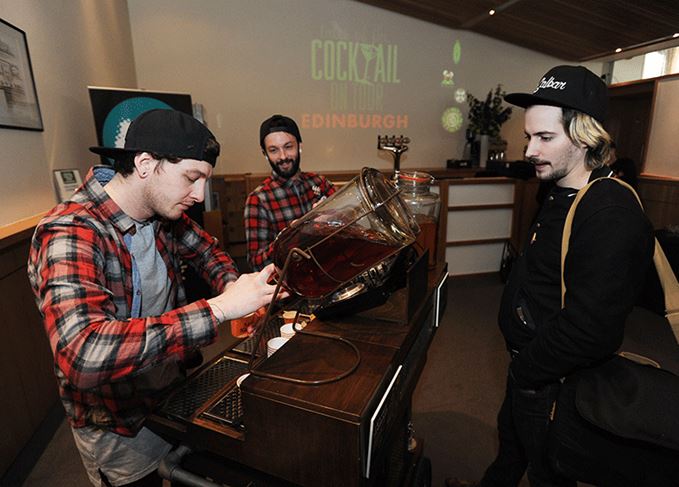 Monkeying around: Monkey Shoulder carted a drinks trolley around the city throughout the festival (photo: Jennifer Mitchell Photography)