A former cocktail favourite in the US, the Cobbler was left behind as other spirituous serves such as the Martini and Manhattan soared in popularity. But Cobblers are making a comeback, reports Naren Young, as interpretations – such as the Scotch whisky recipes featured below – are becoming a common cocktail staple on menus throughout the country.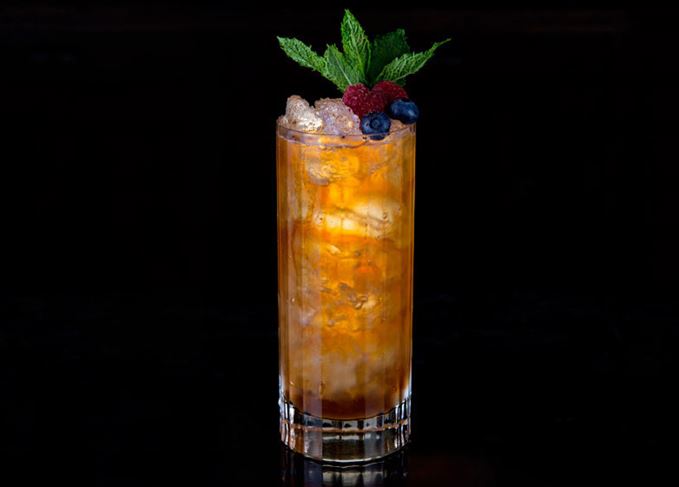 If it wasn't for the Sherry Cobbler, the delightful and the diverse Spanish fortified wine at its core might never have had its time in the sun on American soil. You see, this refreshing tipple was once the most popular cocktail in the US. The Martini, Manhattan and those of a similarly spirituous ilk of course enjoyed their own 15 minutes of fame (though their popularity never waned like the Sherry Cobbler did). But it was time for something a little more low-octane to shine.
After the Industrial Revolution, there was a new-found fervour across the land. With this freedom came a certain feeling of independence and, when people gathered at the local tavern, hotel bar or any social gathering for that matter, they no longer did so around a flowing bowl of punch. That ship had long sailed and suddenly Americans wanted to have their own individual drinks, prepared with a rainbow of exotic ingredients, colourful garniture and presented in a variety of vessels.
Such a libation was the Cobbler, which might have gained notoriety for its Sherry incarnation, but there were several other base spirits and wines that would find their way into the shaker (such is the diversity of the Cobbler recipe).
One of my favourites is the Port Cobbler, while a passing glance over several of the old and influential cocktail books of bygone eras will highlight some made with brandy, Madeira, Sauternes, whisky and something now virtually extinct called 'Catawba' wine (Google it).
A Cobbler could be loosely defined by a base spirit or fortified wine shaken with muddled fruit, ice and a little sugar. This was then either poured directly into a glass or perhaps strained over fresh crushed ice. It was often garnished in a rather ostentatious manner for the day, which might have included pineapple, citrus fruits, berries, mint and nutmeg. No doubt such extravagances would have made the Cobbler a drink reserved for those with affluent proclivities.
Some say the name refers to the fact that the drink should be served over crushed ice, or what some might call 'cobbled' ice. That is rough ice, reminiscent of a cobblestone street, perhaps. When made by a sure hand, and when served over a veritable mountain of cobbled ice, it can certainly be one of the prettiest drinks in existence.
The Cobbler was also one of the first modern cocktails to use a straw and, truth be told, any drink served on crushed ice should always be drunk through a straw anyway. As revered cocktail historian David Wondrich points out in his seminal tome, Imbibe: 'The straw is key. Not only was it useful, but it was something much more important. It was new.'
That early framework for the recipe mentioned above has merely given today's bartenders a chance to twist it into any shape they feel. That might include a veritable spice rack, a throng of citrus and a cornucopia of spirits, liqueurs and newly-released fortified wines. Stateside, we're seeing a Cobbler renaissance and no craft cocktail bar worth their swizzle stick doesn't have a version on their menu these days.
In recent years, I've always had a Cobbler on every menu I've curated. At Dante in New York, the bar I currently run, we're about to switch over from our very popular Sherry Cobbler to something more appropriate as we begin move into the colder months. The Port Cobbler is the perfect expression to have during autumn; its rich, complex notes are the perfect partner for a wide range of Scotch whiskies.

Spirit substitution: Cobbler cocktails are versatile, whether mixed with Scotch or Sherry

I'll be using Chivas Regal 12 Year Old or Compass Box Great King Street 'Artist's Blend' this time (I still haven't decided), though a smoky Islay expression would certainly be delicious in its place. In keeping with our concept of low-alcohol and refreshing libations at Dante, there's only a whisper of Scotch in our version, which gives the drink a little extra kick, but won't inebriate anyone too viciously.
Whisky, in its many guises, makes a wonderful base for the Cobbler, especially because the extra proof can still shine through even as the crushed ice begins to melt. Any citrus and Scotch is a perfect marriage and you don't necessarily need to bother fussing around muddling them into a pulp; some freshly squeezed juice will do just fine. Add a dash or two of bitters and a little sugar of some sort, and you're on the way to sublime alchemy.
Below are a few easy examples of how you can use Scotch in a number of ways to make a delightful Cobbler. Each has a very different flavour profile, but all are very easy to make and, most importantly, they're utterly delicious.
Scotch Cobbler #1
30ml blended Scotch (I like the Compass Box Great King Street or Asyla)
30ml Lillet Blanc
15ml fresh orange juice
1 tsp fresh lemon juice
5 dashes of orange bitters
1 tsp simple syrup

Shake all ingredients with ice and strain over crushed ice. Garnish with an orange slice, fresh berries and grated cinnamon.

Scotch Cobbler #2
30ml Islay malt whisky (I like Bowmore Small Batch)
15ml Grand Marnier (or other orange liqueur)
15ml fresh grapefruit juice
1 dash of Angostura Bitters
1 tsp simple syrup

Shake ingredients with ice and strain over crushed ice.

Port Cobbler (Dante, New York)
45ml Fonseca LBV Port
15ml Chivas Regal 12 Year Old
7.5ml Pierre Ferrand Orange Curaçao
7.5ml Luxardo Maraschino
1 tsp marmalade
5 dashes Peychaud's bitters
1 dash of Dale DeGroff's Pimento Aromatic Bitters
1 tsp lemon juice

Shake very hard. Strain over crushed ice into a footed highball glass. Serve with two short straws. Garnish with a mint sprig, pomegranate seeds, dehydrated lemon wheel and nutmeg.