London Cocktail Week is celebrating its 10th year with even more bars, experiences, masterclasses, parties and £6 cocktails than ever before. But where should you go if you're a whisky lover? Becky Paskin has your back.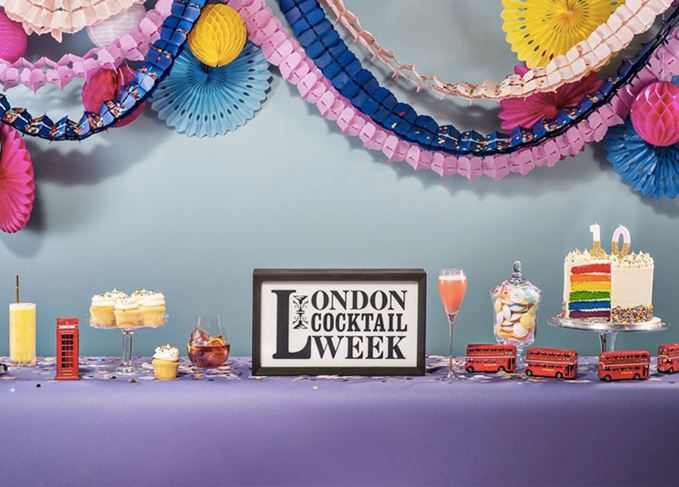 London is one of the coolest cities for finding a decent cocktail, in fact it's got a higher proportion of bars in the World's 50 Best list than any other. Which is one reason why London Cocktail Week (LCW) has become so popular.
The festival, running this year from 4-13 October, now involves over 300 bars offering parties, immersive experiences and – best of all – £6 cocktails.
If whisky is your passion then LCW has plenty in store for you. These are just some of our favourite events happening throughout the next week or so.
Oh, and don't forget to pick up your festival wristband for just £10, which will act as your hot ticket for the 10-day festival, giving you access to those £6 cocktails, pop-ups, parties and masterclasses all over town.
£6 cocktails
When: 04-13 October
Where: Bars across London
With a festival pass you will have access to hundreds of £6 cocktails offered by 300 bars across London. Each bar serves a signature LCW cocktail, as well as a low- or no-alcohol alternative, but if you're hunting down the best whisky drinks the capital has to offer look no further.
Some of the highlights include the Mocha Manhattan, a cocoa butter-washed Chivas 12-year-old with Cocchi vermouth, Kamm & Sons and cold-brewed coffee at Spiritland Kings Cross. Swing by Genuine Liquorette in Soho for a Highball Cha-chunker with Chivas 12-year-old, canned Perrier sparkling water and orange bitters, before hitting the nearby Bloomsbury Club Bar for a Strawberry Old Fashioned made with strawberry-washed Maker's Mark Bourbon, strawberry water and mixed nut orgeat.
For a full list of participating bars, click here.
Lyaness x Fancy Free House Party
Where: Lyaness, 20 Upper Ground, SE1 9PD
When: 2-3 October, 8pm-2am
Early birds keen to get started should stop by Lyaness at Sea Containers for some tasty Dewar's 12 Highballs courtesy of Australian serial pop-up operation, Fancy Free. Fresh off the back of running a bar in Melbourne, bartending duo Ryan Noreiks and Rob Libecans arrive in London for a two-night set as part of Lyaness' House Party series, bringing with them four ingredients native to the state of Victoria, Australia to spice up your Highballs.

Sweet things: Bourbon cocktails and doughnuts are set to be an indulgent combination

Launch Party with Maker's Mark
Where: High Water, 23 Stoke Newington Road, N16 8BJ
When: 4 October, 6pm-1.30am
Kick off LCW in style at Stoke Newington's High Water with Maker's Mark Bourbon cocktails paired with… doughnuts. Your sweet tooth is sure to thank you, as will your wallet, with the first drink served up courtesy of Maker's Mark. Cheers guys!
Bulleit Bourbon Kick-off Party
Where: Black Rock, 9 Christopher Street, EC2A 2BS
When: 04 October, 5pm-close
Black Rock, London's subterranean whisky bar, has had a makeover and now occupies several floors of its original building on the corner of Christopher Street in Spitalfields. To celebrate its launch and the start of LCW, Bulleit Bourbon is taking over with a mega party. A DJ will be manning the decks from 8pm, while a pile of swag including caps, t-shirts and Bulleit 10 Old Fashioned pouches will be up for grabs in games of 'wheel of misfortune'.

Japanese twist: Sexy Fish (pictured) will be taken over by Tokyo's renowned Star Bar

Tokyo's Star Bar pop-up at Sexy Fish
Where: Sexy Fish, Berkeley Square, W1J 6BR
When: 6-7 October, 5pm-2am
One of Japan's best bars, which is also ranked among the World's 50 Best, is coming to London with a takeover at Japanese whisky bar Sexy Fish, marking the venue's first foray in Europe. Star Bar is a speakeasy in Tokyo's high-end Ginza district, specialising in rare Japanese whisky – with which it makes world-class cocktails.
Head bartender Tatsuya Yoshida will take over Sexy Fish's Coral Reef room for two nights with a one-off menu incorporating Suntory whisky and gin, as well as a variety of Japanese ingredients and its signature 'ninja ice', which is so clear it's difficult to see in the glass.
This is a one-off chance to experience a world-class Tokyo bar on London soil. Advance booking is highly recommended.
Laphroaig Smokehouse Supper Club
Where: Hawksmoor Guildhall, 10 Basinghall Street, EC2V 5BQ
When: 7 October, 6pm-10.30pm
Join Edrington-Beam Suntory whisky specialist David Miles at steak restaurant Hawksmoor for an introduction to the smoky world of Islay single malt, Laphroaig. Expect an evening of smoky splendour with peated whisky, cocktails and a three-course meal featuring some of the best steaks Hawksmoor has to offer, including porterhouse, chateaubriand and prime rib. Each course is paired with a Laphroaig whisky, including Triple Wood and Lore, kicking off with a cold-smoked peanut Laphroaig 10 Old Fashioned.
Tickets cost £90 per head, and are available to book in advance through Hawksmoor.
Special Releases Whisky Tasting
Where: Black Rock, 9 Christopher Street, EC2A 2BS
When: 7 & 9 October, 6pm-9pm
Each year Diageo launches a selection of limited edition Scotch whiskies as part of its Special Releases range. As the whisky maker gears up to launch its 2019 range, take a look back at some of the more rare expressions with whisky ambassador Colin Dunn.
Tickets cost £30 and can be booked here.

Bespoke blend: Create your own whisky and perfect your Highball game with Chivas Regal

The Blend by Chivas Regal
Where: Mac & Wild, 9A Devonshire Square, EC2M 4YN
When: 7-10 October, various slots from 6.30pm
Discover the art of blending while creating your own whisky with Chivas Regal at Mac & Wild. This is a chance to learn the history of Chivas Regal, gain an appreciation for the skill of the master blender and pick up a few blending tips of your own in a fun session led by UK brand ambassador Phil Huckle. Choose from floral, citrus, fruity, creamy and smoky samples to blend your own 200ml whisky, before learning how to create the perfect Highball.
Tickets, which include the masterclass, a complimentary Highball and your own 200ml bottle of whisky to take home, cost £15 and can be booked through chivas.com.
The Cocktail Village
Where: Old Truman Brewery, 146 Brick Lane, E1 6QL
When: 9-13 October, 12pm-11pm
With over 30 bars and immersive experiences, the LCW Cocktail Village is the largest London has ever seen. Expect boats, bikes, saunas, beaches and airport lounges, even a giant, 12ft whisky cocktail truck. Naturally there are tons of cocktails to try, but also hands-on masterclasses, demonstrations, DJs and special appearances from the people behind your favourite spirits. Not to mention street food from some of London's best vendors.
As far as whisky is concerned you'll want to stop by the Laphroaig Smokehouse for a journey into their peated whiskies and a nibble on some cold-smoked haggis or fudge. You can even personalise the smoke level of your own cocktail. Meanwhile, the Monkey Shoulder Mixer Truck – yes, it contains 11,000 litres of booze – will be parked up, serving three different cocktails: the Lazy Old Fashioned, Show Me The Monkey and Ginger Monkey. Bring your dancing shoes, as the resident 'Monkey DJ' will be spinning the tunes for a mini silent disco.
Other whisky brands include Drambuie (head to its Skye Bothy pop-up for an intimate cocktail masterclass), the Dubliner, Maker's Mark and Suntory.

Silence please: Get your groove on with Monkey Shoulder's silent disco

Bulleit Funk BBQ Party
Where: Issho-ni Shoreditch, 185 Bethnal Green Road, E2 6AB
When: 11 October, 5.30pm-10pm
Get ready to party with that classic combination of Bourbon, funk and Japanese-inspired BBQ at Issho-ni in Shoreditch. Expect a late-night DJ spinning some funky tunes alongside a live saxophonist, as well as a selection of charcoal-grilled skewers smothered in sticky Teriyaki and Yakiniku Bulleit sauces, alongside a one-off £6 cocktail menu. Better yet, two skewers and a cocktail will only set you back a tenner. Slam dunk da funk.
Sun Tavern Closing Party with Tullamore DEW
Where: The Sun Tavern, 441 Bethnal Green Road, E2 0AN
When: 13 October, 6pm-1am
Close out LCW in style at the Sun Tavern in Bethnal Green, with Tullamore DEW's team of Irish whiskey ambassadors. On the menu are Tully & Tonics, neat whiskeys and – rumour has it – some Tullamore XO Daiquiris. Expect a live acoustic set followed by a DJ into the early hours. Oh, and the icing on the cake? Pizza will be ordered in every other hour between 5-11pm. The Irish sure know how to party.