Smoke doesn't have to be loud and in your face. In fact, just a hint can do wonders for whisky cocktails during the winter months. Award-winning bartender Ryan Chetiyawardana demonstrates how to recreate a trio of winter Scotch whisky cocktails at home.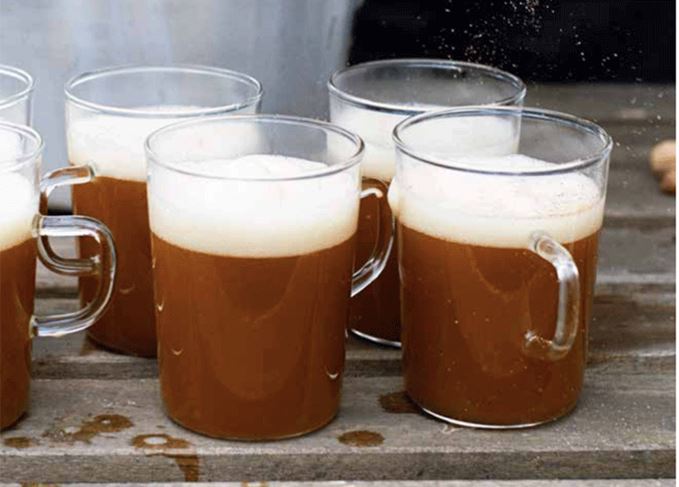 Winter anywhere in the world (aside from Florida and the like, which have no claim to anything remotely like winter) has long been a useful time of the year for whisky.
Not only does the weather help your shivering hand reach towards that rich glass of amber warmth, but the gifting period leaves many an obviously shaped gift under the tree. This was something previously reserved for the lofty prestige of Scotch, but now includes a variety of world whiskies. Even the lazy marketeers had it easy during this time – once fireplaces roared into use, they just needed to place leather armchairs nearby and the whisky would have its rightful home set-up.
But realistically, where does whisky find itself in the modern day? Yes, it's very much at home in winter and even though they resemble the same weather here in the UK, people have woken up to its charms in spring, summer and autumn.
And as Scotch has left its perch, other spirits have looked to fill the position of bastion of winter warmers: gin ski lofts, herbal liqueurs proclaiming apt heritage, tropical rums promising to whisk you away… But whisky has a trick up its sleeve – smoke.
While I'm certainly one to fall for the charms of all whiskies, I've long maintained that Scotch isn't all about the smoke that puts so many people off drinking it. Nowadays, there's such a large variety of flavour in the category, which eclipses all others for complexity and offers something for everyone.
But that's not to say you can't celebrate the wonder that is a smoke-scorched dram. There's something primal, rich and soothing about a blanket of smoke that rewards the tight lips, rosy cheeks and numb fingers of winter.
It need not be a heavy islander either as a little lick of smoke, which can now be found throughout the country, helps bring about warming associations and the extra complexity. I won't turn down a delicate dram in winter, but what I seek out tends to have a nice smoke running through it.

Subtle smoke: Chetiyawardana says whiskies like Highland Park 12 are great in winter cocktails

So how am I enjoying these smoky drams in winter? Often, it's a drink that helps preserve the warmth that whisky with a higher abv provides, or something that maintains that rich texture and enveloping smoke.
Thankfully, there are lots of whiskies and a whole host of ingredients that help this cause. I tend to find these are often from the cupboard and the fridge though as many of the season's fruit and vegetables are a little more stubborn to get into a drink (Brassica Old Fashioned, anyone?) but that still leaves plenty to play with.
One such treat is the richness of eggs. Flips were often used as hearty, warming cocktails and with or without beer, these drinks – using the creaminess of a whole egg – are excellent with a smoky dram. Although they sound odd, they hold all the flavours on your palate, extending the influence of the warming spices and the nice bed of smoke.
A favourite of mine used to be a ginger and orange-skewed version with Highland Park 12, but dear whisky-heresy mentor Mr Broom pointed me in the direction of a Het Pint and I've not looked back since.
What's particularly excellent about this concoction is not only its warming abilities (it's also served warm to help matters), but also the fact it is great as a group serve. The wonderful thing about winter is it has many occasions to bring people together – such as using a drink to help people get over the miserable months – and this is a brilliant drink with which to welcome people in from the cold.
When I'm feeling a little more indulgent, I find myself making an Old Fashioned at home, and years ago we made one with a beeswax twist at White Lyan. This food-safe wax plays to all the strengths of a dram in terms of flavour, but the real magic happens in its abilities to help smoke trail through on the palate.
A little goes a long way, and you'll need to take the effort to prepare it in advance. But beeswax, or butter-washed for those who are a little more sceptical, is a simple twist to change your favourite Scotch Old Fashioned.
Lastly, a pairing that many of you will be familiar with but may underestimate – the Half 'n' Half. Frequently, cocktails are deemed to be complicated and fancy, but this is an ancient serve that people often don't associate with being a cocktail at all, but more akin to a simple G&T. I think it's one of the best.
Although it is something that also works wonderfully throughout the year matching lighter beers to a lighter dram and progressing as the weather changes, traditional beers and whiskies sit wonderfully in this darker camp – especially once smoke is involved.
One of the best I've come across is Who Drank my Porridge? made by Old Worthy Brewing, designed for pairing with a nip of smoky Scotch. Although the cocktail sits in two components without mixing the elements, it's a carefully balanced combination that's easy to mess up (although it'll still probably taste better than a badly made G&T).
The two flavours overlap effortlessly, and the reward of the smoky dram with the oiliness of a light stout spiked with coffee is exactly what's needed to ward off the cold.
Winter whisky cocktails: Mr Lyan's selection

Butter-wax Old Fashioned
Ingredients:
500ml Compass Box Great King Street Glasgow Blend
100g unsalted butter or organic beeswax
10ml Sugar syrup
3 dashes Angostura bitters
2 dashes Peychaud's bitters
Gently melt 100g unsalted butter or organic beeswax until liquid, then pour into 500ml Compass Box Great King Street Glasgow Blend. Allow to cool, then remove solids and coffee filter the whisky. Stir 60ml whisky over ice with three dashes Angostura bitters, two dashes Peychaud's bitters and 10ml sugar syrup. Strain into a chilled glass.
Het Pint from Good Things to Drink with Mr Lyan and Friends
Ingredients:
100ml Highland Park 12
300ml Golden ale
3tbsp Demerara sugar
2 Organic eggs
Pinch vanilla salt
Whisk together the salt and eggs. Warm beer on the stove with the sugar (do not boil) and stir to dissolve. Add the whisky, then pour into the egg mix while whisking constantly. Pour into pre-heated mugs and garnish with freshly grated nutmeg.
Half 'n' Half
Ingredients:
1 bottle of Old Worthy Brewing Co. beer
25ml Springbank 10 Year Old
Pour chilled Old Worthy beer into a cold glass and a dram of Springbank 10 into a separate one. Sip one after the other, and repeat.
Tomorrow: In the last part of our winter trilogy, Martine Nouet demonstrates how to pair Scotch whisky with winter-inspired cuisine.
And in case you missed it, Dave Broom gave his winter whisky recommendations for cosy nights in or frosty Highland walks.