Winter is the season of hibernation, of hiding from the cold outdoors and whiling the days away lusting after the start of spring. But though the trees are bare and the days are short, there is much to be joyous and excited about during the winter months, not least the bountiful food and whisky options. Martine Nouet shares her suggestions.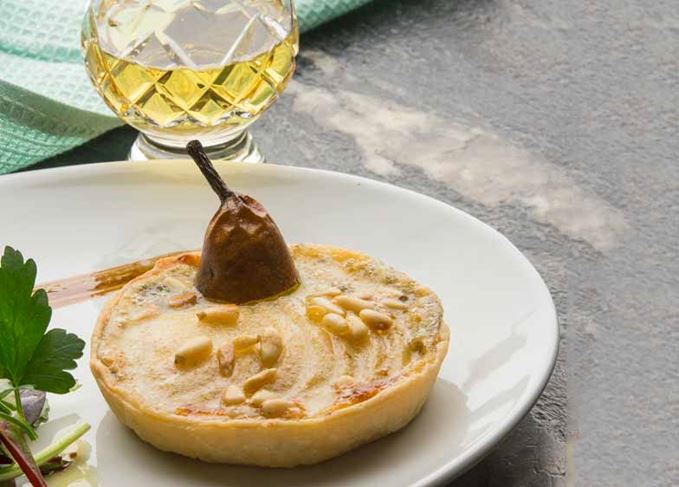 Winter is often – and unfairly – treated as the poorer season of the four. But instead of complaining about the loss of light, the dampness and cold, the bareness of nature, and instead of craving lagoons in the Bahamas, eternal sunshine and bathing on a beach, let's make the most of this exciting freeze-frame the season offers us.
There is an air of simplicity and sobriety in winter, with the uniformity of colours when snow and ice cover the ground. There's not much to see, but you can hear the sound of snow crunching under your feet. Noises resonate in the quietness. You can also hear the silence. Hearing is the sense of winter.
This minimalist sensation is also conveyed by the starkness of vegetation. Only the essential is preserved. Nature goes to sleep and looks minimal, and somewhat austere in white, grey and black colours. By contrast, this austerity is an invitation to enjoy sweet and rich flavours, hence the contrast between outdoors and indoors, between that stark nature and festive gatherings.
We search for rich and invigorating dishes and festive menus to counter the seasonal mourning of nature. Textures are thick, creamy and even syrupy. We look for comfort; this is why, among the four elementary flavours, sweet is the one attached to winter.
Just like during autumn, root vegetables feature on the menu. There is a hint of earthiness in the preparations. Mushrooms, yes, but even better: truffles. The 'black diamond', as French food expert Brillat-Savarin calls it, exalts the quintessence of winter with its extravagant and overwhelming fragrance. Black, unique, sober... and expensive as we know, but truffle oil or truffle paste enhances a cream of lentils in the most delightful and inexpensive way.
Chocolate will be the king of desserts. Dark chocolate stands on its own. Avoid adding fruit or sophisticated creams, or cakes.
If we think of the cycle of life, we have arrived at the last quarter. Old age, yes, but nothing negative or dramatic. Older age has gained experience and serenity, and expresses the need for what is really important and valuable in life. This is the time for meditation, for calm and deep enjoyment.
This is why winter will favour older whiskies, the ones you can (and you must) give time to; the whiskies that will take you late into the night with a truffle or a chocolate (or a chocolate truffle).
Old whiskies, with a bittersweet oaky edge and a lingering finish releasing intense notes of chocolate pull the strings.
Are we talking after-dinner drams then? Not only these, no, as younger malts will pair with the right dishes (see below) but for the serenity exercise, yes, the whisky will be enjoyed on its own. Intricate Bourbon cask malts or impressive Sherry cask ones will slowly unwind their oaky profile tinted with spices or dried fruits. We are entering the world of rancio.
Rancio is this hard to define aroma that old Cognacs retain: a complex bouquet of earthy notes, dried fruit and something more, which can hardly be conveyed in words. A famous Cognac cellar master had this definition: 'Rancio is the flavour of time.' I have found it in exceptional whiskies like Glenrothes 1975, Glen Grant 1961, Strathisla 1968 or some Dalmore from the Constellation range.
In winter, time has the time to take its time...

Cold climate cuisine: Cream of lentil cappuccino with parmesan tuiles (photo: John Paul)

A wintery menu: warming up with creamy delights
Cream of lentil cappuccino with parmesan tuiles
Filet of beef with périgourdine sauce
Chocolate and whisky tart
Cream of lentil cappuccino with Parmesan tuiles
You can use pre-cooked puy lentils, which you warm up in a lamb or vegetable stock and a fried onion. Then blend the mixture until creamy. Pour into tall glasses and top with whipped cream laced with whisky. Parmesan tuiles are made by mixing parmesan and grated gruyère, sprinkled in a heap on greaseproof paper and baked in the oven for a few minutes.
My choice of whiskies: Bunnahabhain 12 Year Old, Ardbeg Uigeadail, Aberlour 12 Year Old Double Cask.
Fillet of beef with périgourdine sauce
Beef fillet can be cooked as whole in the oven or cut into steaks and pan-fried. I'd recommend cooking it rare, but I know some people prefer it medium or well done. The base of the sauce is a rich beef stock, reduced and enriched by dices of foie gras. The sauce is whisked until the foie gras has melted into a creamy texture, then single malt is added with truffle extract (or chopped truffles).
My choice of whiskies: GlenDronach 15 Year Old Revival, Glenrothes Sherry Reserve, Aberfeldy 21 Year Old.

Decadent desserts: This chocolate and whisky tart is a great crowd pleaser in winter (photo: John Paul)

Chocolate and whisky tart
This dessert is the ultimate treat for your guests. A shortcrust pastry (with a touch of ground almonds) and a dark chocolate ganache (egg yolks, cream, melted butter and melted dark chocolate). Crushed cardamom seeds which are infused in the hot cream add a little something extra to this dish. When all the ingredients are blended together, add a dash of single malt and spread the mixture on the tart (which has been baked separately).
My choice of whiskies: The Glenlivet 21 Year Old Archive, Lagavulin Distillers Edition, Highland Park 18 Year old.
Other suggestions
Chestnut velouté
Mature cheddar quiche
Roasted guinea-fowl (or chicken) stuffed with dried fruit and a touch of orange
All desserts with exotic fruit (roasted pineapple, passion fruit parfait) and citrus fruit (citrus fruit terrine, orange salad)
Pear and stilton tart
Did you see?: Dave Broom shares a selection of his favourite drams to enjoy during winter and bartender Ryan Chetiyawardana shows how to inject some added excitement into Scotch whisky cocktails when it's cold.