The warmth of well-chosen spices is a natural complement to the coldest season of the year – and it's a great match to a range of whiskies too. But there's more to it than meets the eye, as Martine Nouet discovers.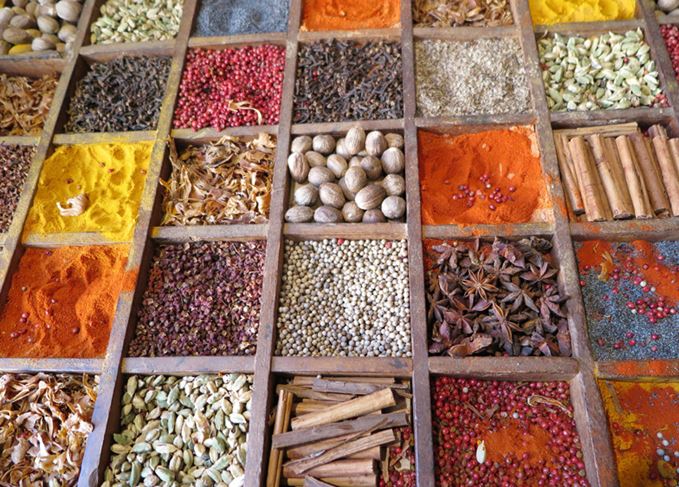 Season the season! Winter calls for comfort food, warm dishes (in every sense of the word) and invigorating drinks. Spices have a natural association with winter, and mulled wine and spiced cakes come to mind as one of the most popular seasonal treats.
Spicing up drinks is a tradition in most countries. Mulled wine spices consist mostly of cinnamon, star anise and clove. Meanwhile, rum-producing countries have a deep-rooted tradition of rhum arrangé, each family having their own recipe for macerating a wide palette of spices, citrus fruit and other ingredients in dark rum.
As for whisky, homemade mead was similar to a 'whisky arrangé' in the old days. Now, apart from creative whisky cocktails using spices, such additives are frowned upon, even in a classic 'toddy'.
Of course, adding spices to a whisky would be adulterating it (well, when the whisky is good). This is why it is more interesting and palatable to consider using spices in the food in order to achieve the best harmony with whisky.
Spices are supposed to add a specific flavour to a dish. This will be correctly achieved depending on two important factors: the quality of the spice and its quantity. The right measurement is the key issue, but it is also dictated by the quality of the spices.

Select your spices according to their quality, not quantity.

If, for example, your saffron costs you £3 for 5g, you have not bought saffron at all, you have purchased a substitute, mostly consisting of curcuma, which will give the colour of saffron but not the taste.
Spices have a price. We must not forget that, when they first arrived in Europe, they were considered a luxury. So the first recommendation is to select top-quality spices that you will find at specialist shops.
My mentor in spices is Olivier Roellinger, one of France's best chefs, who achieved a third Michelin star some years ago for La Maison de Bricourt, the restaurant he has now closed, focusing on his spice creations.
At his shop, La Maison du Voyageur at Cancale in Brittany, he creates spice mixes to which he gives poetical names.
'Spices should never be used on their own – they should be blended,' Roellinger proclaims. Whisky is similar, with master blenders who orchestrate their quest for harmony and complexity with their skill and judgement.
Roellinger adds: 'I compose my spice powders with the ingredients that nature has provided: the fire spices – chilli peppers, ginger, pepper, false peppers; the anise bonbons – anise, dill, fennel seeds and branches, wild fennel, star anise; the tender spices – vanillas, nutmeg, mace, annatto; those with strong character – cloves, allspice; the exotic – lemongrass, lily buds; the magnificent – coriander, green, black or white cardamom; and on and on…'
Roellinger was obviously thinking of the amateur cook when he designed his spice powders in order to give 'our classic cuisine a tempo and a relief it had lost'. The chef has this suggestive comparison: 'Produce form the words of the sentence, and spices its punctuation; they give the dish all its meaning.'
So let's browse through the most 'wintry' spices and examine them on their own and in blends, looking for the best combinations with whiskies.
CINNAMON
Probably the most commonly used spice in Anglo-Saxon cuisine, the best cinnamon comes from Sri Lanka. Cinnamon is the bark taken from young shoots of the cinnamonum zeylanicum tree, and is not to be confused with cassia, which is thicker and a more reddish-brown colour.
The latter is less subtle than cinnamon, which has a warm and intense, yet sweet flavour. It can be used in savoury dishes as well as in sweets, especially fruit desserts (apples or pears are a classic) or dark chocolate.
Cinnamon is often combined with other warm spices such as ginger or nutmeg and is a key element of gingerbread powder. Ice cream, cakes and citrus fruit combined with cinnamon create a taste of childhood (granny's kitchen).
In savoury dishes, cinnamon will converse nicely with pork (loin, as well as sausages or black pudding) and lamb (in tagines). The best match will be obtained with single malts showing a good, oaky structure, hence rather older than younger. Glenrothes (1990s vintages) and Longmorn are good examples.
GINGER
Ginger is the rhizome of the plant called zingiber officinale and is indigenous to South China. Ground ginger is obtained through peeling the rhizome, washing it several times, drying it and then grinding it.
Historically, it was often used in place of pepper, which was more expensive, thanks to its warm, peppery character. It makes a perfect spicy base in stocks, sauces and fruit compôtes.
Ginger has a large aromatic spectrum, which allows it to match with peated as well as unpeated whiskies. It all depends upon the ingredients used in the recipe. Ginger is enhanced when combined with other spices.
CARDAMOM
Cardamom is a great favourite of mine, especially green cardamom. I love its balsamic character, with a menthol twist reminding me of eucalyptus.
From a botanical point of view, the cardamom rhizome comes from the family of Zingiberaceae like ginger and originates from India. The cardamom pods contain the seeds of the plant. Highly perfumed, they benefit from being toasted in a dry pan before being crushed.
Cardamom brings a fresh and intense touch to dishes, and offers an amazing combination with peated whiskies. I make a chocolate and cardamom cream, sometimes adding a cappuccino touch with coffee-flavoured whipped cream, and I pair it with Talisker. The spicy and smoky profile of the malt finds a total bond with cardamom.
These three spices used as a base for creating warm and invigorating dishes can be combined with a lot of other ones. Olivier Roellinger's spice powders are available online, and his thorough descriptions and recommendations provide an excellent culinary guide. After that, it is just to the daring nose and palate to spice things up à la perfection!
A FEW SPICE TIPS
• Store your spices in a dry place
• Buy small quantities and renew them regularly
• Never cook the spices for too long (they lose their flavour and become bitter)
• Be generous, but at the same time be subtle. Too much is the enemy of right
• ​Toasting the spices before using them brings out more flavour