There's nothing quite like the comfort of a warming winter dram, whether you're huddled indoors on a damp, drizzly day, or venturing into the cold for a frosty winter walk. And so, to begin the final instalment of our seasonal series, Dave Broom shares a selection of Scotch whiskies to relish in colder climates.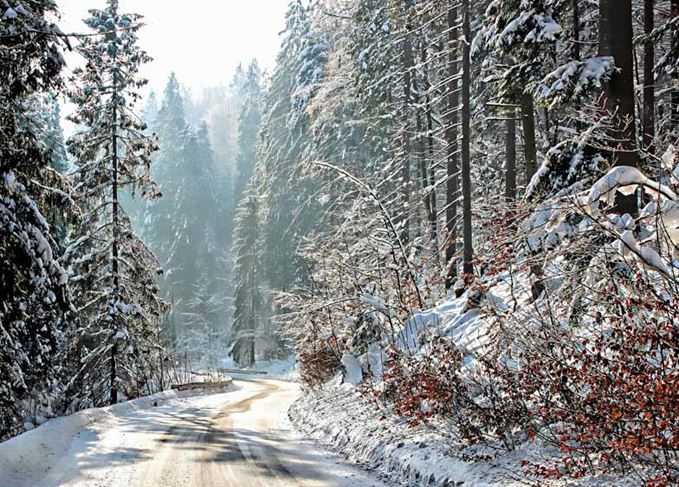 So there I was in an apple orchard, soles sunk in the cold, white, sticky Sussex clay, banging a roasting tin with a metal spoon, while carrying a flaming torch (which is not an easy thing to do).
I wasn't on my own, I hasten to add, just in case you think this strange – even aberrant – behaviour. There was a crowd of us: torch bearers, children, elders, a cider-soaked cake in a tree, bells jangling on the legs of the Morris men and then gunshots into the night, and the hullabaloo started.
A wassail, done at the time when the darkness has tightened its grip, when there seems to be little difference between day and night, the moment when spirits seem to sag. The perfect moment, therefore, to give offering and then wake up the trees, rouse the sap and start the year again. The harvest starts now.
Winter is the time when we sit indoors and mope, like William Dunbar, greatest of the early Scots poets, and his meditation on winter which starts:
'In to thir dirk and drublie dayis,
Quhone sabill all the Hevin arrayis
With mystie vapouris, cluddis and skyis,
Nature all curage me denyis
Off sangis, ballattis, and of playis.'
'Dirk and drublie' means 'dark and rainy', but not even that. Dunbar's rain is dribbling, smirry, rheumatic, dragging him into a state of depression and longing for summer. It assails us all. This is the season, therefore, best suited to the internal whisky, the one which reflects if not our disconsolate mood, then our need for contemplation.
A slower whisky, one redolent with the aromas and flavours of the time of year, the spice and dried fruits and preserved foods which surround us, as we defy this meanest of seasons with feasts and lights, our rooms pushing back the dark and calling back the dying sun, persuading it to return.

Into the outdoors: Fill your flask with Bowmore Darkest and head outside, says Broom

The whisky's colour reflects the skies outside, echoes the flicker of candles on wood. It is a whisky to huddle round with friends and mull over. It is Sherry-aged.
But winter is also the time of startlingly bright days, of frost-etched grass and clear skies. It is a season when (especially post-Christmas) we decide that this might just be the year to get fit and, with that extra time that we somehow find, we do start to walk again – by the sea, in the hills, over sleeping land.
That means the hip flask needs to carry something different to the Sherried drams of the fireside, something sparkier; something which mirrors the steamed exhalations into the new year; a whisky with smoke, but also a whisky with depth – a whisky to both anchor and energise.
This is the time of year when perhaps we are most highly attuned to the changes taking place in nature because those changes bring a degree of thrill and hope. We notice the incremental widening of the day; we know spring will come.
As Edward Thomas wrote:
'Over the land freckled with snow half-thawed
The speculating rooks at their nests cawed
And daw from elm-tops, delicate as flowers of grass
What we below could not see, Winter pass.'
Forget the dirk, drublie and dreich. Go out and bang the tin, make hullabaloo. Take a draught. Wake up!
Ideal wintery drams
For indoors drinking, as long as it's got big Sherried characters, you're OK. Think Glenfarclas, GlenDronach, older Macallan, Tamdhu and older Glenfiddich.
When venturing outdoors, put a drop of Bowmore Darkest or Lagavulin 16-year-old in your hip flask.
Tomorrow: A selection of suitable winter cocktails by Ryan Chetiyawardana that can be recreated at home.