As the nights draw colder and darker, and browning leaves cry out for forest walks, fill your hipflask with something fitting, and warming. Becky Paskin spoke to some whisky experts for their top autumnal whisky recommendations.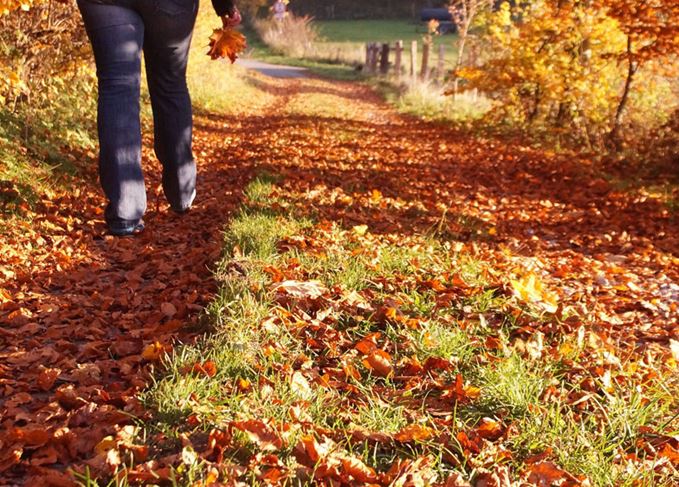 It's autumn. The evenings abruptly get darker, the central heating reluctantly goes on, and you start taking a hot water bottle to bed. Suddenly the light, fruity drams that accompanied summer no longer hit the spot when it comes to a fortifying tipple.
Still, it's one of the most beautiful times of year, as the leaves turn the most enchanting shades of copper and firey red, and the smell of bonfires and spent fireworks (in the UK at least) linger in the crisp air.
It's a time for long forest walks with hands shoved deep in pockets, a time for huddling together in heated pop-up outdoor tipis, and wearing every item of clothing to watch a football match just so you don't get frostbite in your arse cheeks.
One thing that helps keep that creeping cold at bay, lights a fire in your stomach and is certain to put a warm smile on your face when things turn Baltic, is a trusty hipflask filled with a decent dram. But what's the most appropriate whisky for this time of year?
Our experts are on hand with their top tips for the best whiskies to carry in your pocket when the cold hand of autumn/winter slaps you round the face. Some say hipflasks are made for sharing, though that's totally your call.


Charlie Maclean, whisky writer
You need a robust, well-flavoured whisky for a hip flask. I was once told by an eminent Scottish judge, Lord Cameron, who had been born in 1900, that his father 'would never have Islay whiskies in the house'. 'Why ever not?' said I. 'Don't misunderstand me,' he replied. 'He would have some in the cellar, but not in the dining room or drawing room. Islay whiskies are for drinking out of doors.'
I don't know whether this was a commonly held belief in the late 19th century, but is a sound observation. The smoky Islays have an elemental character. For my flask I would choose one with rich character – Lagavulin 16, Ardbeg Uigeadail, Bowmore 18, Kilchoman Machir Bay.
Other robust whiskies, of the non- or lightly-peated variety are equally good: Johnnie Walker Black Label and, perhaps my favourite warming dram when out shooting, a Whisky Mac (a decent blended Scotch with green ginger wine). Sherried malts – Glendronach, Glenfarclas, traditional Macallan, traditional Mortlach – also warm the cockles. Spicy Talisker is always good. Generally, I am not a fan of wine-finished malts, although there are exceptions, and rum-finishing can be good.


Katie Groves, whisky bartender, Milroys
For the cosy autumn and winter evenings I love drinking Sherried whiskies, something with warming spices, burnt toffee and dark, oaky aromas. On a really cold night, something peaty from a hipflask hits the spot, and I can't get enough of the combination of peat and Sherry or peat and a Port cask finish – Kilchoman Port Cask is possibly my whisky of the year.
For an autumn walk in nature, I'd go for a whisky with fresh foresty and herbal notes, possibly cask strength to put a spring in my step. I love the new release of Springbank 15 Year Old, and the Longrow Chardonnay Cask was stunning. Nikka's Yoichi bottlings would also be perfect, with the peppery, herbal and coastal notes and rich spirit character.


Gregg Glass, whisky maker, Whyte & Mackay
Autumn I associate with certain colours, notes and experiences, in shorthand both elements of freshness and refined warmth. Styles of whisky that embrace freshness of great American oak with, say, richer Cognac or wine influence, and accentuated with a slight smokiness, embodies a typical compelling autumn style for me.
For forest walks in autumn there's something about particular coastal drams that typically appeal to me – one of my favourite hipflask drams is an Old Pulteney (on a fresher autumn day the 12 Year Old works well with the fresh American white oak influence), and one that I find eminently sharable.
My bonfire/fire pit sharing hipflask dram at the moment is Jura 18 Year Old. The elegance yet robustness particularly from the Premier Grand Cru Classé red wine barriques makes for a superb contemplative and conversational dram.
A hip flask is really for sharing so I would tailor this to the precise day, activity and person or people I'd have as company.


Kelsey McKechnie, apprentice malt master, Balvenie
As the weather starts to get colder I enjoy a smoky whisky, something well balanced with full-bodied flavours from the smoke and sweetness from the spirit. Wine and rum cask finishes both work well at this time of the year too, due to the warming deep fruit flavours they impart on the spirit.
At the moment I would reach for something with sweet fruit notes, but with a hint of smoke in the background, as this combination can be the perfect tonic for a cold winter's day. The Balvenie Peat Week 14 in particular is one of my current favourites – it's incredibly smooth with classic Balvenie flavours, complimented by that subtle smoke flavour, which you don't usually associate with our distillery.


John Campbell, distillery manager, Laphroaig
The right whisky, for the right mood, for the occasion, and who I will be sharing this whisky with, are all thoughts in my head [when choosing what goes in my hipflask]. I have, and will always have, Laphroaig 10 in my hipflask forever, It's just the best whisky on the planet in my mind. I was generally not a wine or rum finish kind of guy, until I tasted the 51.6% Ardbeg Grooves [Committee Release] this year, that was a game changer for me.
For a change and at a big social event like football, rugby or a bonfire, it would be Glenlivet 18, impossible for people who appreciate a good whisky – and who don't – not to love this dram. For your own indulgence in front of a fire it would need to be Sherried, so a Laphroaig Triple Wood or a Lagavulin 16, or if money was no object for me then an old Macallan would suit.
A hipflask would usually mean a game of rugby for me. The last perfectly suited occasion was in Dublin this year at the Scotland vs. Ireland game when I met up with my Irish counterparts from Kilbeggan, and they filled my hipflask with some 25-year-old unreleased Kilbeggan. We sat together during and after the game. The fact that Scotland lost and I was questioning the referee… was lost on me for a while, as the whiskey totally caught all of our attentions.


Steph Murray, co-owner, Dowans Hotel
For me, the perfect autumn warmer would be a Sherried Speyside like my own bottling of an ex-Sherry, cask strength Glenfiddich 12. Lots of sweet raisin, a hint of cinnamon and Manuka honey which makes me feel like I've got a ready-made Toddy in my pocket. Equally, an old favourite would be my bottle of Glenfarclas 15 which is always a winner.
On my last walk up BenRinnes, I brought along Aberlour A'Bunadh – a faithful companion on any brisk walk as I like to have something strong to help me reach the top. In front of my fire at home though, I sometimes like something a little lighter like a Balvenie 14 Caribbean Cask, Glenrothes Bourbon Cask or Aultmore 12. And, when I'm looking for something a bit different to satisfy my sweet tooth, I can't see past some New York apple whiskey – delicious.