If you're looking for a more grown-up way to enjoy Easter this weekend, take a lead from the world's best bartenders and try your hand at recreating one of these decadent drinks. Melita Kiely reports.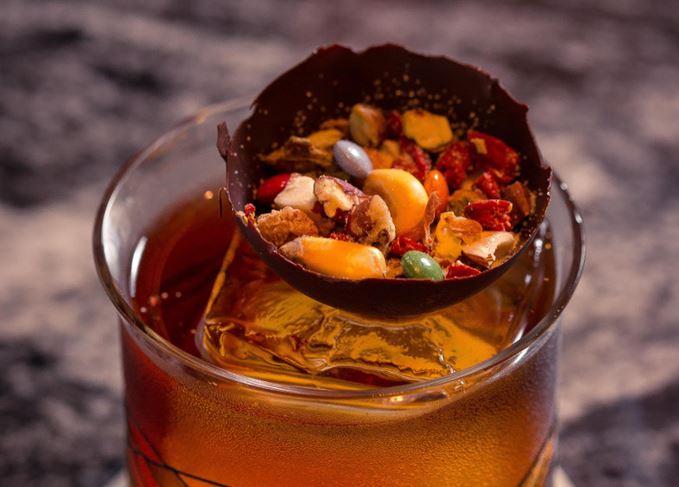 Easter has become synonymous with long weekends, quality time with friends and family and, of course, the traditional feat of gorging on one too many chocolate eggs.
But for those who are looking for alternative ways to indulge this weekend – perhaps in a more grown-up, boozy fashion – we've compiled a selection of decadent cocktails for your enjoyment.
Designed by skilled bartenders from around the world, below you'll find recipes to suit sweet and savoury palates alike, as well as different cocktail mixing abilities.


Mary Poppins 'Make the medicine go down', Scarfes Bar, Rosewood Hotel, London, UK
Ingredients:
50ml Johnnie Walker Gold Label Reserve
20ml Chrysanthemum-infused Cocchi Americana Rosa
20ml Roasted pineapple shrub
2 dashes Bob's Lavender Bitters
Shake all ingredients with ice. Double-strain into glass with white chocolate rim.


Takeshi is going to Japan, Danico, Paris, France
Ingredients:
50ml blended Scotch whisky infused with shiitake mushrooms
0.5ml Home-made cocoa maple syrup
0.25ml Pedro Ximénez Sherry
3 dashes Home-made black walnut bitters
In a mixing glass filled with ice, add the black walnut bitters, then home-made cocoa maple syrup, Pedro Ximénez Sherry and Scotch infused with shiitake mushrooms. Stir the drink to chill the mixture and create dilution. Double-strain into a rocks glass over fresh ice. Garnish with an amarena cherry.


Pendennis, Oriole, London, UK
Ingredients:
45ml Chokeberry-infused Woodford Reserve Bourbon
30ml Lucano Anniversario
10ml Salted prekese syrup
Stir and serve in a rocks glass over ice. Garnish with a chocolate cup filled with mixed nuts and berries.


Scotsman Colada, Porchlight, New York, US
Ingredients:
60ml Black Grouse Scotch whisky
20ml Coco Lopez
15ml Lemon juice
1 barspoon Banana liqueur
4 drops Kaffir lime tincture
Build ingredients in a cocktail shaker and whip-shake. Pour into a snifter glass with pebble ice. Rub the rim with a fresh kaffir leaf and a sprinkle of ground mace.


Rob Roy, Il Bar, London, UK
Ingredients:
50ml Dalmore 12 Years Old
30ml Apostoles Sherry
1 dash Angostura bitters
Stir all ingredients with ice then strain into a chilled glass.