In his own words, Ron Burgundy was put on this planet 'to have salon-quality hair and read the news'. The hero of two Anchorman films, he's more than fond of a glass of 'Scotchy Scotch Scotch' – and even inspired a real-life whisky. Richard Woodard reports.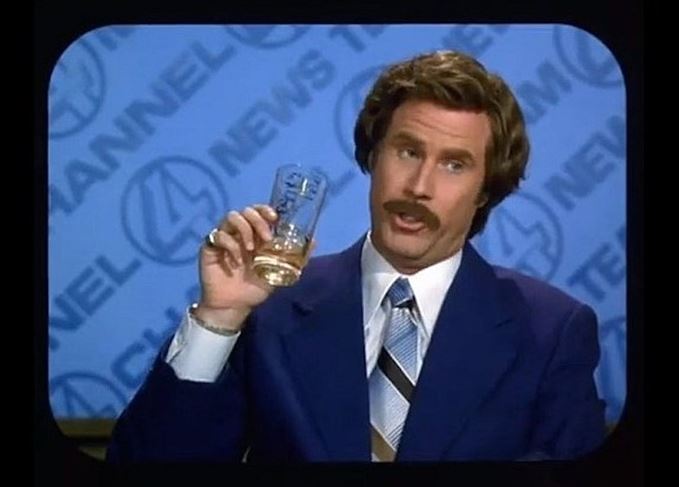 According to his official biography, Ronald Joseph Aaron Ron Burgundy is a five-times Emmy Award-winning journalist, who anchored KVWN Channel 4 News in San Diego (pronounced, of course, San Dee-argo) from 1964 to 1977.
He had 'a voice that could make a wolverine purr and suits so fine they made Sinatra look like a hobo'… 'I don't know how to put this, but I'm kind of a big deal,' he would say, with characteristic self-effacement. 'People know me.'
We first meet Burgundy, played by Will Ferrell, at the opening of the 2004 film Anchorman: The Legend of Ron Burgundy, with glass in hand. 'Mm, I love Scotch,' he intones, moments before the cameras roll on the latest news bulletin. 'I love Scotch. Scotchy Scotch Scotch. Here it goes down, down into my belly. Mm-mm-mm.'
Made in the same silly spirit as Dodgeball or There's Something About Mary, the Anchorman films – Anchorman 2: The Legend Continues followed almost a decade later – plough a broad comic furrow that eschews political correctness and plays just about everything for laughs – the more puerile the better.
Directed by Adam McKay from an endlessly quotable script – 'It is anchorman, not anchorlady – and that is a scientific fact!' … 'I'm in a glass case of emotion!' … 'By the beard of Zeus!' – the first film was a slow burner that eventually acquired cult status, but almost didn't get made at all.

Staying classy: Will Ferrell in full character as the legendary Ron Burgundy

Ferrell and McKay were both working on Saturday Night Live when they wrote a script called August Blowout, later described by Ferrell as 'like Glengarry Glen Ross meets a car dealership'. That didn't get made but, encouraged by director Paul Thomas Anderson, they went on to develop Anchorman.
But not the Anchorman we know. The original script involved a crashed planeload of newsmen pursued by murderous orang-utans wielding throwing stars; amazingly, it was thought a little too off-the-wall to be taken any further.
The next version was made – but its plot involving the news team chasing a group of hippie bank robbers tested badly, so the film was extensively reshot, inserting the running story of a pregnant panda at San Diego Zoo.
Both films' plots – the first involving the arrival of an ambitious female news anchor, the second Burgundy's comeback on a CNN-like rolling news network – are all but incidental, simply providing some kind of flimsy structure to link the laughs.
Something of the surreal flavour of that original Anchorman concept remains: for instance, when an angry biker, hit by a burrito flung through a car window, punts Burgundy's dog, Baxter, off a road bridge into a river. Or, in the sequel, when Burgundy is temporarily blinded in a freak ice-skating accident while playing jazz flute.

Scotchy Scotch: The whisky bearing Ron Burgundy's name was a $25 blend

What's surprising is just how seldom whisky crops up. There's Burgundy's memorable dinner order – 'I am going to have three fingers of Glenlivet with a little bit of pepper and some cheese' – and what amounts to a mission statement: 'I love poetry and a glass of Scotch, and of course my friend Baxter here.'
And that's about it. But no matter; that 'Scotchy Scotch Scotch' clip has already done its work.
So much so that a real Scotch whisky, Ron Burgundy Great Odin's Raven Special Reserve, was released to coincide with the release of the second film. Made by Old St Andrews for Paramount and Riviera Imports, the US$25 blend was variously reported to be a mix of 60% malt and 40% grain, or 30% malt and 70% grain (more likely, given the price).
Featuring whiskies 'from Speyside, the Highlands and Islay', it was an immediate hit – Riviera Imports CEO Ed Caan told Fox Business that an initial shipment of 72,000 bottles sold out in days.
Its success was no doubt aided by the many nods to the films in its publicity: 'It has a formidable scent,' Burgundy is quoted as saying. 'It stings the nostrils – in a good way.
'The aroma gives way to notes of rich mahogany and old, leather-bound manuscripts. Needless to say, this Scotch is not available at the Toilet Store. In addition, studies suggest that 60% of the time, this whisky will get you drunk every time.'

Iced Scotch: The Ben & Jerry's Ron Burgundy spin-off was entirely whisky-free

The spin-offs didn't end there. Ben & Jerry's released a 'Scotchy Scotch Scotch' butterscotch ice cream with butterscotch swirls, and the films also spawned a Scotchy Scotch Toss smartphone app, involving the throwing of ice cubes into Burgundy's glass of whisky. And then there were the mugs, the T-shirts, the hipflasks…
There have been many attempts to find the real-life inspiration for Ron Burgundy. Some point to Harold Greene, a California news anchor and reporter; others mention Mort Crim, a retired anchorman who worked out of Philadelphia and Detroit.
For UK fans, there's something of Alan Partridge about Burgundy – a ridiculous, sometimes downright offensive figure of fun who still somehow manages to elicit some sympathy and affection from his audience.
Those with longer memories might also recall the late ITN news reader Reginald Bosanquet, who was himself known to be partial to the odd glass, often shortly before going on air, and who was immortalised in Private Eye as 'Reggie Beaujolais'. Ron Burgundy… Reggie Beaujolais… Hmm…
Will Ron Burgundy ever return? McKay originally ruled out any thought of a third Anchorman film, but has subsequently hinted that he might change his mind one day. After all, there was a gap of nearly 10 years between the first two movies, so you never know...
And in the meantime? You stay classy, whisky lovers.