In an acting career spanning more than six decades, Rip Torn played three American Presidents, Judas Iscariot and hard-drinking producer Artie in The Larry Sanders Show. He was equally famous for his booze-fuelled hellraising antics off-screen, culminating in an arrest for breaking into a bank at the age of 79. Richard Woodard tells his story.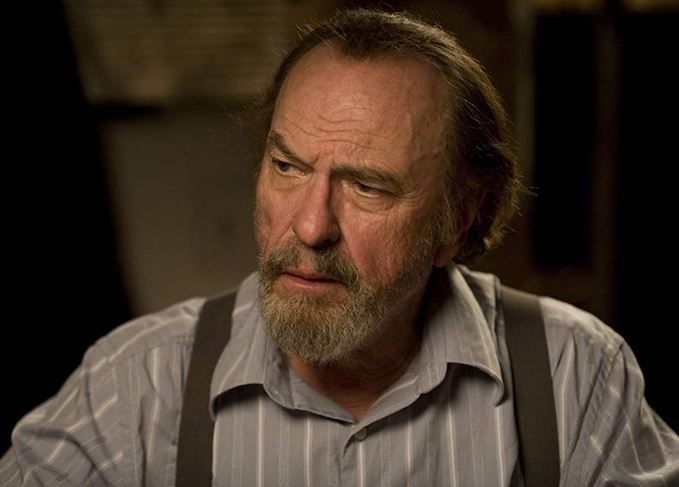 Artie: 'That's Scotch whisky, Glenlivet single malt. When you die, you'll go to heaven and say hello to God, and when God says hello to you, this is what you'll smell on his breath.'
The Larry Sanders Show, S4, Ep1
Elmore Rual 'Rip' Torn Jr (1931-2019), who died in July, enjoyed a remarkably long-lived and diverse acting career on stage and film, and was if anything equally famed for his off-screen hellraising antics, often fuelled by a fondness for whiskey.
To many, he was the hard-drinking, wisecracking producer Artie in the long-running American comedy series The Larry Sanders Show, for which he earned seven consecutive Emmy nominations, winning once; to others, he was MIB agency boss Zed, alongside Will Smith and Tommy Lee Jones in Men in Black (1997).
Film buffs of a certain vintage might remember him as Judas Iscariot to Jeffrey Hunter's Jesus Christ in Nicholas Ray's 1961 epic King of Kings, but younger moviegoers are more likely to have revelled in his roaring turn as the wrench-tossing coach Patches O'Houlihan in Dodgeball: A True Underdog Story: 'If you can dodge a wrench, you can dodge a ball,' and: 'You've got to learn the five Ds of Dodgeball: dodge, duck, dip, dive and… dodge.'

'Dodge, duck…': Torn (extreme left) was on scenery-chewing form in Dodgeball

Beyond the hellraising and the quotable quips – 'I've never hit anybody who hasn't clocked me two or three times,' Torn once said – the truth was often somewhat elusive, not least because he was so hard to categorise.
Even his name is not what it seems. Rip Torn sounds like the pseudonymous invention of an over-enthusiastic showbiz agent, but 'Torn' was his real surname, and 'Rip' a traditional moniker given to the men of the family, which had its origins in central and eastern Europe.
He was born in Temple, Texas, to Elmore Rual 'Tiger' Torn Sr and Thelma Mary Torn (née Spacek, aunt of actress Sissy Spacek), graduated from the University of Texas and served in the Military Police before turning to acting as a means to an end: Torn hitch-hiked to Hollywood with the intention of becoming a movie star so he could buy his own ranch.
He endured the traditional struggle of the actor starting out, before a move to New York and enrolment at the Actors Studio under method acting guru Lee Strasberg began to turn things around.
Torn made his Broadway debut alongside Paul Newman and future wife Geraldine Page in the original cast of Tennessee Williams' Sweet Bird of Youth in 1959 as Tom Jr, a part which earned him a Tony nomination the following year. He also played the role in the 1962 film.

Future wife: Torn played alongside Geraldine Page in Sweet Bird of Youth

For the next few decades, Torn turned in a number of solid performances in eye-catching roles, from Judas in King of Kings to a corrupt southern businessman opposite Steve McQueen in The Cincinnati Kid (1965).
Perhaps his finest hour was as the pathetic (in the true sense of the word) country and western singer in cult movie Payday (1972) who, like Torn himself, has a fierce appetite for consuming Bourbon and a tendency towards self-destruction.
But he was also the oversexed chemistry professor helping alien David Bowie in Nic Roeg's The Man Who Fell To Earth (1976), a creepy surgeon in Coma (1978), a southern senator in The Seduction of Joe Tynan (1979) – and he earned an Oscar nomination for playing a farmer in Martin Ritt's Cross Creek (1983). Anyone who hasn't enjoyed a Rip Torn performance some time in the last six decades probably hasn't been to the cinema.
His career was one of longevity, reliability (despite his extra-curricular excesses) and credibility, but somehow the big time never quite came knocking. 'People are finally realising I'm one of the few actors who has never missed a performance,' he said after winning the Oscar nomination. 'I've worked with broken legs, arms, ankles. I once passed a kidney stone during the opening night of a show.'
The landmark moment, the role that could have changed everything for Torn, came at the end of the 1960s, when the part of hard-drinking lawyer George Hanson in counterculture road movie Easy Rider (1969) was written for him by friend Terry Southern. But Torn was replaced by Jack Nicholson before filming began – and Nicholson's career and life were changed instead.

Fine performance: Torn played a troubled country and western singer in Payday

The Easy Rider opportunity passed by because of a fierce row between Torn and director Dennis Hopper, which culminated in Hopper pulling a knife on Torn during a pre-production meeting in a New York restaurant.
Twenty-five years later, Hopper told Jay Leno that Torn had pulled the knife on him instead – so Torn promptly sued, winning damages of US$475,000, which were doubled when Hopper appealed.
If Hopper's appetite for various stimulants and headline-grabbing antics was notorious, Torn also had more than his fair share of moments. While filming the experimental, improvised Maidstone with Norman Mailer in 1970, Torn struck Mailer with a hammer, but suffered worse injuries when Mailer bit his ear in the subsequent fight. The pair were eventually separated by cast and crew, but the scene stayed in the movie.
The 1990s brought Torn a level of fame that had mostly eluded him for the previous 40 years, thanks to the kind of prime supporting role for which he was perfectly designed: The Larry Sanders Show, Men in Black, 30 Rock.
Of these, he will be longest remembered as Artie in Larry Sanders – the hard-as-nails producer with a fierce loyalty to his talent and a healthy disrespect for the fake world of television. The characterisation was based, Torn said, on the fact that producers like Artie had to be 'not only two-faced, but 10- or 12-faced' to get things done.
Like Torn, Artie enjoys a whisky – typically The Glenlivet single malt, but also vodka salty dogs – once finding himself drinking Glenlivet heavily in a deserted studio with only a Romanian janitor for company, prompting the memorable 'God's breath' quote at the top of this piece.

Career resurgence: Men in Black saw Torn (right) cast alongside Will Smith and Tommy Lee Jones

But if age brought at least some measure of the success merited by his acting abilities, it failed to have much of a mellowing effect on his private life, as Torn continued to experience the hellraiser's classic love/hate relationship with whiskey, and alcohol in general.
He had already been collared three times in his 70s for drink-related motoring offences when, in January 2010 and at the age of 79, Torn was arrested for breaking into a bank in his home town of Lakeville, Connecticut.
He was asleep, he was drunk and he had a gun, but Torn explained to the arresting officers that he thought it was his home. He was handed a 2.5-year suspended jail sentence and three years' probation for a number of criminal charges.
For all his antics and a career of remarkable longevity, Rip Torn remains a man and an actor hard to pin down: he played three US Presidents (Ulysses S Grant, Lyndon Johnson and Richard Nixon); he was a Republican who had a bullet put through his window after he spoke out against the Vietnam War; and he was an actor who, despite hitch-hiking to Hollywood with the dream of being a movie star, appeared content for the most part to remain a hard-working supporting player who left the spotlight to others.
'I think most actors are shy,' he said once. 'I really do. The greatest actors can disappear. I had friends call me the "blend-in man".'