Academic, cultural commentator and radio celebrity, David Daiches was also a passionate lover of Scotch whisky whose books on the subject continue to exert an influence to this day. Iain Russell recounts his life.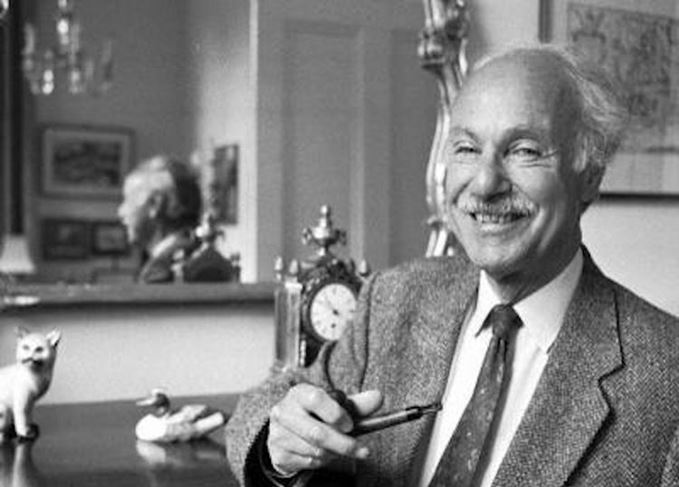 David Daiches (1912-2005) was a respected academic and commentator on cultural affairs. He was also a whisky aficionado and a crusader for the revival of single malt Scotch, whose book, Scotch Whisky: Its Past and Present (1969), is one of the earliest guides to the subject – and one of the most influential.
Born in Sunderland, the son of a rabbi, Daiches moved to Edinburgh as a child. He excelled at school and university, and was made a Fellow of Balliol College, Oxford, in 1936. After working at the British Embassy in Washington during the Second World War, he became a university teacher and a prolific writer on the subjects of English and Scottish Literature and Literary History.
Daiches became a Fellow of Jesus College, Cambridge, in 1957; the first Professor of English and Dean of the School of English Studies at Sussex University (1961-77), and Director of the Institute for Advanced Studies in the Humanities at Edinburgh University from 1980 until 1986. He was also a national celebrity as a panellist on the popular BBC radio programme The Brains Trust.
The writer Joel Sayre noted in 1970 that '[Daiches'] vocation is English [but] his avocation [is] pot-still Highland malt Scotch whisky'. The man himself described how his curiosity was originally piqued by reading Neil Gunn's polemical work, Whisky and Scotland (1935):
'The effect of the book was not immediate, but slowly it made its way into the consciousness of a number of Scots drinkers and slowly the revival of the malt as the true Scotch whisky got under way.'

First love: Daiches began with Glenmorangie, but soon discovered other single malts

In an age when blends ruled supreme, he emerged as a leader of that movement. Daiches told a feature writer from the Scotch Malt Whisky Society that it had been difficult at first to find single malts to sample, as whisky had been in short supply after the Second World War. In 1946, however, he discovered Glenmorangie on sale at Muirhead's wine and spirits shop on Queen Street in Edinburgh.
'I think I was the first to trumpet the virtues of Glenmorangie. When some years later I became a Fellow of Jesus College, Cambridge, I persuaded the college to buy Glenmorangie by the case from Muirhead's and it became a favourite of the Fellows.
'Other colleges in Cambridge heard of this and soon Glenmorangie became well-known among the academics. I remember when [Scottish poet] Hugh MacDiarmid visited Cambridge to give a lecture there, he was delighted… to find that I had a bottle of this whisky in my college rooms, where together we consumed a large quantity.'
Glenmorangie was perhaps his first, but by no means his only favourite: he wrote of his love for, among others, The Glenlivet (he thought it best at 12 years old), Glen Grant (he originally preferred the 'white' version, from plain oak) and Laphroaig ('perhaps the most distinctive of Scotch whiskies').

Clear character: Daiches praised the distinctive style of Islay single malt Laphroaig

Daiches continued to seek out single malts while lecturing abroad, mentioning in his book that:
'I have a special fondness for Mortlach, because it was the all-purpose whisky I drank regularly during the five years I lived at Ithaca, NY, and taught at Cornell University [1946-51]. I used to get it sent up from Macy's in New York.'
And he also drank Glenfarclas at Ithaca, as 'it was the only Highland malt sold by the local liquor store'.
Daiches' enthusiasm for single malt was so well known that he became the target of pranksters seeking to test his educated palate. His fellow academic William Baker recalled that:
'A colleague put Daiches' whisky expertise to the test by pouring a cheap brand into a bottle with an expensive label. As soon as the bottle was open, Daiches' small nostrils sniffed out by instinct that something was wrong. Not a drop passed his lips.'
Back in the UK during the 1960s, Daiches decided to write a book about whisky. He turned to his son Alan to provide the colour photographs he required to illustrate the processes and the ambience of typical distilleries. Alan lived in Tain then, and a close look reveals that he obtained most of his distillery photographs locally – the greater number are from nearby Glenmorangie and Balblair.
During the 1960s, the leading whisky companies owed their success to blended Scotch. In general, they viewed those who campaigned for the bottling of single malts as irritants, cranks or eccentrics.
Off the Page: Daiches spoke to STV about his career, family life and love of whisky

Daiches, however, was an eminently reasonable man who worked from a central premise that 'what you enjoy is best'. He derided the snobbery and the 'rules' which self-appointed experts attempted to impose on the less confident Scotch drinker, regarding what type of whisky was 'best', and how it should be drunk. But he had strong opinions of his own.
He was not in favour of caramel colouring, and labelled the blenders' arguments in favour of it as 'rubbish' and 'nonsense'. And he could not understand the vogue at that time in the US for 'light' (he preferred the term bland) whiskies, which he thought to have been stripped of their Scotch character, becoming little different from vodka.
Daiches suspected that those who drank whisky with ginger ale or lemonade might seek only to add an alcoholic kick to the soft drink, rather than enjoy the intriguing tastes and flavour of a good whisky. But he was happy to sing the praises of the 'superior' blended Scotches, and he especially enjoyed a good blend mixed with soda in a Highball.
After the success of Scotch Whisky, Daiches wrote Let's Collect Scotch Whisky (1981) and A Wee Dram: Drinking Scenes from Scottish Literature (1990). But it was the former that established his reputation as an éminence grise of Scotch whisky and which proved most influential.
It was also in that book that he recorded his famous panegyric to whisky, which is often repeated today:
'The proper drinking of Scotch whisky is more than indulgence: it is a toast to civilisation, a tribute to the continuity of culture, a manifesto of man's determination to use the resources of nature to refresh mind and body and enjoy to the full the senses with which he has been endowed.'