Hard as it may be to imagine the severe Queen Victoria as a party animal, the apparently humour-free monarch did more than most to persuade her subjects to try Scotch whisky – with the help of a certain John Brown. Iain Russell takes up the story.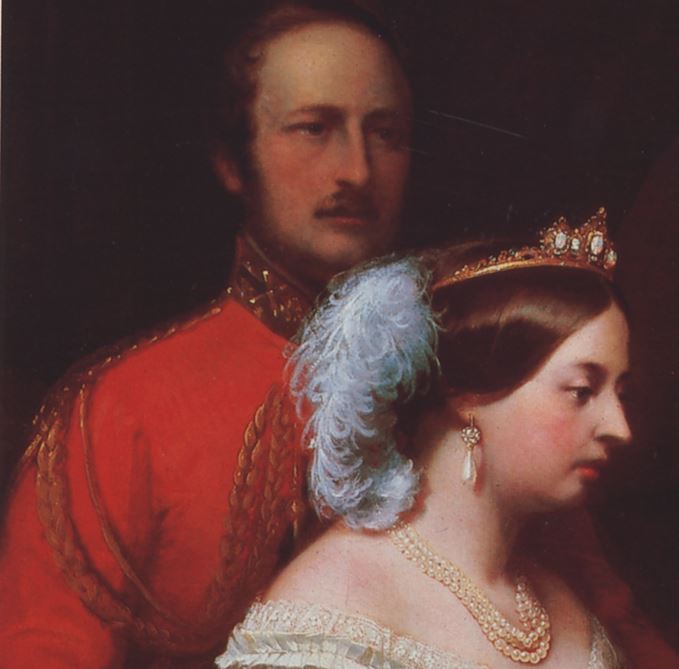 Lumpy, grumpy, stern and frumpy: the notoriously unamused Queen Victoria came to symbolise all that was austere and judgemental about 19th century British culture.
But today's popular images of the monarch are drawn from the latter part of her reign, in her reclusive old age. In fact, the young Queen had a lively and inquiring mind and a sense of fun that comes across clearly in her diaries. And, perhaps inadvertently, she did more than any other public figure to popularise Scotch whisky.
It has been assumed that the Queen only discovered whisky when she and her Consort, Prince Albert, visited the Highlands for the first time in 1842. In fact, the Royal Household was well acquainted with good Islay single malt before the Royal couple ever ventured north.
As early as 1841, on the eve of the Prince of Wales' christening, a member of the Royal Household called Charles A Murray wrote to Daniel Campbell of Islay to ask if he would
'procure or order for… the Queen's cellar a cask of your best Islay Mountain Dew'.
The whisky was to be delivered duty free to J Christie Esq, Gentleman of the Queen's Wine Cellar at St James' Palace in London. A subsequent letter from 1844 has survived, in which Murray asks for 'another batch of the best Islay whisky for Her Majesty's Establishment'.

Trusted aide: John Brown made sure the Queen's glass was rarely empty

By then, Victoria had given her seal of approval to a pair of Scottish distilleries on the mainland. An ex-Army captain, William Fraser of the Brackla Distillery, had pioneered the whisky industry's relationship with Royalty by obtaining (in mysterious circumstances) a Royal Warrant of Appointment from Victoria's father, William IV.
Victoria renewed the Warrant in 1838, shortly after coming to the throne, then granted a second to the celebrity Scottish sportsman and whisky maker Captain William Barclay of Glenury.
Scotland's distillers watched enviously as these 'brands' flaunted the Queen's favour with the names Royal Brackla and Royal Glenury, and revelled in the respect bestowed by such exalted patronage.
'Long John' MacDonald attempted to garner similar kudos for his Ben Nevis Distillery in 1848, sending a cask of his whisky to London to be broached by the Royal Family on the 21st birthday of the Prince of Wales. Alas for him, no Royal Warrant followed and the fate of the cask is unknown.
William Begg of the Lochnagar Distillery in Aberdeenshire was more fortunate. In 1848 the Royal Family took possession of Balmoral Castle on the banks of the River Dee, near Begg's distillery.
He sent over a note to his new neighbours, inviting them to visit, and was delighted when the Queen, Prince Albert, two young princes and a princess turned up on his doorstep the next day.

Victoriana: the Royal family visited Lochnagar in 1848 (Photo: Diageo Archive)

The visit was a great success and the Royal parents and their two infant sons enjoyed a glass of well-matured whisky, recently cleared from bond. John Begg received his Royal Warrant soon after and Lochnagar became the third 'Royal' distillery.
The Royal endorsement of whisky was no token gesture – the Queen was indeed a whisky aficionado, if not quite in the modern sense.
She was guided in her whisky 'journey' by her ghillie John Brown, who joined the Royal Household in 1851 and became her most trusted companion and confidant after the death of Prince Albert in 1862.
Brown was a man with a great fondness for the cratur and it was said 'he favoured no man who did not like his glass'. He made sure that Her Majesty was never wanting for a wee drop.
Whisky was ever-present at Balmoral, and appears to have been consumed in liberal quantities during celebrations such as those which greeted news of the fall of Sebastopol during the Crimean War.
But the Queen enjoyed her whisky in more private settings. John Brown was in charge of tea-making at Balmoral, and the biographer Raymond Lamont Brown notes that, when Her Majesty commented on the excellence of the brew, he explained the reason – the addition of a liberal dose of whisky.
And, when Royal parties went picnicking in the bracing air of the Highlands, Brown provided the Queen with whisky and water for refreshment, explaining that 'pure water would be too chilling'.
Bizarrely, it is often claimed that the Queen's favourite tipple was claret topped up with whisky. The story is based on a comment from Prime Minister William Gladstone and may have referred to a one-off event – the following day's hangover would surely have been sufficient to end all interest in this particular cocktail!

Royal approval: an advert published in 1931 (Photo: Diageo Archive)

Whether it was mixed with water, soda, tea or claret, the Queen's enjoyment of whisky encouraged respectable middle-class Britons to sample for themselves a spirit which had, in earlier years, been considered to be slightly disreputable.
In 1895, after revelations about the Queen's whisky-drinking were made public, teetotallers were quick to voice their disapproval. But there were many who leapt to the defence of the Queen (known to many of her subjects as 'The Widow', or 'Widdy').
They included an enthusiastic amateur poet who wrote, in a pale imitation of the 'Cockney' style of Rudyard Kipling:
I knew 'e was a liar
What said the Widdy was TT!
For what she thinks she may require,
She takes – like you and me.
Her Lord-'igh-this, and Lady-That,
Er 'ousemaids and her flunkeys, too:
They knowed of course what she was at,
But kept it quiet – the same as you.
Them TT blokes 'ave got a sell,
No doubt they'll make a bit o' fuss,
Because the Widdy fancies – well,
'Er drop o' Scotch the same as us!