It's safe to assume that 2016 has been a trying year for many. So, if you're feeling burnt out from the frenzy of the past 12 months, allow Signe Johansen to teach you the calming effect of hygge – all with a dram (or two) of whisky in hand.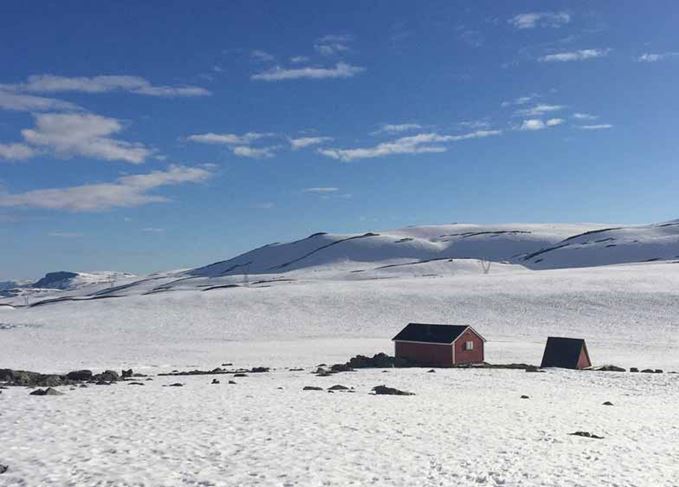 Much has been written about hygge in 2016. A Norwegian-Danish word that conveys a feeling of cosiness, kinship and conviviality, hygge was described by TIME as a soothing balm to all the uncertainty and anxiety people feel about what's been happening in the world this year.
Yet if you've come across this peculiar, unpronounceable word at all, you'd be forgiven for assuming it was just about cosiness, a sweet surrender to the comforting charms of domesticity during the bleak midwinter and not much else. As I've argued elsewhere, there is more to hygge than this reductive image conveys.
While we may now be living in the era of 'post-truth', allow me to dispel the oft-cited notion that hygge is culturally unique to Denmark. Its etymological roots lie in the old Norse word 'hyggja', or to think, to be – and hygge is in fact both Norwegian and Danish. The modern incarnation is as much about looking after ourselves as it is about this ancient Norse state of mind and being. Where my family is from, in Sogn & Fjordane in western Norway, you still hear the old Norse used in local dialect: 'No ska me hyggja oss,' or: 'Now we're going to have a good time.'
As with all foreign concepts, hygge doesn't make much sense unless you anchor it in its cultural context. By every objectively verifiable measure, Nordic people live really well. The countries of Denmark, Finland, Iceland, Norway and Sweden aren't perfect; they each have their quirks and problems.
But the achievements of great public education, universal literacy, longevity, gender equality (or as close to it as possible), job satisfaction, low income inequality – all of these measurements of contentedness haven't magically appeared out of nowhere. Understanding how Nordic people live, and where we've come from, really does help to explain why hygge is such a cherished tradition.
For one thing, we are descendants of Vikings. It's not exactly in our nature to be cuddly and swaddle up in a woollen throw whilst getting fat and happy on hot cocoa and sticky cinnamon buns.

At one with nature: Nordic people have great love for nature and outdoor adventures

Of course we love those things, but let's face it: too much of a good thing just isn't healthy. We all know this. To a certain extent, you have to earn your hygge in much the same way you have to earn that delicious dram of Scotch.
How Nordic people coped for centuries with the challenges of poverty, limited access to vital resources and long, harsh winters is part of a legacy we carry on in the region, something I touched on in a recent Scotchwhisky.com feature about savouring the joys of the seashore during winter.
Cosy? Robust is perhaps a better description of us as people. We have a deep reverence for nature and wear our outdoor spirits as a badge of honour. Being active all year round allows us to enjoy the good things in life – it's really that simple.
You'll have already guessed by now that at the heart of hygge is a spirit of healthy hedonism – we live for the moment, and by Odin we like a drink. Preferably after a long hike in the mountains, a day spent cross-country skiing or an afternoon spent chopping wood. In Norway we call this 'friluftsliv', or 'free air life' (elegant translations from Nordic languages are a tricky business), which describes our need to spend time in nature and the wilderness.
That willingness to venture outdoors, no matter what the weather, has significant psychological benefits – something which is increasingly recognised by scientific research into the subject.
The modern approach to hygge is indeed about a feeling of contentment, of conviviality and of kinship with others. Cosiness does come into it (in Norwegian we use koselig and hyggelig interchangeably to describe any situation which falls under the same bracket of contentment), which is why I devoted a chapter to the joy of drinking in my book.
Needless to say, having a hyggelig time for some Nordics is to get a little too merry with booze. Yet in Sweden the word 'lagom' is often used to describe a state of equilibrium that people seek out: knowing when enough is enough, understanding that moderation and balance are essential to living well.
Not everyone adheres to this ideal, but it's worth bearing in mind as we hurtle headlong into a Yuletide season of excess – you'll feel better in January if you rein in the gratuitous gluttony and savour your food and drink.
In our family the flavour of a good drink has always been paramount to the intoxicating effects of alcohol. That's why I've loved whisky since my father introduced me to it nearly two decades ago.
At home I have a limited cocktail-making kit in the kitchen, but it doesn't stop me from having fun creating delicious whisky-, rum- or gin-based drinks all year round. For us Johansens, we would rather have a few glasses of something full of flavour throughout the week instead of drinking alcohol every day for the sake of it. Not only do you feel better for it, but there is more to savour when you have that great Scotch in moderation – again, the Swedish expression 'lagom' springs to mind.

Everything in moderation: Drink less, but drink better is applicable to the hygge lifestyle

But more to the point, to have a really hyggelig time with Scotch is to shed some of the preconceived ideas of what it means to appreciate that dram. As Rachel McCormack is exploring in her forthcoming book Chasing the Dram: Finding the Spirit of Whisky, Scotch has too long been regarded as the preserve of men, dressed in tweed and smoking a pipe.
I've lost track of how often I've come across a whisky anorak who expresses surprise that a woman likes, let alone appreciates, the complexity of a good Scotch, and encounters with bartenders who automatically assume women are put off the more peated Scotches out there: 'You'll probably prefer this one, it's light, floral and honeyed,' says a well-intentioned chap behind a bar, to which my response is always: 'I'd like a Lagavulin 16, please and thank you.'
As a Scotch enthusiast rather than an anorak, my most memorable, or hyggelig, occasions of drinking Scotch have in some way involved both the outdoors and my love of tinkering with recipes in the kitchen.
Whether it was walking along a beach on Islay on a crisp, clear September day sipping Lagvulin 16; packing a small hip flask of dark hot chocolate spiked with a tiny amount of Scotch during a day-long cross-country skiing trip; coming up with nutmeg-scented madeleines drizzled with a whisky glaze for my second book; standing in the kitchen with my dad and adding a shot of Scotch to the classic dill, sugar, spice and salt cure of a Nordic gravlaks last Christmas; or gathering a group of spirited women together for a whisky picnic in Russell Square one balmy summer's evening, these moments of Scotch and hygge are moments of pure joy.
As we bid farewell to a discombobulating year, it's worth remembering that while so much of what's happening in the world is out of our control, it's essential we all look after ourselves and come together with kindred spirits for small, hyggelig midwinter celebrations.
And yes, that means well into January too. The new year will bring its own challenges, but for now, channel a little of that Viking spirit and say skål – for we also have much to be thankful for in our lives.
My favourite hyggelig Scotch whiskies:
Whether you want to sip and savour a dram or include Scotch in your cooking, these are my top whiskies to suit the hygge way of life.

Mortlach Special Strength
Nordics don't shy away from drinking spirits with food (aquavit is common at this time of year), but the slight savoury tang of this Scotch pairs beautifully with rich game dishes in winter.

Balvenie 12 Year Old Triple Cask
A really smooth and elegant single malt for any occasion. This works especially well as an addition to whisky-cured gravlaks.

Glenmorangie Tayne
As a cook I've never had much time for those who say you shouldn't cook or bake with whisky. A small splash of this works particularly well with almond-based cakes such as this one (you can substitute the clementine in the icing with the Scotch).

Lagavulin 16
It's not the first time I cite this and it certainly won't be the last. As much a drink for the ladies as it is for the fellas.
How to Hygge: The Secrets of Nordic Living (Bluebird Books) by Signe Johansen is available to buy on Amazon now.