The coast invokes thoughts of summers spent frolicking in the surf and bathing in the sun. But with the right clothing – and a whisky-filled hip flask in your pocket – those trips to the seaside can be equally rewarding, no matter what the weather or the time of year. Signe Johansen shares her inspiration for maritime cooking and drinking.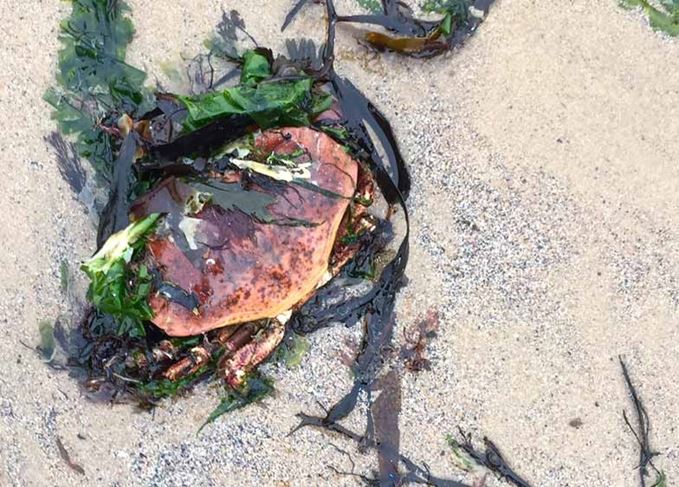 Many of us have childhood memories of summer holidays spent by the sea doing nothing but splashing around in the water for hours, building sandcastles and licking ice cream cones daily. Summer is the season for swimming, carefree outdoors living and tipsy barbecues – all of which leave us feeling buoyant and happy. From May Day Bank Holiday until the last Monday in August, we flock to the seaside, and nostalgia for those bygone summers casts a powerful spell long into adulthood.
And yet, from early autumn onwards, we're lulled into hibernation, retreating from the shores and the breeziness of summer to seek refuge in cosy domesticity. It's hardly a surprise that the warming glow of a fireside holds such appeal when it's dreary and cold outside, especially if there's a delicious whisky Hot Toddy to hand.
In the kitchen we graduate from quick, light salads to slow-simmered, rich stews. A savoury game pie topped with a pastry lid made with butter, washed down with a glass of red wine... yes please.
Beloved cable-knit jumpers, sturdy boots, coats and woollen scarves emerge from the hidden recesses of the wardrobe. As if programmed to wake up and smell the decay surrounding us, ramblers and walkers head towards woodland paths, stomping in the squelching mud and breathing in that distinctive funk of the forest at this time of year.
Landlubbers mostly abandon the shore until warmer days return, and more's the pity for there is arguably no better time to savour the raw, elemental beauty of Britain's coast than from now until next spring.
One avenue to explore when it comes to the joys of the seashore in winter is of course to swim in coastal waters. Rather than pack away their swimsuits and Neoprene wetsuits, keen swimmers find the change in air temperature a challenge to overcome, not something to shy away from.
Anyone can dive into an outdoor pond, pool or ocean when the ambient temperature is a balmy 25 degrees Celsius, but where I come from (Norway) we judge a person's character by how resilient they are during the cooler months of the year. Swimmers quietly rejoice at the onset of autumn.

Beside the seaside: Don't let coastal winds put you off venturing to the sea during winter

As Alexandra Heminsley, author of Running Like a Girl and the forthcoming Leap in: a woman, some waves and the will to swim (Hutchinson, January 2017), told me about her late autumn swims in October: 'For those who live by the sea, this is the time of year that they get it back and the real treats begin.
'Gone are the day-trippers and the hen nights, and the sea is at its warmest, heated by three or four months of summer sun. Now begin the quiet morning swims where you can look back at your beach and see no-one there but your flip-flops. [Recently] I swam round Brighton Pier with a few friends, straight through a huge group of whitebait, shimmering in the clear, green water.'
If you think swimmers let a November chill in the air deter them from a dip in the water, Heminsley recently posted a picture on Instagram of a swim she did at Tooting Bec Lido when the air temperature was a mere six degrees Celsius. To venture into any outdoor pool or into the sea from now until May is intrepid and life-affirming in a way swimming outdoors in summer can only aspire to be.
Even if you're not inclined to swimming in the wild this winter, the roar of a stormy sea and the intense salinity of coastal air is vital to our sense of well-being. While the vivid copper, ruby and chestnut shades of Britain's foliage have been a feast for the eyes during the autumn, I feel an urge to get to the coast when the sky is foreboding, the sea the colour of weathered pewter and it's cheek-numbingly cold outside.
Perhaps it's a latent Viking tendency in us Nordics to face the elements no matter what, but I was brought up to believe there's no such thing as bad weather, just bad clothing. We get outdoors at all times of year.
To my mind there's no better time to feel alive than when you're staring at an angry, rough sea in mid-winter while being buffeted by a fierce northerly wind, a flask of your favourite Scotch nestled in your pocket to sustain the internal furnace on long coastal walks.
Yes, we're bundled up in layers of thermals, woollens and waterproofs, but that's the joy of the coast in winter: you've earned your reward, be it a wee dram, a slightly larger portion of dinner that evening or that slice of pudding – or indeed all three.
Needless to say, the coast proffers delicious rewards for cooks in the form of edible sea life and seaweeds. This time of year I turn to Felicity Cloake's moules marinières recipe for easy sustenance, a dish that can be prepared in less than half an hour and always tastes much more luxurious than the sum of its modest ingredients.
We Nordics love a seafood platter at breakfast, and wholeheartedly salute our Scottish cousins with their kippers, Arbroath smokies and oatmeal-covered herrings. As the festive season approaches I spend many a morning massaging a classic gravlax cure of sea salt, sugar, crushed coriander seeds and white peppercorns, with a bushel of dill on long fillets of salmon. It's a far more economical way of serving large amounts of cured salmon at parties than store-bought versions.
As much as I love a nourishing beef or lamb stew, in our family one of the most satisfying winter dishes is Ina Garten, aka Barefoot Contessa's, coquilles St. Jacques, or scallops baked in their shells with a creamy sauce, replete with melting cheese, herbs and crispy breadcrumbs. Deeply flavoured and a doddle to prepare, it's always a hit with guests and you can apply the sauce to other seafood such as cod, haddock (fresh or smoked) and crab claws.

Winter warmer: Even when the temperatures plummet, Scotch can be enjoyed by the sea

When a little heat in the form of Indian spices is called for, I always turn to Maunika Gowardhan, author of Indian Kitchen, for inspiration. Her chemmeen mulakittathu, a spicy Malabar prawn curry with mustard seeds, chilli and tomato, is just the ticket when you're feeling beset by the sniffles.
Meanwhile, in London, one of the finest breakfasts to indulge in can be found at Koya Bar, a Soho institution run by the phenomenally talented chef Shuko Oda. Oda's Japanese version of kedgeree, an umami-rich congee-style porridge with silky smoked haddock and fish flakes, is comfort food fit for the gods. They treat seafood with the reverence it deserves, something you'll find across Japan itself too.
'The cure for everything is salt water: sweat, tears or the sea.' – Isak Dinesen
Maybe it's the roar of populist anger surging through the world in 2016, but regardless of the squalling winds of outrage swirling around us, what is patently obvious is we need to nourish ourselves this winter; look after ourselves by venturing outdoors every day and eating well, in a spirit of kinship and conviviality with others.
The sea provides a much-needed tonic in an age of uncertainty; above all, it provides perspective. Looking at the distant horizon is a meditative act, one that gives you a sense of how small and insignificant you are in the world, but also reminds us that we're part of a greater whole.
Science has shown us the manifold physical and mental benefits of getting outdoors; aside from getting fit, nature's palette has a calming effect on our wired, anxious minds. We feel less depressed. We develop a resilience to all the challenges life throws at us. You just don't reap the same effect from sweating it out in a neon-lit gym.
Instead of living in fear of winter, now is the time to toughen up, so next time you have a chance – check the forecast, dress accordingly and get yourself to the coast. You won't regret it.
MARITIME MALTS FOR EVERY SEASON
Next time you find yourself near the coast – or dreaming of the sea during the long winter months – why not fill your glass or flask with one of Signe Johansen's recommended Scotch whiskies.

Talisker 10 Year Old
For rambling along the beach on a sunny day, that saline tang and smoothness you get from Talisker 10 is so bright and optimistic – and we'll certainly need that come mid-winter.

Highland Park 12 Year Old
This was my father's house whisky. We've tried a number of their expressions and always come back to this one in the Johansen home. Intrigued by the Valhalla collection, however, and while they have included Freya, I'd be curious to see what they would release under Skadi – a Norse goddess tormentor, if there ever was one.

Caol Ila Moch
Having visited Caol Ila distillery and taken a boat from Port Askaig down to Port Charlotte last year, this brings back happy memories of a few days on Islay. I love the lemon sherbet nose and creaminess of the Moch. And it pairs perfectly with shortbread.

Bruichladdich Port Charlotte 2008
Flavours of robust peat and zingy green apples combine; it's a whisky with great length. I turn to this particular whisky when I have a cold and need a blast of flavour to revive me.

Lagavulin 16 Year Old
The winter warmer ne plus ultra. I channel Nick Offerman every time I drink this, except my woodworking skills are negligible. First resolution for 2017: take up woodwork.