In 2007, family-owned Speyside distillery Glenfarclas launched an ambitious collection of whiskies called The Family Casks: a series of 43 single cask, vintage single malts, spanning five decades. Ten years and hundreds of bottlings later, the venture is going strong. Richard Woodard reports.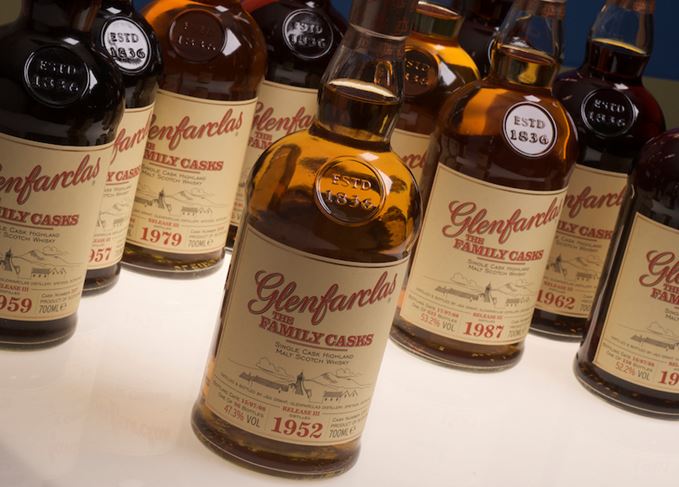 George Grant didn't even attend the launch of Glenfarclas The Family Casks in London, back in 2007. He went on holiday instead. 'I just didn't think it would be a success,' he admits.
Then, shortly after the collection was unveiled at a tasting hosted by the Caledonian Club, Grant received a fax from his Japanese distributor ordering 178 bottles. 'I was a little surprised,' he recalls. 'You don't expect the Japanese to move quite that fast.
'So I called him up and said it was great, but it seemed like quite a big order. Was this something he thought he'd be doing once a year, or every two or three years? "George-san, you don't understand," he said. "This order is for just one bar."'
Ten years on, the whiskies have sold all over the world, particularly to those celebrating significant birthdays and anniversaries. 'The year they were born, married, the year their children were born, the year they were divorced,' says Grant, who represents the sixth generation of Glenfarclas' owning family. 'I've met some amazing people, and people who bought these whiskies to drink them. After all, these were designed to be opened and drunk.'

Year after year: The range has been tweaked and renewed over the past decade

The concept of The Family Casks was rooted at least partly in indignation, he recalls. 'Initially it came about because another distillery – I'm sure you can guess who – did a similar range in about 2004/5 and they said: "We're the only people who can do this range of whiskies." And we said: "No you're not!"'
The initial release spanned the years 1952 to 1994: 43 single cask single malts running the full gamut of Glenfarclas. Some surprisingly pale; others treacle-dark and with flavours to match.
Ten years on, the years have changed slightly – there's no 1952 or 1953 any more, and there are now two whiskies, 2000 and 2001, from the new millennium. There have been more than 380 bottlings as the popularity of the range has spread and casks have been drained.
The most popular year, much to Grant's surprise, has been 1979, which has been reissued 13 or 14 times. 'It's the lightest whisky in the Family Casks range, from a fourth-fill cask,' he says. 'Typically Glenfarclas is such a flavoursome whisky, but this appealed to a lot of people in different markets.'
Given cask variation, how easy has it been to maintain that character through so many new bottlings? 'Very, very easy,' Grant replies. 'We only had fourth-fill hoggies from 1979 – no butts, no first-fill.' Times were tough in the whisky trade back then – and new Sherry casks are expensive.
Other years have been more varied: 1994 was, in Grant's words, originally a 'stonking Sherry cask', but: 'Every time we've redone it, we've tried to do something different – second, third, fourth fill. I think we even did a Port cask. It's nice to offer people something a little different.'

Early scepticism: George Grant missed the launch of the Family Casks back in 2007

If the whisky has changed, so too has the pricing. Nick James, former MD of Pol Roger, Glenfarclas' UK distributor, reputedly picked up a complete set of the first Family Casks collection for about £6,500. When Grant was offered a similar set recently, the price-tag had risen to £100,000.
'When we first launched The Family Casks, VAT [in the UK] was 17.5%, then it was 15%, now it's 20%,' points out Grant. 'That's a chunk of change. Then there's excise duty. We've tried to restrict what's happening [in terms of price increases] with The Family Casks, but the price of glass has probably doubled in that time. The boxes have trebled – everything has gone up.'
A significant secondary market in collectable whisky has also developed over the past decade – making producers reluctant to keep release prices down when buyers can secure a healthy profit by selling their whisky on within weeks – or even days – of purchase.
'We're wanting to appeal to people who buy it and drink it, yes, but there are also people who buy and invest,' says Grant. 'Whisky is now deemed as a safe investment. Look at the past 10 years and it outstrips everything – property, oil, you name it.'
These changes are also reflected at the London tasting organised to mark The Family Casks' 10th birthday. From the Caledonian Club a decade ago we've relocated to the basement of trendy Scottish restaurant Mac & Wild in Devonshire Square, in the heart of the Square Mile. The demographic of those tasting has evolved too: more bartenders, more City workers, more elaborate facial hair.

Big changes: The Family Casks chart the history of both distillery and industry

Whatever their price and whoever's buying them, The Family Casks offer a living history of Glenfarclas and the broader whisky industry: from the repeal of the 1880 Spirits Act in the 1950s, which effectively doubled production by allowing simultaneous mashing and distillation, through to the whisky loch of the early 1980s to the era of expansion in the 1990s.
'We've had some big changes in the stills themselves in that time,' says Grant. 'You can definitely tell when we're only running four stills or two stills, rather than six. In 1988 we switched to buying all our Sherry casks from Jose Miguel Martin, which made a huge difference. Before that, like everyone else, we just used whatever we could get our hands on.'
The result is a range of whiskies that – even with a distillery that has such a defined character as Glenfarclas – illustrates the huge diversity of single malt. 'You've got first-fill Sherry casks, casks we've used four times, so there's a real range of flavours,' says Grant. 'There's 1979, which is far away from being a Sherried whisky. You may think you know what your customer wants, but quite clearly we don't. People are always looking for something different.'
But is the venture sustainable? 'For the time being, yes. We've got two years that we can't replicate, but as you may have seen, we put the prices up for certain years simply to maintain those vintages. But, in the end, things will run out and clearly it's not sustainable for ever.'
Will the Family Casks still exist in another 10 years' time? Probably, although it will have evolved again by that time: younger years coming on stream, older ones falling away. There may be gaps. More significantly, when the initiative does finally end, will we ever see its like again?