A bartender's recommendation encouraged Luc Timmermans to turn his back on Jack Daniel's in favour of Scotch whisky, and he hasn't looked back since. He tells Angus MacRaild how he accumulated such an extensive Glenfarclas collection (among other brands and bottlings), his friendship with the Grant family – and the whisky that never fails to give him 'goosebumps'.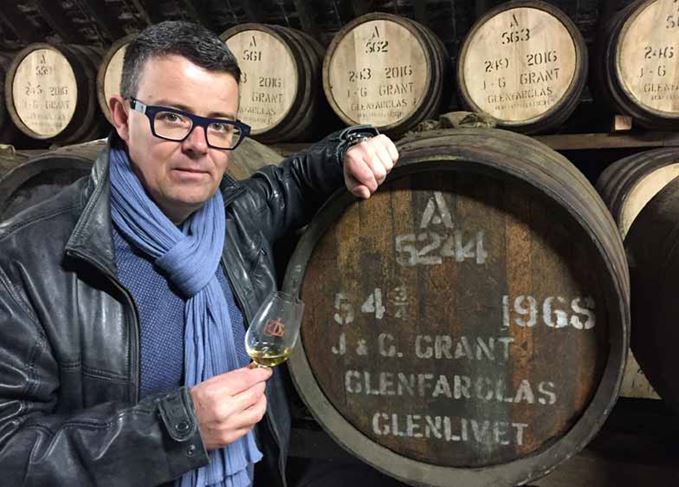 Who are you and what do you do?
'I'm Luc Timmermans, born in 1968 and living in Belgium with my lovely wife Eiling Lim. In 1995 I founded, together with my brother, the software company Protime in Belgium. In 2009 I retired from my professional activities to fully focus on my hobbies, and today I assist my wife in her whisky business, selecting casks and assisting her in accounting and logistics.'
What whisky do you collect and why?
'I collect primarily Glenfarclas whisky and started to collect these almost 20 years ago. I collect them because the Glenfarclas Sherried profile appeals to me a lot, and I like the fact the distillery is still family-owned and independent. I'm fortunate to have built a strong friendship with the Grant family, to whom I'm very grateful to have sold me some of their most precious casks of 1968. At Glenfarclas I feel at home.'
How did you come to love whisky?
'In 1998 I tried my first single malt, a Dalwhinnie 15-year-old, and lightning struck me, so to speak. I was with my ex-wife in New Milton, in a lovely hotel called Chewton Glen, and the bartender, a big connoisseur for me at that time, suggested I try this Dalwhinnie instead of my regular Jack Daniel's. I instantly fell in love with whisky and, after reading Michael Jackson's book, the Malt Whisky Companion, I decided to further explore the different expressions of single malts. I guess that bartender changed my life a little bit, you could say.'
How has being a collector impacted the rest of your life?
'The impact of starting to collect whisky has been huge. I have met many great people who have become my best friends. I have travelled almost the whole world to meet fellow whisky enthusiasts and to host tastings. And, most importantly, thanks to whisky I met my lovely wife Eiling while hosting a Glenfarclas tasting in the renowned Auld Alliance whisky bar in Singapore.'
When you became interested in whisky it was still in its 'age of innocence'. What do you think of the changes you've seen since?
'I do look back with envy to those days – the days of innocence – but the continuing globalisation and the internet has made Scotch and other whiskies immensely popular. Sadly, the investors have also been drawn in by the potentially lucrative upscale pricing of rare whisky. I do miss the days where we opened a bottle of Brora Rare Malts 1972 without blinking an eye, or a Bowmore 1966 or 1968.
'I now see people posting fancy packaged bottles on Facebook, debating not about the content but about the presentation and the packaging; that is a very sad evolution.'

Special selection: Timmermans has numerous 1968 bottlings from Glenfarclas

Have rising prices changed the way you view your own bottles?
'Honestly speaking, yes. Throughout my entire "whisky life" I have drunk four bottles of Bowmore 1966/1984 Bouquet Samaroli. But today, considering the price these bottles go for, I have to admit honestly that I'm reluctant to open any more of them. Sad, but true. Like we always say amongst friends: "The days of innocence are over."'
You used to do some independent bottling under your own labels. Why did you stop?
'The reason I stopped has nothing to do with the whisky business or the growing scarcity of good casks, but I simply had to close my business for fiscal reasons. The Belgian government was to blame at the time, so my accountant and I took that decision. But happily my wife has taken over the sceptre.'
People talk a lot about how whisky has altered over the years. Do you think Glenfarclas has changed?
'I do think whisky coming from any distillery in Scotland has changed over time. So many things have been altered in the production process: moving away from own malting floors, changing worm tubs to condensers, the barley, the type of yeast, the fermentation times, the casks etc. But I do believe the impact at Glenfarclas hasn't been as significant compared to many other distilleries.
'But the Glenfarclas 21-year-old – "a royal whisky for a princely occasion" – bottled at the end of the 1960s does taste significantly different and better than the recent 21-year-old. So yes, the character of Glenfarclas has certainly changed over the years.'
As a drinker, what do you think are some of the better distilleries to follow these days?
'The first one that pops in my head is Lagavulin; they are consistently top, whether it is their standard 16-year-old, the annual 12-year-old or the newly released eight-year-old. Also Bowmore; after a very difficult period in the 1980s it is back and bringing us some fine whiskies again.In the Sherry-profiled whiskies, Glenfarclas and GlenDronach are bringing us some great whiskies, even the younger vintages like 2002 are truly remarkable. In the end it all comes down to wood; if you make great spirit and use poor-quality wood, you get poor whisky. And we all know how scarce good casks are today.'
From a drinking perspective, what are your favourite Glenfarclas bottlings?
'I guess my top four of all time are: Glenfarclas 21 Year Old (51.5% abv, OB, Pinerolo, selected for Edward Giaccone, rotation 1974); Glenfarclas 1971/2000 Christmas Edition (53.10% abv, OB, casks #5959/5960, 543 bottles); Glenfarclas 21-year-old "a princely whisky for a royal occasion" (104° proof US, OB, Grant Bonding Co, late 1960s); and my own selected cask Glenfarclas 1968/2011 (47.5% abv, OB for Luc Timmermans, manzanilla cask #697, 133 bottles).'

Made for sharing: Timmermans insists the moment of drinking whisky is more precious than the bottling itself

What are the most prized Glenfarclas bottles in your collection?
'Difficult question, but in fact every single bottle is prized and has an important emotional value for me. Obtaining every bottle has been a quest, and every bottle has its own story about how I found it and where it came from. And opening them, even if I only have one, is a truly special occasion as well. Just like the 21-year-old 1955 for House of Sobel in the US that I brought to Orkney to share. I only had one, but sharing it with friends is more precious than looking at the bottle on my shelves. Moments and emotions of sharing are more precious than any bottles.'
You've got a lot of bottles from other distilleries as well. What are some of your favourites and why?
'Indeed, throughout the years of collecting and opening whisky bottles with friends, I have built a solid collection of bottles from other distilleries too. My favourites include Bowmore 18-year-old 1966/1984 (53% abv, Samaroli Bouquet, 720 bottles). This bottling is still today the best whisky I have ever tried; it's still the only whisky that gives me goosebumps every time I try it.
'Also, Macallan 1947 Securo Cap (80 proof, OB, Rinaldi Bologna, bottled circa 1962); Port Ellen 12-year-old (59% abv, James MacArthur, Fine Malt Selection, Sherry, late 1980s, 75cl); Talisker 1957 (53.5% abv, Gordon & MacPhail licensed bottling, 75cl); and Laphroaig 15-year-old 1967/1982 (46% abv, Cadenhead, Sherry) are among the finest whiskies I have ever tried in my life. Ooh, and that little jug of Bowmore 1955 – wow, what a whisky, such tropical fruit intensity! I guess I can go on and on about this subject...'
What are your hopes for the future of whisky?
'I hope the industry would try to go back in time and undo the changes they did that were merely focused on increasing the yield of alcohol per tonne of barley. Quality instead of quantity. And don't over-focus on consistency, as that can lead to boring whisky.
'And stop filling casks at 63.5% abv – fill them as the spirit comes, diluting with water. And forget wood policy and extreme "wood management", as nobody can truly understand the interaction of wood and spirit. Taste what was in the cask before and, when it tastes awesome, the spirit that goes in will be damn good too in due course.'
What has been the greatest whisky experience of your life so far?
'My best experience has been the opening of my first bottle of Bowmore 18-year-old 1966/1984 Samaroli Bouquet together with my best friend, Dominiek Bouckaert, many years ago in my house on our bi-weekly dramming session. The moment we poured this one in our glasses at around 1am is still, until today, the most unique whisky experience of my life.'